An NBA Star Thinks He Can Help Video Gaming Competitions Grow Up
Video game sports are on the cusp of going mainstream. Can game publishers, team owners, and investors like Rick Fox figure out a business model?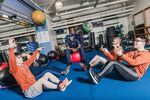 Rick Fox woke up one morning in January and went to the gym. It's a standard destination for Fox, who won three championships playing basketball for the Los Angeles Lakers in the early 2000s. But he wasn't planning on exercising. Instead, he walked into a building in Santa Monica, California, and greeted a bashful-looking group of about a half-dozen men whom he pays to play video games.
Fox, along with three business partners, runs Echo Fox, a company that employs dozens of people dedicated to competing in professional video game leagues. (It's the subject of the latest episode of the Decrypted podcast; subscribe here on iTunes.) The men he was meeting on this particular day play League of Legends, a fantasy-themed game developed by Riot Games, a subsidiary of Chinese gaming giant Tencent Holdings Ltd., in which two teams control characters seeking to destroy their enemy's base while defending their own. It's one of the biggest titles on the pro gaming circuit. Fox had called his employees to the gym for training: In a few days the North American League of Legends Championship Series, one of the most prominent video game leagues in the world, would begin its season.
Fox likes to compare pro video game competitions, also known as esports, to pro basketball. But there are some unavoidable differences. Basketball involves jumping and sprinting, while esports consists of sitting in padded chairs and clicking buttons. Still, Fox hopes that the gym will help his LCS team improve from its dismal performance last season, when it had the worst record in the league. "When we stretch the minds, and we stretch their bodies—we stretch it to a place where they're challenged—they'll start to see the benefits," he says.
For several hours, trainers put the gamers through a series of physical and mental tests. Some of them had no obvious connection to video games, like those that measured vertical leap and body fat percentage. Another test, which utilizes a special machine to determine how many times each player could click a button in 10 seconds, made more immediate sense. There were also classes in yoga, meditation, and spinning—which, one trainer helpfully explained, involved riding on an exercise bike and not actually spinning around in circles. Everything was tailored to the novice. At a team meeting the night before, Jake Fyfe, the team's general manager, reminded the players that it's customary to wear sweatpants or shorts to a gym, not jeans.

During the tour, Fox chatted with Henrik Hansen, a 23-year-old from Denmark who serves as the team's captain. Hansen competes under the nom de guerre Froggen, a name he says he picked randomly as a 16-year old. Fox has likened Froggen's leadership style to NBA legends Kobe Bryant and Larry Bird. The two have an easy rapport based on Hansen needling Fox constantly and Fox indulging him. As they checked out the lap pool, Fox gingerly launched into one of the finer points of self-care. "We still haven't convinced you to eat vegetables," he says in a mock-scold.
"I eat them sometimes, but I don't see the point," says Hansen. "I get my multivitamins." 
Fox turned to one of the trainers. "Your whole success will be predicated on whether you can get Froggen to eat vegetables."

It isn't actually clear whether Hansen's diet impacts competitive results. The formula for Echo Fox's broader success also remains elusive. Fox says he wants the company to be the Lakers of esports, but its business model is fundamentally different. The organization fields multiple teams across different leagues, as well as making original comedy programming related to video games. Fox and others involved in the company declined to discuss its financial performance. But suffice to say, most of the upside isn't expected for several years.

Jace Hall, Echo Fox's chief executive officer, is the former head of Warner Brothers's gaming studio and a well-known game developer. He says that part of Echo Fox's job is to create the conceptual framework for an esports team. While high-stakes video game competitions have existed for decades, the business models for companies that run teams are in their infancy. "As far as I'm concerned, we are the ones that are setting the model. We have to be," says Hall. "There's nothing."
Because he's famous, Fox is an intriguing figure, both to people already working in esports and people from other industries tempted to jump in. He says he has spent the last year talking to a wide range of people from professional sports interested in investing. For insiders, Fox represents the excitement over the opportunities of going mainstream — but also anxieties. Some worry that this new professionalism will end up marginalizing those who started esports, says Bryce Blum, the head of esports at Catalyst Sports and Media, a sports business consultancy.
Over the last year or so, investment from the professional sports world has poured into esports, with the owners of the Philadelphia 76ers, the Miami Heat, and stars like Shaquille O'Neal and Alex Rodriguez making investments. Fox is working to encourage this trend by explaining esports to the outside world even as its basic structure is in flux. "It feels like I'm teaching them a language that I'm still learning," he says.
Esports will become a billion-dollar industry in 2017, with most of the money coming from advertising, according to projections from the market research firm SuperData. The firm estimates that 213 million people now watch competitive video games online worldwide. League of Legends championship matches take place at venues like the Staples Center, where the final two teams battle it out amid smoke machines in front of crowds of over 10,000. 
Publishers have seen the competitions as a good marketing opportunity, and more recently as a potential profit center. Amazon validated the concept of video games as a spectator sport in 2014 when it paid nearly $1 billion to buy Twitch, the leading live-streaming service for gamers. The NBA recently said it was starting its own esports league, where actual NBA teams will field digital teams of gamers to compete in NBA 2K, a basketball video game published by Take-Two Interactive Software Inc.

All of this activity is predicated on the idea that esports are a way to connect with a young audience that is less inclined to watch regular sports or consume traditional media. The appeal for esports is already global. Many pro sports teams know they're catering to an aging audience and suspect the fattest days of TV money are behind them. Esports look like a logical hedge. Beyond that, there's still a lot to be figured out.
Esports are regularly compared with existing sports leagues, but the analogy is imperfect. While the NFL doesn't hold a copyright on the game of football, esports titles are the intellectual property of video game publishers, giving them veto power over the business of competitive play. There's no consensus on whether esports leagues should be run by publishers, teams, independent organizations or some combination. Riot Games Inc., the publisher of League of Legends, runs its leagues directly, while Valve Corp,, which publishes popular esports titles Counter-Strike: Global Offensive and DOTA 2, lets independent companies handle esports entirely. Activision Blizzard Inc. is building a league for its game Overwatch approximating the structure of the NFL, with teams that represent geographic regions and have their own arenas.
Then there are the teams. Many of these companies are run by gamers who have never held adult jobs. They're susceptible to being outflanked by ostensible business partners or just overwhelmed by the speed at which things are changing. The basic business model of traditional sports—where the league signs television contracts and shares the revenue among the individual teams—doesn't yet exist, and there's disagreement about how closely the long-term business model for esports should emulate it. The stage is set for adults to come in and start splashing money around.
Rick Fox is the child of an elite Canadian high-jumper and a businessman who owned an ice factory in the Bahamas. He's six-foot-seven and comically handsome. People who don't follow basketball recognize him because he's appeared in a steady stream of television shows and movies, such as Melrose Place, HBO's Oz and the Disney Channel's KC Undercover, and he used to be married to Vanessa Williams. When he walks around Los Angeles, random dudes yell out "Go Lakers!" and firefighters honk and wave.
Fox began playing video games growing up in the Bahamas. His dad would give him $20 in quarters and drop him off at the arcade on his way to the office in the morning. This was a big incentive to get really good at games—those quarters had to last until the end of his dad's work day. He still boasts about his prowess at Galaga, a spaceship game from the early 1980s.
Fox began stumbling toward the gaming industry about a decade ago, when he and Hall ended up on the same panel about digital entertainment at a conference. Hall is also improbably tall and built like an athlete, and Fox assumed he was also a basketball player. Nope. "I am a video game player since there's been video games, OK? One-hundred percent gamer culture, game lifestyle," says Hall, who writes code in five computer languages and wears sweatpants around the office. As for Fox, Hall had no idea he was a pro athlete. "I never watched that stuff," he says. The two became fast friends.

Fox first started thinking about gaming not as a career opportunity for himself but for his son Kyle. Now 22, Kyle idolized Hall and would tag along when Fox went to Hall's office to play old arcade terminals he kept around. At home, the Foxes played a lot of League of Legends. Rick and Kyle went to a tournament Riot put on at Madison Square Garden in 2015, two among 11,000 spectators. Sitting in the arena where he had played basketball 20 years before, it dawned on Fox that there might be a business opportunity here. He called Amit Raizada, who had been his partner in several other business ventures, and convinced Stratton Sclavos, a part-owner of the San Jose Sharks, to invest, too. Then they recruited Hall as CEO.
The first step to getting into esports was buying the rights to compete in a league. On Dec. 18, 2015, the group announced that it had bought one of the ten slots to compete in LCS from Gravity Gaming, a team that was folding. With the modesty typical of a sports team owner, Fox dubbed the venture Echo Fox, saying he saw esports as an echo of his own pro sporting career. The slot itself cost about $1 million but was basically just a license to operate. Now they needed a team.
Fox and his colleagues spent a frantic few weeks trying to sign free agent players in time to get a team ready for January, when the next season started. Hansen was Fox's first big signing. He also hired Fyfe, the manager, from Gravity. They dove into the dirty work. Fox and Fyfe made trips to Costco to stock the team's communal house with snacks, and called skeptical parents to explain why their sons should live in Los Angeles and play video games for a living.
LCS was a test bed for Echo Fox. But League of Legends was never its sole focus. The company immediately began building teams in other leagues based around games like Counter-Strike and Call of Duty, which both ask players take on the identity of military figures and shoot big guns at one another. Hall, who knew the gaming industry inside and out, began looking for titles with competitive scenes likely to become prominent in the near future. He was like a stock picker looking for a diverse portfolio.
Echo Fox's aggressive pursuit of players has become its calling card. This January, it went on a spending spree, signing contracts with seven of the world's top players in games like Street Fighter and Mortal Kombat, which consist of two characters battering one another for 90 seconds or so. Blum, the consultant, described the move as the biggest thing to happen in the history of the fighting game community.
These were relatively modest financial commitments. Unlike LCS players, pros in fighting games often hold other jobs and make about $10,000 annually. But by the standards of the industry, Echo Fox was a big spender. At least one of the offers in January was worth ten times the going rate, according to a person who had seen it. Hall declined to discuss finances but says he had wooed players with modest perks like having a staff member arrange their travel to tournaments. "This is going to sound really bad, OK, but it would be like, all you ever got to eat was Saltine crackers, and I'm like, 'Dude, here's a peanut butter and jelly sandwich," he says.
As Echo Fox brings in popular players, it draws in new fans, giving it more to offer advertisers. Echo Fox has also begun producing scripted comedy shows and other gaming-related content designed to be ad-supported, and already has an arrangement with Facebook Inc. for its players to make original video content for the social network. Hall says it may start running its own gaming tournaments.
It just inked its first million-dollar sponsorship deal, a multi-year agreement with the computer maker Asustek Computer Inc. to sponsor its LCS team. Last month, Echo Fox moved into Netflix Inc.'s former offices in Beverly Hills.
Echo Fox's competitive problems began almost immediately. It limped through the spring season in 2016 before bottoming out in the summer. The team finished 1-17, putting it at risk of being sent down to the minor leagues. This would be a potentially serious blow to the team as it seeks new sponsorships, given that fewer people watch the lower divisions. It would be as if the New York Yankees had a bad year and were forced to play as the Trenton Thunder.
The prospect of being relegated to the minors is a threatening aspect of Riot's business model, says Harris Peskin, an attorney who represents esports teams. As big money invades esports, the teams that laid the groundwork for the large paydays feel at risk of being elbowed aside. That concern deepened late last year when Riot signed a distribution deal with BAM Tech, Major League Baseball's streaming arm. BAM Tech is paying Riot at least $300 million through 2023 for the rights to LCS competitions. Team owners had been looking forward to such a windfall, but Riot said it wouldn't immediately share revenue with them, promising only to develop a more permanent solution sometime in 2018.
Team owners began banding together to try to pressure Riot into addressing the concerns they had about their own financial stability. Echo Fox has been conspicuously absent from such efforts. Fox and Hall seem to go out of their way to praise Riot. This attitude that hasn't gone over well, and teams have refused to practice against Echo Fox, forgoing a common courtesy within LCS.
Peskin says that though Echo Fox has a lot of money, that may not matter if Riot decides it would prefer to work with the professional sports industry. "Echo Fox doesn't own an arena. Echo Fox doesn't have a sports franchise which already has corporate sponsorships," says Peskin.
Fox thinks the other owners should be patient with Riot. At the same time, he had to fix his LCS team itself. Immediately following the summer season, Echo Fox replaced the coach and brought in three new free agents. The newly-constituted team headed for an offseason training and bonding trip to South Korea, where the level of competition is higher and the speedy internet means less latency—the time it takes for each keystroke to impact the actual game. The new formula has had mixed success: The team is 5-7, putting them in the middle of the pack.

At a match one Sunday in late February, Echo Fox traveled to the building Riot refers to as its esports arena in Santa Monica. There were multiple LCS games going on in two different auditoriums that day. Echo Fox had been assigned to the smaller room, where several dozen fans watched as Hansen and his teammates lost two consecutive games to another middling team called the Immortals. Over 200,000 people followed along online, according to Riot.
After the match, the Echo Fox players hung out for a few minutes signing autographs. Fyfe then hustled everyone into a team van and took them back to a big house in Beverly Hills with granite countertops and a huge spiral staircase. It's a big upgrade from the house the team inherited from Gravity Gaming. The guys had been on the road all day, so they immediately set upon the kitchen, where they methodically poured whey protein into banana smoothies and argued about who had the best recipe. Within a few minutes, the men were sitting in plush chairs, ensconced in noise-cancelling headphones. League of Legends was up on everyone's screen. The only sound in the room were muted giggles and the clicks of fingers on keyboards.
—With Julian Berman
(
A recent Echo Fox match drew over 200,000 online viewers, according to Riot Games. An earlier version of the story incorrectly said in the 33rd paragraph that the total online audience was 12,000 people.
)