After Brexit Who Will Feed All These Chickens?
Britain's farmers rely on foreign workers to pick strawberries and raise chickens. Brexit puts that model at risk.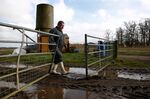 Following a drive through English farmland, past thatched-roof cottages and thick forests, chicken farmer Mark Gorton stops his Land Rover on a narrow lane to speak to a worker in a white truck.
"Dzien dobry!" Gorton cries in greeting as the gray-haired man stops to tell him in broken English that everything is fine at the farm ahead. "Do widzenia!" he says in farewell.
Gorton's business, two hours northeast of London, is 1,000 miles from Poland, but he's picked up a few words of Polish. That's because Eastern Europeans make up more than 60 percent of the 250 staff members who work for him at Traditional Norfolk Poultry. At a time when the U.K. is preparing to separate from the European Union and its free-migration rules, that's a worry.

Without his employees from Poland, Lithuania and beyond, Gorton says, he'd struggle to produce the more than 5 million chickens and turkeys he sells every year. Supermarkets such as Sainsbury's and restaurants run by celebrity chef Jamie Oliver snap up his free-range, organic birds. He says locals just don't want the jobs he offers: feeding, inspecting and packaging poultry.
"People have got the wrong impression that they are over here taking people's jobs, because they're not," he said, sitting in his modest office next to a 70,000 square-foot packaging factory. "It's physical work, manual work, repetitive work. You can't find local people to do it."
Gorton, 48, has coped with ups and downs over the years, from the 2008 recession to the current government order requiring that poultry farmers keep their chickens indoors because of the threat of avian flu. But Brexit, he says, poses a more fundamental challenge. Increased labor costs and worker shortages loom. Traditional Norfolk Poultry is one of four companies Bloomberg will be following throughout the two-year process of trade, labor and financial negotiations to exit the 28-member bloc.

After starting the business from scratch at the age of 18 with just 12 turkeys, Gorton and his business partner, David Garner, increased the company's sales to more than 30 million pounds ($37 million) last year. Britons' growing appetite for naturally raised birds enabled the founders to set up 50 small poultry farms all over East Anglia, a region known as Britain's breadbasket.
Ever since 2004, when EU expansion led the U.K. to lift labor restrictions on citizens of the new member states, thousands of Poles, Lithuanians and Latvians have come to work on farms or food-packaging factories situated in the green rolling countryside. They settled in small towns, opening up Polish shops and sending their kids to local schools. In nearby Thetford, the Maxi Poli store sells Lithuanian vodka and Polish chocolates.
The influx has helped keep British food production humming, but the new arrivals' presence has led to a backlash. In Gorton's district of Breckland, 64 percent of voters backed the Leave campaign, with concern over levels of immigration running high before the balloting.

"There's definitely a feeling locally that there are too many East Europeans, that they don't integrate," said Gorton. "I'm on my island for Remain."
Gorton, who sports sandy blond hair, dark-rimmed glasses and a beaded necklace, has an international outlook. His wife emigrated from Zimbabwe 20 years ago, and he says he likes the mix of nationalities working in the area.
Prime Minister Theresa May's vow to end freedom of movement and curb immigration has unsettled many of Gorton's employees, who are worried they might be forced to leave. May hasn't promised to guarantee the rights of the more than 2.3 million EU nationals currently working in the U.K., raising the possibility they will be used as bargaining chips in Brexit negotiations after she triggers Article 50 of the EU Treaty.
The June 23 referendum vote to leave the EU has already affected Gorton's business: About 10 of his Eastern European employees have gone home. 
"They were coming to us the next day and saying, 'Crikey, this is not good for us, we're not wanted in the U.K.,"' he said. "Within a week of the vote, we saw people leave and go back to Poland and Lithuania. Ever since then, it's become a lot harder to find the people we need."

Gorton's business is a microcosm of how Brexit could fan inflation across the country. He depends on a supply chain that includes products imported from the continent and elsewhere: wheat and soy feed, packaging and equipment.
Those costs shot up after the Brexit vote caused the pound to drop as much as 16 percent against the dollar. The result? His profit fell more than 20 percent last year. After months of trying to cut costs elsewhere, he's finally about to hike prices for his chickens by as much as 10 percent.
"Since Brexit, it's costing every single one of us more money," said Gorton, leaning back in his chair. "Would people have voted to leave if they'd been told that was going to happen?"
Another ripple effect of the pound's collapse: his East European staff has less money to send back home. He said many of his Polish workers are now looking to move to Germany, and not just because it's closer to home.
While the pound has weakened 11 percent against the Polish zloty, the euro has more or less held even, making Germany a more attractive employment destination for Poles. With U.K. joblessness at an 11-year low of 4.8 percent, Gorton is trying to entice workers to come, and stay, by offering end-of-year bonuses for the first time, even for those on his starting salary of 7.20 pounds an hour.
To prepare for life after Brexit, the U.K.'s National Farmers Union has called for the government to test a visa system for seasonal agricultural workers from outside the EU. U.K. Environment Secretary Andrea Leadsom promised in January that British farmers would be able to hire migrant workers after Brexit, without giving any details.
Gorton thinks that won't work. What he wants sounds like a pipe dream in post-Brexit Britain: free movement of labor to feed and process his chickens.
"If everybody thinks we're going to get the locals to do it, well, that's naivety in its extreme," said Gorton, sitting in his car and looking out over one of his farms, nestled in the pine trees of Thetford Forest. "It's just not going to happen."