He Lobbies to Leave While Profiting From Europe
A British appliance manufacturer favors Brexit even though it might raise trade barriers.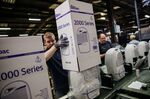 John Elliott was one of Brexit's biggest business backers in northeast England. He debated in front of corporate groups and appeared on radio and television before the June 23 vote. He even dressed as a woman for a comic pro-separation video.
Elliott said there's nothing odd about lobbying for the split—even though it might cost the company he built the tariff-free advantages that now apply to most of its exports.

Eighty percent of the water coolers made in Elliott's factory in the small town of Newton Aycliffe are shipped to European Union countries including France, Italy and Greece, and they could be subject to duties under the plan designed by Prime Minister Theresa May. 
Elliott, 73, isn't bothered.
"Tariffs are an inconvenience, not a showstopper," he said above the chuff and whir of machines spitting out plastic components in the low-ceilinged factory. "You just have to build a good product. You can manage the rest."
It's not that his company, named Ebac, hasn't prospered selling in the EU. Its 255 mostly British employees have steady jobs at a growing company, in a region where manufacturing has been on the decline for decades. Ebac's $24 million in annual sales permit Elliott a Jaguar, a Range Rover, an indoor swimming pool and three racehorses. 

And so far, Brexit has done Ebac no harm. The pound has weakened by about 10 percent versus the euro since the referendum, making the company's water coolers and dehumidifiers cheaper abroad. A major French buyer late last year commissioned a new water-cooler range, signaling it isn't concerned by Brexit. Talk of EU tariffs may be moot, Elliott said: Ebac is close to a U.S. contract that would quadruple its water-cooler output.
Elliott also dismisses warnings from economists and other business leaders, saying they just want to preserve the status quo. The Confederation of British Industry criticized May's decision to prioritize curbing immigration over maintaining barrier-free access to the EU. Economists who opposed Brexit still think it will harm trade, send jobs out of the country and dampen economic growth. In one possible portent for manufacturing, British auto investment pledges plunged by more than one-third in 2016 on Brexit concerns.

To Elliott, it's all about what's wrong with Britain—in fact, he rarely mentions the EU. The U.K. fiscal deficit is unsustainable. The country needs an industrial policy. It should bring back manufacturing and shipbuilding. A clunky bureaucracy just keeps wasting money on overpriced projects, he said, pointing to a local school, a fire station and a high-speed train project. The worst thing: A rich London elite is just getting richer while other parts of the country fall away.
"What I really want to see is Westminster getting real," said Elliott, a stout, bald man, before peering over the shoulder of an electrician designing a new circuit board. "That means running the country properly."
A clue to the founder's thinking may lie in his life story. He grew up fatherless, dropped out of school at the age of 15 and spun an apprenticeship at an engineering company into Ebac. It initially built industrial dehumidifiers before adding household dehumidifiers and water coolers. His daughter, Amanda, and her husband, Tony, now run the daily operations, giving Elliott more time to tinker with design.

Others at the factory share the founder's views. Clyde Pitteway, 42, a soft-spoken designer who's lived in London and initially supported remaining in the EU, said Brexit "is a huge opportunity to rethink." Seeing comments on Facebook from friends in London helped sway him: "It seemed the recession hadn't affected people down there that much."
In fact, the U.K. economy has grown 2 percent or more for each of the past three years. But northeast England hasn't fared as well. It has Britain's highest unemployment rate—7.5 percent at around the time of the referendum. While Elliott expanded his company, he saw factory jobs move abroad as the U.K.'s manufacturing industry shrank, from a quarter to 10 percent of the economy from the 1970s to 2007. 
The region has shed 17,000 manufacturing jobs in the past decade, compared with 384,000 manufacturing jobs lost nationally over that time, according to official statistics. Motors and compressors that Ebac once bought from nearby villages now come from China.
"You can't leave it to the markets, because it hasn't worked," Elliott said, now steering his Jaguar around damp hedges and fields dotted with sheep. "To get this country working again, it won't happen without government intervention."

Last June, 61 percent of voters in the nearby town of Sunderland opted to withdraw from the EU. When the result was announced that night, it was the first clear indication of the unfolding sea change in U.K. politics. Only one of the region's 12 districts voted to remain.
None of Elliott's three adult children or grandchildren wanted to stay in the EU, he said. For Margaret, his wife of 47 years, seeing Eurocrats enter giant administrative buildings in Brussels on television drove home the bloat. That, and the fact that she's done all right sticking with her husband for this long, she said, looking at him drinking his coffee at the head of the dinner table. Beside Elliott is a photo of Daniel's Flyer, the most promising of his racehorses, on the way to winning his first serious competition.
Elliott clearly has a nose for a wager. He campaigned for the pound not to join the euro around the turn of the century, and he opposed a regional parliament for the northeast as a waste of money. Last year he made about 13,000 pounds ($16,000) on bets that the U.K. would vote to leave the EU and that Donald Trump would win the U.S. presidential election.
In past elections, Elliott said, he's switched between all the major political parties and is loyal to none.
Back at the factory, Elliott runs his hand inside a perforated stainless steel drum waiting to be put into Ebac's latest product: Britain's only domestically built washing machine. The assembly line started only last year, and Ebac needs to sell 50,000 units a year to break even. Elliott said he can beat his main competitors in Italy, Turkey and Germany on delivery costs alone, tariffs or no tariffs. He even named one of his horses Hot Fill.