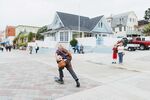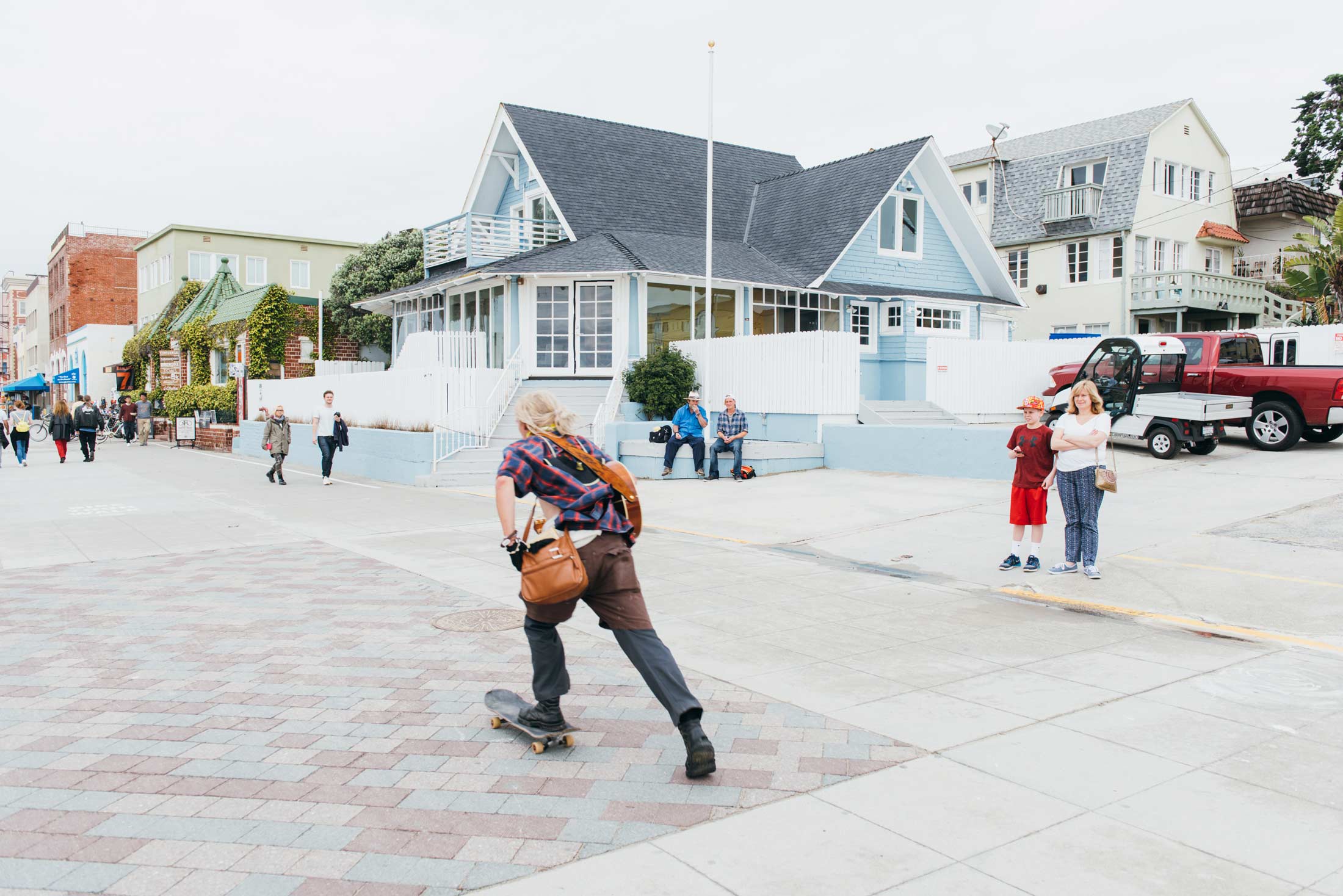 Snapchat Is Angering Its Neighbors in L.A.
A disappearing bee colony becomes a symbol for the IPO-fueled growth locals fear will swamp the quirky Los Angeles neighborhood the startup calls home.
In November, a bee colony disappeared from a tree in Los Angeles's Venice neighborhood. The knot holes around the hive, near the intersection of Cabrillo and Westminster and about five blocks from the ocean, had been sealed up with cement. Residents of the historic beach area soon discovered that Snap Inc., which rents a building nearby, was responsible for the bees' removal. The act seemed to confirm their worst suspicions about their corporate neighbor: These were bad people.
Bryan Brogers, whose building is shaded by the tree, broke through the cement to get a look at the damage inside. "The honeycomb is all black now and no bees," he wrote on the community forum Nextdoor. "I'm sure the queen bee was killed." The post generated a chorus of 249 mostly outraged replies. Signs soon went up outside: "SNAPCHAT: BEE KILLER" and "ALL BEE LIVES MATTER."
Few minds were changed when Snap told a local news site, Yo! Venice, that it had hired a biologist to relocate the colony in an ecologically sensitive way. Because this wasn't just about the bees.
Since moving to Venice, Snap, which owns the Snapchat disappearing-photo app, has been expanding. Along the way, Snap—a secretive, even aloof, company—has alienated a community that prizes itself for a quirky sensibility despite a longtime proximity to wealth and celebrity (the tensions are the subject of the latest episode of the Decrypted podcast).

The bee incident "is a perfect metaphor for what Snapchat is doing to Venice," one person posted on Nextdoor. "More overreach from Snapchat," said another, tired of walking on familiar sidewalks and being eyed by Snap security guards patrolling in their park ranger hats. Now, with Snap set to go public, some residents fear that the company's newly wealthy founders and employees will swamp Venice, echoing the disruption 380 miles north in the San Francisco Bay Area.
The anti-Snap resistance remains nascent and disorganized. But increasingly residents are making their opposition known, placing signs outside buildings and showing up at zoning meetings to protest Snap's latest real estate conquests. And Snap has become a political issue. In a primary scheduled for March 7, Robin Rudisill is seeking to unseat incumbent L.A. city councilor and Snap supporter Mike Bonin by arguing that commercial development threatens to destroy Venice's character. In an interview, Rudisill compares Snap's arrival to "someone coming into a natural preserve of birds or scenic flora and taking it over for their own."
Citing the standard pre-IPO quiet period, the company declined to comment for this story.
Snap chose Venice because founders Evan Spiegel and Bobby Murphy were drawn to the eclectic community, with its sand sculptors, boardwalk skateboarders and Rastafarians. "Our dream had always been to have an office on the beach,'' Spiegel explains with an air of nostalgia, three minutes into Snap's video presentation to IPO investors. The video was filmed in a small blue house right on the boardwalk, flanked by T-shirt sellers and scrap-wood painters, where Snap set up shop when it had only eight employees. "We thought it was pretty big for what we needed at the time," Murphy adds, as the camera pans framed photographs of the early team. "In just a few months we filled this place to the brim with 20, 30 people."

Now, there are more than 1,000 employees, and Venice is struggling to hold them. The Los Angeles neighborhood is largely a warren of footpaths and single-family homes, woven through with man-made canals, where the buildings rarely exceed four stories. There's no space for a corporate campus. As a result, Snap has been leasing and buying little buildings all over town and on the most touristy slices of beach, creating what the Hollywood Reporter called a corporate "archipelago." Nowadays, Venetians routinely encounter clusters of Snap engineers with security badges clipped to their belt loops, carrying paid-for lunches into private cafeterias in unmarked buildings with the shades drawn, stirring mystery and paranoia about what's going on inside.
Residents say Snap's behavior is at odds with the general ethos of this slice of L.A., which welcomes everyone from movie stars to teenage runaways, so long as they're willing to take part in the freewheeling culture.
That's why Jason Moore invited this reporter to Venice. Moore was Paris Hilton's agent during her reality-show days and now represents people who play video games for money. He works and lives one block from the beach. A few weeks ago, Moore received a notice that the art gallery next door was looking to change its zoning to a more general-purpose commercial use. If the building went to Snap, Moore figured, his place could be next.
Moore, who has lived in Venice for 20 years, says Snap seems to be gobbling up the limited supply of commercial and residential real estate and parking. Sometimes, the company even appears to be getting special treatment: a new crosswalk in a location frequented by Snap employees, for example, while other intersections remain perilous.
As Snap expands, Moore says, it's replacing the artisans and outcasts who made Venice a top tourist destination and a unique place to live. He wonders how much longer Venice will be home to characters like Harry Perry, who rollerblades along the boardwalk, wearing a turban, strumming an electric guitar and charging for pictures.

Snap hasn't indicated any official interest in the gallery on Moore's block—though Moore swears he saw Spiegel walking on the roof recently. But because it's unclear what Snap is or isn't going to buy, residents generally assume the worst. Moore belongs to a Slack group called Venice Beach Dogs that compares notes on what properties their startup neighbor owns and leases. They added the gallery building to their spreadsheet, just in case. Moore says the research could lead to more transparency and prevent Snap from taking over Venice.
"If individuals like us don't do it, and the politicians don't do it, then in 10, 15 years we're going to wake up," Moore says, "and it'll be like American Airlines moved into Disneyland." A person familiar with Snap's holdings says the spreadsheet contains several errors.
Snap isn't the first company to change Venice. Nor is it even the main driver of development, which has been happening for decades. After rents soared in Santa Monica, the beach city next door, historically crime-ridden Venice started to look like a good real estate investment. In 2008, a fancy restaurant, Gjelina, opened on the main street, Abbot Kinney Boulevard, and became an anchor tenant for a more upscale vibe. So for all Venice's funkiness, the neighborhood is also home to wealthy people who can afford to pay millions of dollars for a house by the beach. The median value of a home in Venice is $1.59 million, according to Zillow, up 6 percent in the past year and still rising.
Los Angeles has been keen to attract tech companies, dangling tax breaks and other incentives. In 2011, Google leased 100,000 square feet in Venice, and the Los Angeles Times called it "a rare bright spot for the region's sluggish economy." Plenty of people believe what's good for Snap is also good for Venice. Louis Leal, of local real estate firm Halton Pardee + Partners, says there will always be people "on the other side who can't see the positive impacts you're having; they just look at the negative components of it.'' He adds: "I don't think anything would ever make those folks happy.''
But walking around Venice with Moore, it's hard to find anyone to say something nice about Snap. Their expansion methods are "sneaky," says Andrew Keegan, who runs a spiritual center. They're antisocial, says Reed Segovia, who sells scrap-wood paintings in front of Snap's blue boardwalk house. They're probably breaking the law, says Jenni Mitchell, who runs an online underwear shop.
Mark Ryavec is a Snap supporter. Another candidate for L.A. City Council in the March 7 primary, Ryavec says the neighborhood is benefiting from Snap's presence and that even more money will flow into local businesses and real estate after the IPO. "If you look at it in terms of repairing the damage to our economy from the 2008 recession, this is a huge spark plug that has been handed to us without us having to do a thing,'' he says between sips of rosé at Cafe Zinqué.
Local nonprofits are also pro-Snap. Since the company arrived in Venice, it has given back to the community in many ways: funding a computer science class at a local school, repainting murals on another school's handball courts, running a backpack drive for poor students at the St. Joseph Center community organization.
"I work with many corporate partners in our schools and I don't think I've had nearly that amount of face time and volunteer activity that Snap has put forward,'' says Kristen Paglia, who runs P.S. Arts, which supports art education. Snap employees have volunteered with her organization for years, spending long days with special-needs children. Snap funds have paid for some 1,000 local kids to get an arts education.
Cesario Montaño, who is introduced as an unofficial mayor of Venice and goes by the nickname Block, lived in the neighborhood back when it was plagued by drug and gang violence. On the boardwalk in front of some Snap offices, Block spots a friend who just got a job at Snap and calls her over. In her new role, Block's friend is focused on community relations. She crosses the street to answer him, then apologizes and quickly excuses herself; she can't talk to journalists without permission. It's not unusual behavior from a tech employee, but it bolsters Block's thesis: Snap employees are trained to keep to themselves.

"What made Venice so cool is you could come down and be an artist and be broke and meet Robert Graham or Anjelica Huston," he says, referring to the actress and her late husband. But with Snap, "they don't associate with you if you don't have tech vocabulary. They're like, 'You're a local.' They don't have anything to say to me."
It's lunch time. Jim Robb, another longtime Venetian, watches Snap employees carry pre-paid poke bowls into their unmarked offices.
"Snap just needs to throw a big party," says Robb, who owns a tequila company.
"Yeah," Block says. "But after the party's over, what do we have in common?"
—With Aki Ito and Shelly Hagan
Watch This Next: Is Snapchat More Like Facebook or Twitter?