A Brazilian Soccer Giant Is Running a Player Farm in Eastern Europe
Rio club Fluminense is using a hook-up in Slovakia to nurture players for the lucrative European leagues.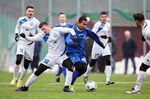 Pawing at his cheek, mouth and nose, Brazilian teenager Willian Henrique dos Santos complains that he's lost all sensation in the right side of his face.
Away from home for the first time, the slight, fast attacker had just finished a tune-up game for his new soccer team. After swapping a steamy Latin summer for a icy Central European winter, the January afternoon in Hungary is the toughest—and definitely the coldest—stage of his career so far. It will end, he hopes, somewhere more glamorous.
"The road is long and complicated, I get that now," the 18-year-old says after being buffeted and bruised on the pitch by far larger European opponents. "This is the first step of my dream."
He is one of eight South Americans at the center of a unique experiment by Fluminense of Rio de Janeiro. The four-time Brazilian champion has taken control of a little-known Slovakian club at which it can nurture players for bigger things. The goal is to turn STK Samorin into a finishing school for talented Brazilians. Some can then be sold to Europe's wealthier teams, the driving force of soccer's $5 billion-a-year player transfer market.

"I don't like to say this, but if you have a farm with 100 cows, you loan your cows to somewhere they can develop, get bigger and one day get in the market," says Marco Manso, a former player who oversees the Slovakian operation.
For top Brazilian clubs, exporting players is becoming bigger than anything traditionally associated with sports economy, following media rights. According to FIFA, the soccer world's governing body, more than 1,500 Brazilians were part of cross-border trades last year, nearly double the flow from the second-biggest exporter, Argentina.
Beyond Barcelona's Neymar, Willian Borges da Silva and David Luiz at Chelsea and Thiago Silva at Paris Saint-Germain, Brazilian soccer players fill teams from East Timor to the Faroe Islands. They also make up a large part of the foreign imports in the newly enriched Chinese Super League.
Samorin, whose most recent highlight was a slot in second-tier Slovak soccer last year, is the shop window for Fluminense's Brazilians.
"We are products, products in a market," says Peterson Silvino da Cruz, known as Peu, the son of a boat builder from a small city an hour's flight south of São Paulo. Now Samorin's top scorer, the 23-year-old has been on loan during his entire career with Fluminense, playing for clubs in Brazil, Poland and Mexico.
"If it's a good product, everyone will want to buy it," he says. "My agent told me this will help increase my visibility for the Europeans."
Trading players can have an oversized effect on the balance sheets of Brazilian clubs. After television income, transfers are often the next-highest income stream. That revenue, in turn, can pay for new facilities to bring the next crop of talent through the production line.

Founded in the leafy Rio suburb of Laranjeiras in 1902, Fluminense prides itself on its system for finding players. The club trains 350 players aged 14 to 20 at any one time at its lush, verdant academy in a Rio valley. About 50 arrive for trials each week, and some 160 players from the age of 16 are registered as professionals.
At his office at Laranjeiras, Marcelo Teixeira, Fluminense's director of soccer development, says the primary goal is to develop "better people" and provide a platform for both personal and professional development, not to sell players.
Fewer than 30 make the cut for the first team, so Fluminense, like other clubs across the world, loans its talent. The hope is that the players will improve and return to boost the first team—or be sold for a profit that can be reinvested. From August 2015 to January 2016, the club sold young midfielders Gerson to Roma and Kennedy to Chelsea. The club's share of the combined 90 million reais ($29 million) largely paid for a new training center.
Some 10,000 kilometers (6,200 miles) from Rio, Samorin was a strategic choice.
Slovakian teams are permitted to field five non-European players. Geography, too, is a plus. Although the club may struggle to attract more than 500 fans to its games, Samorin is well-located for visiting talent-spotters because of its proximity to Hungary, Austria and the Czech Republic, as well as to good airport links in Budapest and Vienna.
Costs are lower, too. Fluminense has invested roughly 750,000 euros ($800,000) to run a team in Slovakia's second division. A similar operation in Portugal could avoid the language barrier but would be 10 times as expensive, Teixeira says.
But a corner of the former Eastern Bloc might be too much of a culture shock, says Luis Perez Arechavala Junior, a Rio de Janeiro lawyer. He was an aspiring midfielder when he was sent to Europe, playing for Albacete in Spain's second division before an ankle injury ended his career.
"Brazilians have a lot of difficulty adapting," he says. "They might not learn the language or culture because they can mix with each other, but on the other hand, they can maintain the Brazilian style of playing football."
It's why Fluminense is experimenting with keeping several players in one place. Alan Fialho, one of Willian's teammates, says he returned to Brazil determined to quit the sport after four difficult years in Poland. Teixeira then asked him to join the project in Slovakia for six months.
"I tell them they are lucky," Fialho says, back at the two-bedroom apartment he shares with midfielder Marlon Freitas. In the living room, six teammates are competing to be the day's winner on the FIFA soccer video game. "I was very lonely there. It took so much from me, so much of my mental strength."

At a training session on the eve of the practice game in Hungary, the Brazilian players form a line behind Fialho before starting a sprinting drill. Fialho's years away from Brazil made him fluent in English, and he can translate Finnish coach Mika Lonnstrom's instructions.
Lonnstrom, 42, is also a new arrival. An itinerant coach who built his career in places like the Maldives and Thailand, he believes the Samorin project could end up being a blueprint for others to avoid a "lottery" when bringing in players.
Whatever Fluminense does to nurture them, the odds remain heavily stacked against Samorin's Brazilians making the first team back home. Of 25 players Fluminense has sent to Slovakia since forging the Slovak alliance in August 2015, only one, tough defensive midfielder Luiz Fernando, has managed to join Fluminense's first team squad. 
If that doesn't happen, staying in Europe is the next-best thing, but the clock is ticking. The window the players have to build a successful career is small. Even a youngster such as Willian will have only a year or two before his place in the soccer constellation is set, Lonnstrom says.
"It's crazy we talk like this, but this is football," he says. "You may only get one chance."
At Bella Italia, a pizzeria in Samorin chosen by the club to provide lunch and dinner, players are optimistic. Willian wants to play for Chelsea to emulate namesake Willian Borges da Silva,  a mainstay in the London team's midfield.
He's already come a long way. Before moving to Fluminense's training base, Willian lived in a simple home in what he calls a humble community in one of São Paulo's poorer districts. He had never left Brazil before he boarded an Air France flight from São Paulo to Vienna, via Paris. Making the grade as a player would mean changing the lives of his separated parents. He tries to call his mother, Anna Paula, every day.
First, though, he has to cope with the cold.

Before running onto the artificial turf for Samorin in the second half against Hungary's Mosonmagyarovar, Willian braces himself for -8 degrees Celsius (17 Fahrenheit). The players stare in awe at the back of Csaba Kralik's head, where the midfielder's sweat has frozen, leaving icicles dangling from his hair.
"I miss my little house in the sunshine," Willian says. It's probably a toasty 40 Celsius back home, suggests another player, who says he'd prefer to be at the beach.
Samorin wins the tune-up 2-0, but Willian is concerned he didn't play well. The cold has affected his movement, and the Hungarians are physical players.
"I really need to improve my physique," he says, struggling to maintain his footing on an icy track that leads to the dressing room. "Among them, I'm practically useless. I'm smaller, more fragile, and weaker."
Shivering and aching, Willian won't give up. "I'll keep fighting," he says.