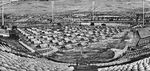 A New View of the Refugee Crisis
Photographer Richard Mosse uses a thermographic camera to create images without visible light or film.
This is not a photograph. 
The image of a refugee camp in Greece, shown above, was created by Irish photographer Richard Mosse using a military-grade thermographic camera, a piece of equipment typically deployed by border patrol agents. The process involves no light, no photographic negative, no color sensors—it's a picture created by the body heat emanating from refugees. 
Still, these visual renderings of refugees have been turned into gallery artwork. A series of mural-sized prints by Mosse, in a show called Heat Maps, is now on view at Jack Shainman Gallery in Manhattan, with prints selling for up to $65,000. Mosse has also used the thermographic camera to make a three-screen video installation called Incoming. 
At a distance, the stark monochrome images look much like the classical documentary photography shot by, say, Sebastiao Salgado, but a closer examination reveals a scene thoroughly alien. Bloomberg.com photo editor Eugene Reznik asked Mosse about his project, which took him to refugee camps in Europe, the Middle East, and North Africa, as well as the need for a new way to look at the news.
The refugee crisis is one of the most widely documented humanitarian disasters of our time. What do you see in your images that you can't find in news pictures?
There's something odd that happens, the way this camera images the human body. It's very ambivalent. Initially, it seems to dehumanize the figure. It strips the individual from the body, it turns the body into a creature, or a biological trace. The body becomes a sort of glowing radiation, and if you get close you can see blood circulation, saliva, irises. It turns people into zombie form almost—unfamiliar, ultimately.
The camera also has this amazing potential to telescope in on people, and you can create very honest moments. There's no self-consciousness at all. As a result, we're able to achieve a certain tenderness of imagery, a kind of intimacy that I've never seen before in portraiture. You could say that's invasive, but I would argue that the camera at the same time anonymizes its subject. You can't identify people, you only see their heat signature.
All of whats going on in these images leads to a total kind of unfamiliarity for the viewer, a sort of alienation effect. The viewer doesn't come at the subject with all the usual baggage of normal press photography. The images dazzle in a way that press photography is maybe no longer able to, and the viewer is startled into taking a closer look and consider this problem.
The deluge of news imagery, social media posts, and even virtual reality experiences of refugees seems intended to help viewers identify with them, to put the viewer in the scene and in their shoes. After several years, this resulted, arguably, in empathy fatigue. Your work, on the other hand, seems to align the viewer more closely with law enforcement and the state actors that fostered the conditions of the camps. There's a detachment from the refugees.
The camera itself is designed for battlefield awareness, for extreme range border surveillance. It's designed to target and to detect an enemy, so it isn't interested in naturalism or realism. You find it at weapons fairs, and it's regarded as a weapon in terms of export, so it's sanctioned under the International Treaty of Arms Regulation. So for you to travel out of the country with it, if you don't have the correct paperwork, you could be arrested for weapons smuggling. They usually don't sell it to individuals, they sell to governments. It's not a weapon, obviously, but it's used as part of advanced weapons systems. 

There was the right-wing politician in Germany called Franke Petry who recently suggested German police should just shoot refugees who are entering at the border illegally. That's what the gesture of my project is attempting to engage in. Obviously, it's not endorsing anyone to shoot people, but it's trying to engage with the logic of xenophobia that's currently so prevalent and widespread and has been used by politicians, including Donald Trump, to change the system.
I'm trying to spark an uneasy feeling of complicity in the viewer, in relation to xenophobia and fear of the other and to globalization as an updated modern form of colonialism. How we in the West — and our governments in particular — represent refugees is therefore how we regard them, so this is really about investigating the technology we use to protect our borders.
Editioned artwork, exhibited in art galleries, can function as a number of things. It can be an investment asset, a decorative object. Do you believe it can be a vehicle for change?
My aspiration as an artist is to make work somewhere along the lines of Picasso's Guernica. OK, yes, it probably is worth a lot of money — it's an asset, on some level — but it's also a powerful work of art. It doesn't particularly tell the viewer what to think, it's not didactic, but it is very moving and it's moved many, many people. I think that's what art should do. We wouldn't be asking questions quite so much if we experienced the world through bullet points. The refugee crisis is complicated and very deeply layered and there are endless reports on it, on the logistics, and no one is really reading them. People need to feel something, and my work is not full of facts that I encountered on the ground — although I could bore someone senseless.
Although some collectors do treat art as a commodity object and don't care if they like it or not, a lot of others love to live with an object that makes them feel something. There is endless pleasure in a good painting, and I think that's fine. It's the market that sustains artists to continue to make work. The world of photojournalism now is not what it used to be back in the 1980s and '90s, when you could make a good living, you could survive as a photojournalist. It's taken a hit, as has journalism itself, so I think it's great that the art world now can become hybridized.











Richard Mosse is an Irish conceptual documentary photographer. Heat Maps is on view at Jack Shainman Gallery in New York through March 11, 2017. Incoming premiers at London's Barbican Centre on February 15, with an accompanying artist's book published by MACK.
This interview has been edited and condensed for clarity.