Little Chocolate's Big Moment
Craft chocolate, like beer and coffee before it, is ready to go mainstream. But that doesn't mean it's ready to sell out.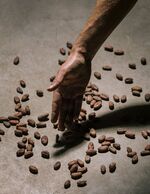 Photographer: Justin Kaneps for Bloomberg
Dandelion Chocolate's two-ingredient, single-origin, small-batch bars are bundled in gold foil and custom wrappers. Its café and factory in San Francisco's Mission District is filled with freelancers on laptops, children on scooters, and well-heeled couples on first dates. At the counter, a blue-haired server blowtorches s'mores while another grinds locally roasted coffee beans. The employee-controlled Pandora playlist changes depending on who's working.
Dandelion Chocolate is hip. The guys running it, however, are not. They're nerds, and not the hip kind.
Founder and chief executive Todd Masonis is a Stanford-educated software engineer, a math whiz who built a tech company called Plaxo and sold it to Comcast for a reported sum of around $150 million. He's a nice guy, the kind who won't point out that he's already answered your question and instead just responds in another way. His business partner, Greg D'Alesandre, is tall, blond, a world traveler. Now Dandelion's vice president of research and development, he left a job at Google to procure cacao beans in the tropics of Ecuador and Papua New Guinea. He calls himself a chocolate "sourcerer." Like Mark Zuckerbergs with a sweet tooth, he and Masonis have built a company that's much cooler than they seem to be—and people are buying.

They're following a generation of craft chocolate makers before them, most of them self-taught and dedicated to making bars from scratch. In 2015, about 100 such businesses were in the U.S., with sales averaging $2 million each, and about 100 more part-time operations eager to join them, according to a 2015 report by Vreeland & Associates, a chocolate industry consultancy group.
Dandelion represents a new model, one with a Silicon Valley mindset, an obsession with marketing, and plans to scale. With its hip outposts, high-end beans, and eye-catching wrappers, it hopes it can persuade the masses to shell out $10 a bar.
Masonis and his Plaxo co-founder, Cameron Ring, started experimenting with chocolate beans in a garage back in 2010, fresh from their big tech buyout. They rented a small space in the city's semi-industrial Dogpatch neighborhood and sold bars in the now-defunct Underground Market—"before we were even legal," Masonis says. At the time, they had no certification for their facility, a fact the market deliberately ignored.
By late 2012, Dandelion had a publicist and a pastry chef, and in early 2013 it opened a proper factory-cafe on Valencia Street in the Mission. Almost immediately, it was on track for $1 million in annual revenue; by year's end, the company had surpassed it. In 2014, it opened a kiosk right by Blue Bottle Coffee in the Ferry Building, San Francisco's artisanal food marketplace. A Tokyo outpost followed last year. (Ring, a Dandelion co-founder, is no longer involved in the day-to-day business but is still on the company board.)
Now the company is building out a 24,000-square-foot facility in the Mission that will include not just a factory and café but also an employee lounge space and an underground dessert bar. Unlike most chocolate makers, Dandelion has the benefit of investor backing—which allowed it to form a separate real estate company to buy the $20 million space, rent it back to the chocolate-making arm, and throw in another $2 million to $3 million on construction.
"If it's late at night, you go on a date or something, you come back here," Masonis says, waving his arms at the empty concrete space. The pair hopes the place will offer an alternative to a bar, offering more than just alcohol. "We want our love of pastries to shine through," D'Alesendre says.
Back when he started, Masonis says, "everyone thought we were so dumb. ... 'It's never going to work, it's a terrible idea.'" But he, like so many nerds, gets a thrill from proving others wrong.
Now he hopes to prove wrong the skeptics who doubt how many people will pay $10 for a chocolate bar. And chocolate obsessives hope the industry, like beer and coffee before it, can support a specialty craft market that actually competes with the big guys—even though making chocolate is far more complicated and expensive than brewing beer.
"When it's finally done, it's going to be obvious it makes sense," Masonis says of Dandelion's ambitious plans. "That's the big bet."

Before there was a subterranean craft-chocolate dating venue, there was Scharffen Berger.
In the mid-'90s, physician Robert Steinberg and winemaker John Scharffenberger began making their own bars with rare beans that they roasted, ground, and turned into chocolate themselves. In 1996, they founded Scharffen Berger, the first modern American bean-to-bar chocolate company.
They sold to Hershey nine years later, costing the brand some of its artisanal luster, but around the same time, new chocolate makers began cropping up around the country—Askinosie, Taza, Amano, Theo, Patric, DeVries, Rogue Chocolatier.
"One of the reasons I started was in response to the Scharffen Berger sale," says Colin Gasko, who founded Rogue in western Massachusetts in 2007. "I was pissed off. I felt like I would get excited by a product, the brand would get larger, sell out, get shitty, and I'd have to start all over again."
Unlike Masonis, who applies engineering theories to chocolate-making, Gasko never even earned a high-school diploma. He learned by sheer force of will. After making some truffles while working at Whole Foods, he taught himself chocolate-making through such hobbyist websites as Chocolate Alchemy. A natural tinkerer, he read technical manuals and repurposed machinery for his chocolate habit, fashioning a bean-cooling system out of a 5-gallon bucket, a colander, and a vacuum. (Not all his experiments were successful. An attempt to use an Indian wet grinder, designed for making dosa batter, to grind cocoa liquor left a "ring of chocolate in a 15-foot radius around the room.")
"All of us were swirling around this at about the same time," recalls Shawn Askinosie of Askinosie Chocolate.
If Masonis is the nerd of craft chocolate, Askinosie is its saint. For him, chocolate is not just good business, it's a path to social justice; he shares his profits with his cacao-growing partners and opens his books to them, and he runs and raises funds for his Chocolate University for students at local elementary, middle, and high schools.
Before he found chocolate, Askinosie spent nearly 20 years as a criminal defense attorney; he's particularly proud of his defense of Armand Villasana, convicted of a brutal rape before DNA testing exonerated him. Askinosie loved his work, but it was emotionally taxing; he prayed daily to find a new passion. "It was a very simple prayer," he says: "'Dear God, please give me something else to do.'"
Several hobbies later, he had his answer.
The backlash against Big Food has crept from the supermarket's beer and coffee aisles into the chocolate aisle—a rejection of candy as commodity, its units identical and cheap.
"When you have increasing concentration of producers in the center, you leave room on the periphery for specialization," says Elizabeth G. Pontikes, associate professor at the University of Chicago's Booth School of Business who teaches a course comparing craft chocolate and craft beer.
In other words, as all the stuff in the middle, whether it's from Hershey's or Budweiser, gets more similar, there's more room for outliers, whether from Dandelion or Brooklyn Brewery.
That pattern is well under way in beer, as craft companies take bigger and bigger bites out of their large rivals.

In the U.S., chocolate is one of the few nonessential items nearly everyone can afford; 85 percent of consumers buy it. That made for a $21 billion market in 2014, and just two large companies, Hershey and Mars, account for 64 percent of it.
But premium manufacturers such as Lindt & Sprüngli USA are gaining market share in part by coming out with their own craft-like bars. Smaller chocolate makers, as a group, are also gaining ground. At Whole Foods, for example, which sells only bars that it considers "ethically sourced," the number of chocolate suppliers has increased 50 percent in the last four years.
"I don't think Mars or Hershey has anything to worry about," says Clay Gordon, a craft chocolate adviser, teacher, and author. The difference between craft chocolate (small, artisanal) and industrial stuff (mass-made, consistent), he says, is so fundamental that they aren't really competitors.
"But," he notes, "small makers are influencing the taste of the public, and big makers are responding to that demand. We are moving the needle."
In Dandelion's Valencia Street cafe, a tour guide gathers visitors in a small room.
She presents a preserved cacao pod—it looks like a deflated football—and then the beans that get turned into chocolate, plus the rejects deemed unfit for bars. She shows off the machines that make the magic happen, telling the group about the far-off lands where the beans come from and the above-market prices her company pays for them.
The visitors smell the chocolate mixing in the melangers, giant mixers that just 10 years ago were barely available in the U.S., and compare bars made with beans from different countries. By the tour's end, they'll have compared the nutty notes of Venezuelan beans with the fruitiness of Caribbean ones and hopefully be inclined to buy a bar or two made with their favorite.

Making giant quantities of mediocre chocolate bars is one thing. Making small batches of premium ones is another. The tours aim to illustrate the difference—and help visitors justify spending upwards of $10 on a single bar.
It's not an easy sell, but chocolate connoisseurs are optimistic.
"There is going to be a growth curve in chocolate," says Simran Sethi, author of Bread, Wine, Chocolate: The Slow Loss of Foods We Love and creator of The Slow Melt, a podcast about chocolate. "People will start to realize that what we have historically paid is too little—roughly 3 percent to 6 percent goes back to the farmer—and that the new wave of chocolate involves a lot more care and skill than mass-produced bars."
Not all of this new chocolate tastes as good as its price indicates it should. The 2015 Mast Brothers scandal didn't help.
The brothers, who run arguably the country's best-known craft chocolate brand, were exposed for not making their own chocolate. They had, at least for a time, been selling remelted Valrhona wrapped in bespoke paper. But with their enormous beards and penchant for press, they'd marketed it perfectly. (The brothers later said they "sincerely apologize" to customers who feel misled.)
The scandal struck at the heart of the fallacy of the artisanal food movement: Why, people wondered, would anyone spend that kind of money on a chocolate bar in the first place? Often, it's not a premium product being sold—the stuff may not even taste that good—but rather it's a story being sold at a premium.

But the Mast Brothers also taught the industry an important lesson: Good marketing works. Custom wrappers are now de rigeur. Factories are much more visitor-friendly, often located in major cities where foot traffic never stops. A growing minority, including Dandelion, have investors helping them expand into bigger spaces with the goal of reaching scale.
The barriers to entry are much lower than they once were—machines can easily be ordered online, brokers can help makers get beans without leaving the country, and more customers are willing to cough up money for what looks like a better product. Sometimes this means lots of great chocolate; sometimes it just means a pretty wrapper.
"I'm often hesitant to try new craft chocolate, because there's a good chance it's going to be not good," says Gasko, the Rogue Chocolatier founder. "People are not rewarded for a doing a better job. They're rewarded for having better marketing."
The Mast Brothers, meanwhile, are expanding, with a new factory in Los Angeles and attention to international sales. But few other chocolate makers show an interest in that kind of reach—not even some of the most celebrated, like Rogue and Patric, neither of which offers tours of its facilities and both of whose bars are difficult to find.
Dandelion, however, stands out as an accomplished chocolate maker that not only knows how to market itself but also has serious plans to scale. The size of its new factory might make it one of the most audacious bean-to-bar chocolate companies on the map.
How will Big Chocolate respond to the rising craft market? It's tempting to look to Big Beer for a clue. As craft brewing grew, the likes of AB InBev and Miller Coors took note and started buying up craft breweries, such as Goose Island and Saint Archer Brewing Company. Ask experts if the same will happen in chocolate, and they'll inevitably refer to Scharffen Berger.
"It's already been tried," says Gordon, the craft chocolate adviser, says, portraying Scharffen Berger the way many others do—as a failure and a sellout whose chocolate suffered after the acquisition.
Hershey calls the Scharffen Berger story a learning experience. A tech company might describe it as failing fast.

"Learning what works and what doesn't work is important," says Marcel Nahm, Hershey's vice president of snacks. "And we are doing that." He declined to share specific sales numbers.
The company's original plan—to sell Scharffen Berger in mass-market retailers—led to disappointing sales, says Sean Maurer, who led Hershey's artisan group from 2012 to 2014. Hershey "made a mistake," he allows. Hershey also incorporated cheaper, more consistently available beans from West Africa into its bars—something chocolate makers often note when they talk about Scharffen Berger's shift, he says. Whole Foods dropped the brand in 2012 because Hershey's couldn't guarantee that the supply chain was free of child labor.
Hershey's didn't deny that it sources some beans from West Africa, but a spokesperson pointed to the brand's Rainforest Alliance certification as evidence that it's child labor-free and said Hershey has committed to sourcing 100 percent certified and sustainable cacao across the company by 2020.
Nahm says Scharffen Berger is now growing or maintaining market share in most places. Shoppers can find it at Target, Walmart, and some high-end supermarkets.
Hershey portrays the Scharffen Berger deal as a win: It got into the craft chocolate game before it was popular, worked through the growing pains, and can now benefit from the artisanal food trends. But for craft chocolate makers, it's more of a cautionary tale about how quality can suffer.
"They're as artisan, high-end, hip as anything else in the market," Maurer says, "but because they're associated with Hershey, they have trouble."

For most craft chocolate makers, selling out probably is not the cards. They'll never be big enough, or produce a uniform enough product with a large enough margin, to be considered.
Many say they aren't looking for that future, either. "We've been approached a couple of times," says Art Pollard, founder of Amano Chocolate. "It's not our end goal to build it and flip it."
"I don't hear any rumblings about acquisitions," says Jessica Ferraro, whose consultancy Bar Cacao advises chocolate makers and who recently judged the category for the Good Food Awards in San Francisco.
Investors, however, remain bullish.
"We have a thesis that these large confectionary companies will be meaningfully smaller than they are today, and what will take their place is smaller craft chocolate companies," says Ryan Caldbeck, co-founder and chief executive officer of CircleUp, a platform that connects investors to vetted retail and consumer companies, including Madécasse, which sources and makes its bars in Madagascar, and Raaka Chocolate, based in Brooklyn.
"Companies are run by entrepreneurs who want to have an impact on the world," he says. "Selling could be an opportunity to have a bigger impact."
Dandelion, with its strong brand and scalability, could make a prime target. Masonis says he's not interested.
"There are so many better ways to make money than a small, artisan craft-chocolate business," Masonis says. "We're just making chocolate."