The Pinterest Version of Suburbia Grows Outside Atlanta
Serenbe wants to change the notion of what a planned real estate development can be.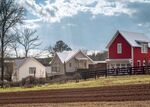 On a recent Tuesday, Steve Nygren was leading a tour of Serenbe, a planned community of 240 homes he began carving out of the woods outside Atlanta in 2000. Most of the group, myself included, clutched half-full coffees against the 30-degree weather. "Does anyone want to get rid of their cups?" asked Nygren, 71. "I want to show you how we deal with trash." He stooped down in front of a wide, wooden front porch and lifted up what appeared to be a manhole cover. His paper cup thunked softly into a subterranean metal can. "We pick it up with an electric golf cart. Most places have Herby Curbys"—those green and blue bins synonymous with suburbia. "It's visual pollution. Six a.m., the trash truck comes, 'beep, beep, beep,' waking everybody up. Noise pollution," he said. "We've become so used to it, we don't think about it, but our psyche, our energy forces feel it. We wonder why antidepressant use has increased fourfold over the last two decades. It's because our built environment is not a good place to be."
If linking antidepressant use to above-ground garbage cans sounds like a stretch, you haven't been to Serenbe. The cosmopolitan hamlet in the bucolic wilds of Georgia seeks to change the notion of what a planned real estate development can be. Founded on the principles of agricultural sustainability and biophilia—which holds that people innately yearn to connect with nature—Serenbe is ideologically distinct from the gated golf course-McMansion mashups that tend to define planned communities in America.

Planned communities are increasingly popular. In January, RCLCO, a real estate advisory company, released a report showing that combined home sales at the 20 top-selling communities in the country were up 6 percent in 2016 from the year before. Serenbe is growing, too: In December residents began moving into Mado (derived from the Creek Indian term for "life in balance"), the third neighborhood in the development, after Selborne and Grange. When construction wraps on Mado's Eastern medicine center, spa, and Scandinavian-inspired cottages, Serenbe's population is expected to jump to 1,000 from 550, raising the value of the development to a cool billion dollars, community representatives say—a vast increase from Nygren's initial $15 million investment.

Nygren grew up in rural Colorado and moved to Atlanta to help Stouffer's open a hotel in 1969. When he realized the French-bread-pizza company's plan to expand into hospitality might not pan out, he started developing restaurants throughout the Southeast on his own. In 1991, seeking a weekend refuge from the city, he bought a farm 33 miles southwest of Atlanta. His wife, Marie, fixed up a cottage on the property for their daughters, and the charms of the country quickly lured the family there full time. "It was a value shift," says Nygren, who has thick white hair and blue eyes that would have rivaled Sinatra's. "What's really important in life? I sold the company, I sold the house, I resigned from all the boards, and we stepped off the treadmill."
One morning in 2000, while jogging with one of his daughters, Nygren spotted a bulldozer mowing down trees near their property, which by that point had expanded to 300 acres. He panicked, calling neighboring landowners and brainstorming plans to stop what he saw as the inevitable onslaught of strip malls and suburban sprawl. He spent the next two years researching nature-friendly housing developments, until he stumbled on a study by the nonprofit Urban Land Institute showing that 92 percent of people who owned lots on golf-course developments played golf twice or less a year. "Meaning," he said, "they were buying it for the open space, not to be on the golf course."
Over wine-fueled dinners at his house, Nygren organized the county's 500 landowners and lobbied to change the zoning of their combined 40,000 acres. His vision: to turn a small portion of their land into a walkable town, modeled after English villages and demographic "blue zones" (places where a disproportionate number of people live past 100) while preserving the rest as forest. He established rules to ensure architectural uniformity and encourage neighborly comity: Houses can be Craftsman or modern but not both. Porches must take up 70 percent of the first floor and be at least 8 feet wide. Only so many in-ground pools can be built—sharing is caring, as the saying goes. Front lawns are all but forbidden; instead, homes back onto a web of trails forming shortcuts through town. Mailboxes are placed in centralized huts rather than in front of houses. "Sometimes it takes two hours to get the mail, I run into so many people," says Monica Olsen, Serenbe's vice president for marketing and communications, who moved to the development in 2009, five years after the Nygrens sold their first lot.
Garnie Nygren, Steve's 32-year-old daughter and Serenbe's director for operations, manages the community's 60 service workers. She also co-owns a clothing boutique and a raw juice company whose offerings are so healthful, she says, "you'd need to eat 10 pounds of produce to get the nutrients contained in one bottle." Serenbe's populace includes more than a few aging hippies nourishing their chakras, but it's also home to an organizer of the National Prayer Breakfast, a co-founder of the tech-strategy company Blue State Digital, and people of various genders and sexualities. There are pilots and management consultants, entrepreneurs and artists. Thirty-five percent of Serenbeans are in their 30s, and 70 percent work remotely part or full time. Steve Nygren has identified two common denominators: "Everyone at Serenbe has a passport, and there's a real sense of hope."
With its manufactured charm, Serenbe has the feel of a town conceived in Hollywood—even its name, an amalgam of "serenity" and "be," sounds as if it were drummed up in a writer's room. Residents talk about it with glassy-eyed zeal. "The first time I came here, I had to drive through some odd areas. But all of a sudden, it's like, the clouds part, the sun shines, the angels sing," says Michelle Mason, a 38-year-old pharmaceutical executive who moved to Serenbe from New York City in 2015. "I've heard people say, 'Isn't that a cult?' Which I could see from the outside."

As people moved in, they created businesses: SimCity writ large. Nadine Bratti, an ex-New Yorker and wine consultant, runs a general store fit for Brooklyn (craft beer, French cheese, organic cleaning products). The Nygrens' onetime weekend home is now an inn that hosts about 10 executive retreats a month, and a 25-acre organic farm lies in the middle of Grange, the agriculture-focused neighborhood. Matt Clayton, a fourth-generation farmer from Wisconsin, runs the farm with his wife; Serenbe lured them with its guaranteed customer base. "We can get full price, because they're willing to pay for it," Clayton says, gesturing toward a row of neon-green lettuce heads. "These people are choosing to build their homes in our backyard." There's a florist, a bike shop, and a ripped-from-Pinterest artisan market that sells a vast assortment of candles.

Serenbe is technically part of Chattahoochee Hills, population 2,800, a city that didn't formally exist until the Nygrens and their neighbors pushed for its incorporation in 2007. The planned community accounts for 45 percent of the city's tax base, providing some financial security for the family-run farms that make up much of the rest and funding the police and fire departments. They don't have a whole lot to do. "There's almost no crime," says Mayor Tom Reed, who moved into one of Serenbe's villas in 2006. "There's not much going on, frankly."
The community has a Montessori school that goes up to the third grade, and kids learn how to drive golf carts—the main form of transportation on town streets, alongside Priuses—around age 12. There are no traffic lights, just warnings on wooden signs to drive slow ("Children and adults at play"). "In 11 years, we've had three couples get divorced," Garnie says. The playhouse puts on well-attended productions such as Miss Saigon. The independent bookstore hosts lectures about topics including the origin of the word "word." Over a lamb tagine and an Oregon pinot noir at the low-lit, bustling bar of the Hil bistro, I chatted with residents about politics and the shows they were binge-watching. I almost forgot I was in the middle of the woods.
Other planned communities have also seized on people's desires to marry cosmopolitanism and nostalgia. Poundbury, a traditionalist English village conceived by Prince Charles, was derided as a feudal Disneyland; now, according to the Guardian, it's home to more than 3,000 residents and 185 businesses. In the U.S., Silo Ridge, a $500 million development of 245 luxury homes in New York's Hudson Valley, will come with all the traditional perks—golf course, clubhouse, security gates—in addition to more rustic offerings such as skeet shooting, fly-fishing, and bird hunting.

Like Serenbe, Silo Ridge is invigorating the surrounding region. It's forecast to generate 3,000 jobs during construction, which began last March and will see its first homes open this summer, and 200 full- and part-time permanent jobs once completed. Tom Brady and Gisele Bündchen reportedly bought a plot of land there. Mike Meldman, the founder of Discovery Land, the company behind Silo Ridge and 19 other high-end planned communities, describes his Hudson Valley offering as "very Rockwellian." Many buyers are after a second or third home, a place to take the train on Friday afternoon to do things they can't in Manhattan. As Carol Taylor, Discovery Land's director of marketing, puts it, "You can be a gentleman farmer without actually having to do anything."
Sustainability-focused developments such as Serenbe represent a small, though growing, segment of U.S. planned communities. In Texas, there's Mueller; in Oregon, Pringle Creek Community; and in Arizona, Agritopia. But beyond the medicinal herb garden and horse-studded pastures, the wastewater treatment plant and antifertilizer policies, Serenbe sells, above all else, an invented heritage. Didn't come from a small, whimsical town? Now you can live in one.
But while charm can be engineered, diversity tends to defy advance planning. Anyone can live at Serenbe, provided he can afford a home, which costs $475,000, on average. There's no test to assess whether a buyer is fit for the community, nor a set of quotas to be met. A certain sameness prevails, though. Politically, the place leans left, and though I noticed a few residents of color during the three days I spent there, the majority of them are white. The service workers I saw—the inn's housekeeping and waitstaff—were minorities.
The community also breeds a certain insularity, in which fringe beliefs can quickly become mainstream. One evening, over dinner at the home she shares with her chef husband and a Persian cat named Goose, Garnie Nygren elaborated on why she doesn't drink plastic bottled water ("It causes cancer") and cited a TED Talk by a therapist who claimed that to feel whole, people need a multitude of simultaneous, platonic relationships in their life. Almost everyone at Serenbe drinks water out of a thermos. And during my three days there, four people mentioned the TED Talk.

An open-door policy pervades the place, and those who value privacy may balk. Windows are wide, with thin curtains that are often undrawn. While drinking coffee in the kitchen of my 900-square-foot rental cottage one morning, I found myself ducking to avoid eye contact with a neighbor going about his own routine. Drivers roll down their windows to say hi to passersby. Secrets seem hard to keep.
Not everyone can handle it. Garnie says 5 percent of residents leave Serenbe each year. "Community is a personal thing," she says. "It has accountability. If people aren't ready for the intimacy of community—this is like college for adults, true community within a built-in environment—then it's easy to go back to the city and be anonymous. This should not work for everyone."