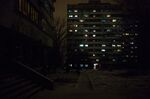 Ukraine Is Fighting Its Own Cold War
Many are paying a high price to stay warm this winter while Russian attacks intensify in the east.
Vladimir Putin said only Russia predicted Donald Trump would win the White House. Trump, an admirer, wants to use that surprise victory to mend fences, signaling during the campaign that he may lift sanctions imposed after Russia annexed Crimea and launched a war on Ukraine—a war that continues to this day.

The aggression, and the 9,600 killed as a result, soured relations with U.S. President Barack Obama, who  called out Putin as a canny foe of America intent on crushing Ukraine's 2014 revolution. Until just recently, Trump had expressed ambivalence about the crisis in Ukraine. Trump and Putin have already had a cordial phone call, and there are plans for a meeting this summer.
For Ukrainians, there is concern about what this relationship may mean for them, the intensifying conflict in the east, and the complicated economic landscape the country faces. This is the third winter since the Euromaidan revolution ejected Ukraine's pro-Moscow government, and the nation faces a difficult test. Required by the International Monetary Fund to end energy company subsidies, consumer costs have in some cases tripled, exceeding the ability of less-affluent Ukrainians to pay. Keeping the heat on is driving more people into poverty in a country where more than half already live below subsistence.

Before the IMF reform, subsidies were funneled to oligarchs who controlled utilities, explains Dmytro Shymkiv, deputy head of Ukraine's presidential administration. Shymkiv, who quit a lucrative job with Microsoft Corp., says that "in order to fight the oligarchy, we set the bill at the commercial price." Add crumbling infrastructure and a long-running feud with Russia over gas imports, and you're left with some Ukrainians questioning the path that led to this predicament.
Ukraine is the world's third-most likely country to default on foreign debt and remains dependent on the IMF's four-year, $17.5 billion bailout plan, which requires energy-sector reform and the removal of utility subsidies.

Trouble began in the fall, when an early cold spell forced Prime Minister Volodymyr Hroisman to order heating turned on across the country earlier than planned. By January, Ukraine had 5.6 percent less gas in storage compared with a year earlier. Russia expressed "serious concern" over its neighbor's ability to cope. Deputy Prime Minister Volodymyr Kistion contends that Ukraine, which imports some gas from Poland and Slovakia, has enough to make it to spring.

That public outrage over corruption underlies Ukraine's energy conundrum shouldn't come as a surprise, as it's also what toppled Putin ally Viktor Yanukovych in February 2014. But the price citizens are paying has been high. Inflation was at more than 12 percent last year (It hit 43 percent in 2015 thanks in part to devaluation). Meanwhile, average monthly income fell to $194, according to Ukraine's Demography and Social Research Institute, and the number of people living below subsistence more than doubled, to 58 percent.

Pensioner Iryna Okhota, who lives in Dnipro, Ukraine's fourth-largest city with a population of 980,000, supported reform and voted for President Petro Poroshenko. But constantly cold and miserable in her own home, she doubts the government is capable of bringing her anything but more misery. While IMF aid coupled with fiscal prudence has helped stabilize the economy, there are plenty of pockets where progress has yet to be felt. Her building is one of them.
It was in 1989, the year the Berlin Wall fell, that Okhota and other young engineers at Yuzhmash airspace plant built their 14-story apartment block—a widespread Soviet practice. Now 59 and a cancer survivor, she greets visitors to her barely heated, 430-square-foot apartment wearing a winter jacket. It's 50 degrees Farenheit inside, thanks only to several electric heaters. The building's radiators are cold, and outside the temperature hovers at 27 degrees. Okhota's neighbor, 77-year-old former paramedic Anna Berezyuk, spends her days boiling water so she can pour it into plastic bottles to warm her bed.
Another neighbor, rocket designer Serhiy Herman, leads visitors into his cellar to show pipes delivering hot water into the building. A thermometer says incoming water is 108 degrees, 50 degrees below that required to keep a building habitable in the Ukrainian winter. By the time the water reaches some floors, it's icy.
"Energy losses reach 50 percent on the way between the heating plant and the consumer," explains city council deputy Oleksandr Lygin.

In Dnipro's city center, the shopping malls are about the only visible sign of progress in what is otherwise a quintessentially Soviet city of factories and ramshackle apartment blocks some 250 miles southeast of Kiev. Dozens of streets have been renamed to erase the Communist legacy, including Okhota's. But those changes leave her unimpressed. "They could have found better things to do," she says.
Ukraine has been suffering from poor infrastructure since long before the 2014 uprising. "Hot tap water disappeared after the Orange Revolution," Okhota contends, referring to the popular revolt of 2004. Even then, she says she had to buy an electric boiler to take a shower. Now, to take a bath she moves an electric heater from the living room to the bathroom and waits a half-hour until it's warm enough to undress.

The problem of poor heating is common in parts of Ukraine, as is the tremendous expense of paying for what does make it to the radiator. Okhota's total monthly bill can reach three-quarters of her monthly pension. "My daughter teaches music to children after her university classes—this is the only way we can survive," she says. Okhota says she's applied for a state subsidy but hasn't received it yet.
In the cities, the prices can go much higher. In Kiev, Ukraine's capital, some utility bills sent out for December surpassed $250, more than 25 percent above the average Ukrainian salary.
The subsidies the government provides to consumers go only so far. Herman, Okhota's neighbor, earns more than double what she brings in and isn't entitled to a subsidy. They're both lucky, however, in that their building is metered—were it not, they would have to pay the government average for similar-size buildings, which can be three times as much.
Lygin, the city council deputy, says "living in the cold is an immense humiliation, on top of physical and psychological stress. When people start receiving outrageous bills, they feel they are being treated like cattle."

Surgeon Oleksandr Horehlyad lives with his a wife and baby daughter in a nearby 14-story apartment block. He says he's billed $92 a month for utilities. While Horehlyad's landlord pays half, his monthly salary at Mechnikov hospital stands at only $118. "At the peak of cold last winter we all moved into the living room, because staying in the bedrooms was unbearable," he says. Horehlyad admits his family wouldn't be able to survive without additional, direct cash payments from patients.
As fighting with Russia has escalated, doctors like him are kept busy with a regular stream of wounded combatants and civilians. A walk through the intensive care ward revealed two gravely injured soldiers, one in a coma with a head wound.

The region around Dnipro has also become home for those displaced by the war. One of them is Oleksiy Kharlamov, a paraplegic who trained wheelchair volleyball teams in the rebel-held city of Donetsk. He can't even afford to live in Dnipro, so he rents a poorly heated flat in the grim industrial city of Kamenske 30 miles away. With prostheses on both legs, he travels to work in Dnipro on crowded mini-buses, where a seat is never guaranteed.
Last year, he was invited to join the Ukrainian national team at the Olympic Games in Rio. "It was so cool—full stadium, flags flying, anthems playing, and then we enter like it is Champion's League." At home, though, Kharlamov trains wheelchair-bound war veterans and organizes sporting competitions for the disabled—in part to pay more than $100 a month in utility bills.
"Competitions and training camps allow me to save money for the family, because food is funded by sponsors," he says. 

In lieu of government remedies, radical home improvement has become a viable option. Katerina Zabirnaya, who manages a nine-story apartment building, said her building was a disaster, and not just because it was always cold. It smelled foul, had a cellar filled with stagnant water, rat-infested staircases, broken windows, ruined entrances, and homeless squatting in abandoned flats. But after she and her neighbors took it over, things began to change. With money from a few commercial renters and government grants, they started repairing old pipes and cables, replacing wooden window frames, and perhaps most importantly, insulating the building.
But that's just one building. Natalia Boyko, who left a career as a corporate lawyer to work as an energy adviser for the government, says that true reform will begin with the unbundling of state-owned monopoly Naftogaz. That plan, however, is stalled because of a legal dispute over Ukraine's debt to Gazprom. Naftogaz must remain intact until arbitration in Stockholm yields a decision on whether the Russian energy company is owed billions of dollars. Only after that's resolved can the government pursue change among the companies that supply heat. "This is the tail of the dragon, and we've only just started cutting the body," she says.
Just a few years ago, 25 percent of government spending went to cover Naftogaz's deficit, says Aliona Osmolovska, a spokeswoman for the company. In 2015, gas was provided to residential users at a 90 percent discount: "Consumers did not have an incentive to save gas and heat. Installing an efficient boiler with expected service life of 15 years would pay back in 20 years," Osmolovska says. "This is at least partially the reason of the miserable state of the heating infrastructure." Last year, though, Naftogaz didn't receive any support, she says. Instead, the company was responsible for 10 percent of state budget revenues.
But for reformers such as Boyko, time may be running out. Dnipro Mayor Borys Filatov says inflated utility bills are giving a boost to populist politicians, notably Yulia Tymoshenko—the former prime minster whose party, Batkivshchyna, leads in the polls. The party has even filed a lawsuit in Ukraine's Constitutional Court claiming the new heating and hot water costs are illegal. Filatov says surveys commissioned by his office show that 33 percent of residents are stocking up on food because they fear rising utility bills.

Shymkiv, the deputy head of the presidential administration, insists Ukrainians are seeing tangible improvements, and just need to hold on. The new, less-corrupt police department, a more transparent public procurement system, and court reforms are all necessary first steps toward the eventual modernization of infrastructure. "We've planted the seed," he says. 
But Shymkiv concedes the government "started too late, allowing the populists to jump in." Ukraine's communication strategy is aimed at enabling people to take care of themselves, he says, because the "state cannot fix everything."  But in a country of 45 million that in just 28 years has endured three revolutions, an invasion, and a surreptitious war, perhaps Filatov's message will resonate more loudly.

"If we don't overcome our energy dependence on Russia," he concludes, "we will lose our independence."
(Updates to add comment from Naftogaz in 25th paragraph.)