Inside the Mind of a Snapchat Streaker
The photo sharing app is dangerously addicting, and that's by design.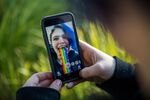 Abby Rogers, a 15 year-old from California's Bay Area, recently took extreme measures to help a buddy in Michigan.
The friend had her phone confiscated by parents and biked to a local library where she got on a computer, sent Rogers her Snapchat user name and password, and begged for a big favor. Every day for two weeks, Rogers would need to log on to the messaging app and send short picture messages back and forth between her friend's account and her own. It didn't matter the subject. It could be pictures of walls, ceilings—anything, really—so long as it kept alive a continuous, daily volley of missives known as a Snapstreak. Thanks to Rogers' intervention, the girls' Snapstreak has been running for more than 270 days.
Keeping streaks alive has grown so urgent that Rogers checks the Snapchat app on her phone roughly every 15 minutes. She had 12 running at last check. If friends don't "snap" back and forth for 24 hours, streaks die, breaking one of the digital ties that bind America's teens.
"Sometimes I'll end up going through a streak in the middle of class. I'll just leave the phone face up and take a picture of the ceiling," said Rogers, who feels "guilty" if she doesn't respond to her friends' snaps immediately. "I don't want to leave them hanging."
That kind of digital obsession has made Snap Inc. the social media darling of the moment. An initial public offering as soon as March could put a price tag of at least $20 billion on the business. Snap plans to file paperwork publicly late this week, Bloomberg reported Jan. 27.
To lure investors, Snap plans to emphasize how important its app is to the lives of its more than 150 million daily users. But the digital habits of this California teen also show a potential vulnerability in the startup as it prepares what's likely to be the biggest technology IPO since 2014.
If some heavy Snapchat users just log on to keep streaks alive, they're less likely to see ads or interact with other sponsored content such as branded photo filters. They also may get sick of the daily chore. Not exactly what advertisers—or IPO investors—want to hear. Parents and child-development professionals are unnerved by the streak phenomenon, too, but for different reasons.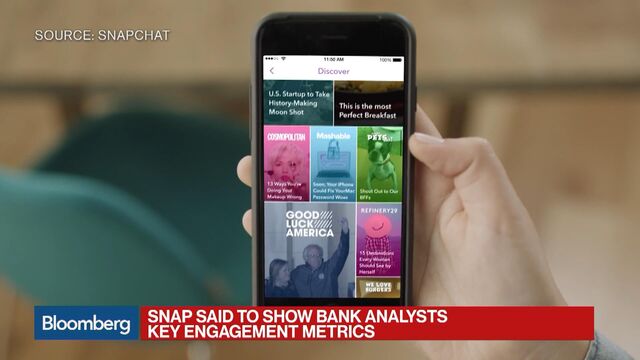 "If you're sending a picture of a wall or just sending 'hello,' how legitimate is it?" said Rob Romero, parent of teen snapper as well as head of technology investment firm Connective Capital Management. "Companies gamify this to get people more engaged in their platforms."
A Snap spokeswoman said streaks are meant to be a fun way to illustrate online relationships. The company shows numbers that appear next to each friend's name and tracks the days they've gone continuously sending and receiving messages. Long streaks are rewarded with colored hearts, fire, and other emojis on users' profiles.
Messages on Snapchat can be personal videos and amusing comments. But they can just as easily be photos of ceilings.
"Some people Snapchat just for the streak," said Isaiah Figueroa, an 18-year-old student at Wichita State University. Figueroa has 27 streaks with friends, including one of more than 250 days. He gets irritated when people snap a meaningless picture with a generic message, such as "keep the streak going." He tries to avoid this but admits he's guilty of the practice when he gets busy and is afraid he'll lose a streak.
It's not just teenagers. Chase Haverick, a 30-year-old development communications manager from Oklahoma City, has seven streaks and recently hit 100 days with one friend. Special "100" and "fire" emojis now hover next to a digital representation of their relationship on Snapchat. Hitting the 100 mark was a "bucket list" goal for 2016, Haverick said, only half joking.
Snapstreaks began in April 2015 as part of a wider app update that introduced Friend Emojis. These symbolize a hierarchy of relationships: At the top is the person you send snaps to the most and who also sends you the most snaps. They get a gold heart emoji. Lower down, a smirk emoji means a person messages you more than anyone, but you snap more with others.
The rankings provide clarity in what adolescent development experts said is a messy period of social growth for young adults.  "For those that have streaks, they provide a validation for the relationship," said Emily Weinstein, a doctoral candidate at Harvard University studying the intersection of adolescent behavior and social media. "Attention to your streaks each day is a way of saying 'we're OK.'"
Snap adds urgency by putting an hourglass emoji next to a friend's name if a streak is about to end. "The makers built into the app a system so you have to check constantly or risk missing out," said Nancy Colier, a psychotherapist and author of The Power of Off. "It taps into the primal fear of exclusion, of being out of the tribe and not able to survive."
Snap's ability to inspire such obsession—especially from famously fickle teenagers—has ignited the envy of other social media companies, such as Facebook Inc., along with early interest from some advertisers.
Movie maker DreamWorks Animation, bourbon brand Jim Beam, and fast-food chain Taco Bell have run Snapchat campaigns, helping ad revenue reach $367 million in 2016, according to EMarketer. That could hit $1.76 billion by 2018, the research firm estimated last year. 
Others in the ad industry aren't convinced of Snapchat's value yet. Kevin Newby, a strategist at digital advertising company EVB LLC, said most marketers want their campaigns to persuade people to buy things, and Snapchat's streakers aren't around long enough for that.
Jeff Nicholson, a senior vice president of paid media at agency VaynerMedia, is a Snapchat fan, but even he warns that successful advertising on the app means "understanding you might get one second or three seconds of their time."
IPO investors will be closely watching user numbers to ensure there are enough people on Snapchat to see the ads that will generate most of the company's revenue. They're unforgiving when data like this is unreliable. Before Twitter Inc.'s 2013 IPO, it touted monthly active user growth and timeline views, but backed off those numbers later. The shares have fallen by more than a third since the company's public market debut.

Snap recently told analysts at IPO underwriters about daily active users, the number of daily snaps, and time spent on the app, people familiar with the matter told Bloomberg this month. Users spend an average of 25 to 30 minutes a day on the app, a number that hasn't changed in 11 months, the company said. It declined to provide statistics on streaks.
Lucy Dendinger, a former marketing executive in the Bay Area, has her own data on this phenomenon. Her daughter takes over the Snapchat account—and streaks—of a 13-year-old relative when he goes on vacation with his parents. Dendinger said her kids snack on Snapchat throughout the day but spend little time looking at posts before moving on to the next message.
Rogers, the teenager from Moraga, California, says she ignores ads during the three or four hours a day she spends in the app. Her focus is on maintaining streaks with her friends. "It's how we stay in contact," she said.