Wilbur Ross and the Era of Billionaire Rule
The Commerce pick is key to Trump's experiment in government by—and possibly for—the ultrawealthy.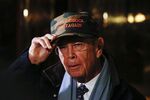 On the last day of November, President-elect Donald Trump chose Wilbur Ross as his nominee for secretary of Commerce. A few hours later, Ross, a 79-year-old Wall Street multibillionaire, stepped into Gramercy Tavern, a tasteful restaurant for the Manhattan elite, off Park Avenue. A wood-beamed and chandeliered private dining room had been reserved for Navigator Holdings, a liquefied gas shipping company whose biggest investor is Ross's private equity firm, WL Ross & Co. He and David Butters, Navigator's chief executive officer, both arrived early. "Your interest is aligned to mine," Butters recalls Ross saying. "The U.S. economy will grow, and Navigator will be a beneficiary."
When the other guests arrived, they took turns congratulating Ross. As the executives enjoyed a menu that offers sherry-sauce sea bass and pear buckle, the mood was jovial, Butters says. One of their own could soon be running the cabinet department that is the conduit between government and corporate America. "It was like—we have a chance now," Butters says. "We have a chance to make some differences."

Although Trump ran as a populist, railing at the elite on behalf of blue-collar workers, he surrounded himself during his campaign with plutocrats. And now that he's president, he's elevating them to power. Trump's proposed cabinet has a net worth of more than $6 billion. Ross is by far the richest, worth $2.9 billion, according to a Bloomberg estimate. And how he achieved his fortune—a well-known Wall Street tale of "vulture" investing at its shrewdest—takes on a different cast in light of his nomination.
Ross got rich in part with government assistance, taking advantage of bankruptcy laws and tariffs and having others pick up the bill for pensions owed to employees. He's been on both sides of perhaps the most pivotal issue of the 2016 campaign—free trade—depending on how it affected his own wealth. If confirmed as Commerce secretary, as is widely anticipated, Ross would be expected by Trump's electorate to deliver on promises of working-class jobs and an industrial renaissance. Yet he would have the means to continue rewarding the Establishment. Even before taking office, he's pushed policies that would enrich private investors in public projects.
Ross is positioned to become the most powerful Commerce boss in years. The department calls itself the voice of U.S. business, but it's less a single creature than a dozen agencies rolled together. Ross would oversee the census, patents, economic analysis, the development of minority-owned businesses, and even, under the aegis of the National Oceanic and Atmospheric Administration, the monitoring of the effects of climate change. In addition, Trump has said he'll direct Ross to identify every violation being committed under existing trade agreements, and a Trump spokesman has said Ross will be the administration's leader on setting trade priorities, a role usually reserved for the U.S. Trade Representative. To the extent that the Trump administration is an experiment in government by—and possibly for—the ultrawealthy, Ross would be its public face.
That face is an evocative one. Ross reminds people of a professor, an owl, or the Simpsons moneybags C. Montgomery Burns. He has a taut, bald dome; squinting eyes behind rimless spectacles; and thin lips that, in conversation, can curl downward, as if he's slightly displeased. It's the mug of someone who's been very sharp for a very long time.
Born in 1937, Ross graduated from the Manhattan Jesuit high school Xavier, describing himself in the 1955 yearbook as a country boy who wanted to go to Notre Dame and become a lawyer. Instead he went to Yale, then Harvard Business School. He landed on Wall Street, spending much of his career working for the Rothschild financial dynasty. Ross became one of the world's most sought-after bankruptcy advisers and then, around age 60, started a private equity fund to make investments in distressed companies.
Ross has been married three times. His wedding in 1995 to his second wife, Betsy McCaughey, had to be postponed because he was still married to his first; the couple eventually held a reception for hundreds of guests on the USS Intrepid. (They told the New York Times they couldn't even estimate the number of attendees.) Ross funded McCaughey's 1998 run for governor of New York until she announced, just days before the primary, that he'd withdrawn funding. They divorced. In 2004, Ross married the society writer Hilary Geary. They paid $7.8 million last year for a 5,000-square-foot duplex in Manhattan's art deco River House co-op. It has five bedrooms, not counting three maid's rooms.
For his 70th birthday, Ross was feted with Tin Pan Alley songs whose lyrics were changed to praise his investments, his globe-trotting, and, to the tune of Ain't We Got Fun, his shoes: "So many pairs of velvet slippers, hard to choose one." His art collection, which Bloomberg estimates is worth $250 million, is heavy on the midcentury Belgian surrealist René Magritte. At a gala in 2012, Ross pulled back his tuxedo sleeve for a reporter to reveal a custom Van Cleef & Arpels timepiece with two Magritte-inspired apples on a pink face. "It's our painting," he said. "It's hanging in Palm Beach."

Ross belongs to at least three private clubs in London and four in South Florida. In and around New York, he's a member of Mory's Association, the Harvard Business School Club, the River Club, Southampton Bath & Tennis Club, and Kappa Beta Phi, a secret banking fraternity founded before the 1929 stock market crash. Ross has served as grand swipe, the title given to the frat's leader.
Ross wouldn't comment for this story. After his assistant asked Bloomberg Businessweek not to contact anyone who works or has worked for WL Ross, a spokesman e-mailed a list of outside people Ross wanted to make available. It included two mayors, one governor, and six billionaires, among others. One of the nonbillionaires was C. John Wilder, a colleague Ross picked in 2015 to be executive chairman of the hobbled oil explorer EXCO Resources. "He wants to win, but business to him is not filled with a lot of emotion," Wilder says. "Very emotionless, very deliberate, very calculated."
After Ross shifted from adviser to investor, he explained his thinking to a Bloomberg News reporter in 2003: "All we could do was make recommendations—now we're actually doing what we think is right. I wish I'd done this years before."
In February 2002, Ross had a hand in a record-setting deal. He announced he was buying the bankrupt Cleveland steelmaker LTV. One month later, the Pension Benefit Guaranty Corp.—a government entity funded by private industry—said it was taking responsibility for the pensions the company had promised its employees. Covering about 82,000 workers and retirees, it was the largest pension takeover in U.S. history, and it meant that the agency, not Ross, would have to fulfill LTV's multibillion-dollar obligations to steelworkers.
It wasn't a coincidence. After decades of witnessing deals come together as an investment banker, Ross understood how to use bankruptcy to his advantage—acquiring only assets while others shouldered the burdens. "He taught me so much," says Rodney Mott, who ran International Steel Group, the company Ross formed. "Purchase the assets through bankruptcy, which would make them free and clear. There is no pension obligation. The government takes over."
The PBGC's pension takeover record didn't even last until the end of the year. In November 2002, Ross began work on a deal to buy bankrupt Bethlehem Steel, and one month later the PBGC took over benefits for about 95,000 people. Pensions were sometimes slashed in half.
"It didn't happen once, it happened a number of times," Vince Snowbarger, a former acting director of the PBGC, says about the takeovers. "So when you'd hear that Wilbur Ross was considering purchasing a company … I'm not going to say [we] were terribly thrilled to hear that he was involved." The pattern repeated at least three more times. As Trump's Commerce secretary, Ross would be one of three directors overseeing the PBGC.
Union leaders have praised Ross for bringing companies back from bankruptcy, but he wasn't bringing back all of the previous employees. Mott figures that on average they employed about half the number of workers they had employed before. "At the time, I think we did the right thing," he says. "You only feel really bad on a personal basis if you ever meet any of those employees. You go off on vacation, run into an ex-Bethlehem employee that's been forced into retirement and has a reduced pension—you try to avoid conversation." On a trip to Florida a decade ago, Mott recalls, "I was at Daytona at a flea market, and somebody there was selling wares. And we just got to talking, and I could tell from the accent they were from the North, and he was an ex-steelworker. Nobody I knew, but just an ex-steelworker. You don't identify yourself at that point, 'cause you don't know how people think of you." He says he walked away without buying anything.
Ross defended his practices in a 2003 interview with Businessweek, saying he saved jobs that would have vanished. "What we do is a very countercultural activity," he said. "Confrontational things, admission of error, admission of defeat, restructuring, laying people off: Those are not American ideals."
A week after Ross announced the LTV deal, President George W. Bush said he'd protect U.S. steel by putting tariffs as high as 30 percent on imports, breaking with some members of his own economic advisory team who said it would hurt consumers. Ross went on a buying spree, assembling the second-biggest steelmaker in the U.S. Without the tariffs, he told a trade commission in 2003, "none of this would have been possible."
At the time, Ross spoke unequivocally against free trade. "America's standard of living is being systematically destroyed by our international trading partners," he said in a public appearance, "and the people must be made aware of this economic disaster." In late 2003, the World Trade Organization ruled the Bush steel tariffs were illegal. But they did their job for Ross: In the period after the tariffs were announced, steel prices soared. Within months, he and his backers announced they were selling their steel company to an Indian billionaire for $4.5 billion, reaping more than an eightfold profit.
By then, Ross had also bought the bankrupt textile companies Burlington Industries and Cone Mills, the largest denim maker in the world. Burlington had operations in Mexico and India, and Ross wanted to expand worldwide. At the end of 2003 he invited dozens of industry executives to a conference room in downtown Washington, where he persuaded them to sign a statement backing a trade agreement that would allow Mexican textiles to be sewn in Central America and imported duty-free into the U.S. The next day he gave a speech in North Carolina, telling textile makers that protectionism was "the way to extinction."

Now loudly for free trade, Ross began embracing countries he'd recently accused of systematically destroying America. His textile company announced that it was building a plant in China, a complex in Vietnam, and an 850-worker facility in Nicaragua that drew the country's president to the opening ceremony. In September 2008, Ross's private equity firm announced a joint venture with a subsidiary of China's largest state-owned power producer. Ross called it "living proof of the financial and intellectual interconnectedness of two of the world's great powers." Three years later, he and the sovereign fund China Investment Corp. invested in a shipping deal together. "I think that it's total political nonsense, all the China bashing," Ross said at the time. "The trade deficit we have with the rest of the world is almost equal to the trade deficit we have with China, so what's the big deal about China?"
It proved a big deal to Trump, of course. "We can't continue to allow China to rape our country," the then-candidate said at an Indiana rally last spring. A few months later, Ross publicly reversed himself on this issue, too. "China has used a potent arsenal of unfair trade practices to shut over 70,000 American factories and kick millions of American workers to the curb," he wrote with the economist Peter Navarro in an August op-ed in the Pittsburgh Post-Gazette. In a September white paper for the campaign, they called China the "biggest cheater in the world," blaming the U.S. trade deficit on a flood of subsidized imports. Ross also repudiated the Trans-Pacific Partnership, a trade agreement he'd endorsed in 2015. He told senators in January that his feelings changed when he delved into details.
In business, switching positions is considered pragmatic. In politics, it's flip-flopping. After Ross spent a lifetime on Wall Street, what he really thinks about the issues is anyone's guess. In 2012 he defended Mitt Romney's comments about 47 percent of Americans being freeloaders; the same year, WL Ross invested about $50 million into the longtime union lender Amalgamated Bank. "I would watch him on CNBC at 6 in the morning, taking positions totally adverse to the bank and its customers," says Edward Grebow, Amalgamated's then-CEO. "And then at 9:00 I would have breakfast with him, or a meeting with him, and he could not have been more supportive."
Trump, too, has benefited from Ross's support. In 1990 the Trump Taj Mahal casino in Atlantic City opened with a ceremony featuring red ribbons, green lasers, and a talking genie. Like many of the buildings that marked Trump's rise, the casino had been funded with borrowed money, including $675 million worth of junk-bond sales. It quickly slid into bankruptcy, and Ross represented bondholders who could have cut Trump out. Instead, the two men struck a deal that allowed Trump to keep a major stake.
By tapping Ross to head Commerce, Trump is rewarding his former savior with oversight of almost 47,000 federal employees, more than the Education and Labor departments combined. The century-old department was run by Herbert Hoover just before he became president and Pete Peterson before he became a private equity billionaire. If confirmed, Ross will be expected to fulfill some of the campaign pledges to the Rust Belt that got Trump elected. "Your steel has been decimated," Trump said during an October rally in Pennsylvania. "We know all about the games where China is dumping all over the place. They are dumping steel. Your steel will come back."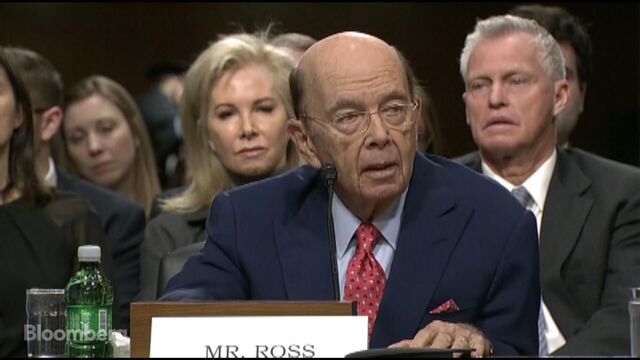 Most politicians make promises to blue-collar workers, but the stakes for Trump are higher. The conservative Tax Foundation has warned that his plan to slash taxes would add trillions to the national debt. In his September white paper co-written with Navarro, Ross promised that, by improving deals, boosting exports, replacing some imports with American products, and using tariffs, Trump would cut the trade deficit so dramatically that new tax revenue would mostly make up for all those tax cuts. Moody's Analytics wasn't as optimistic. In June it said Trump's economic proposals could trigger a trade war and a recession.
Ross, who sold his company to Invesco a decade ago, offered some indication of how his business history might play out in his new role: Days before the election, he and Navarro, now the head of a new White House National Trade Council, released a paper on Trump's infrastructure plans. Dams, railroads, pipelines, airports, bridges, ports, tunnels, and highways are crumbling, it warned—an assessment on which both parties agree. But rather than calling for more public spending, as Democrats would prefer, the Ross-Navarro plan advocates about $140 billion in tax breaks for private investors. Critics say these developers could build toll roads and other revenue-producing forms of infrastructure while leaving alone unprofitable but essential structures, such as rural water mains and levees.

One day in January, as Ross was getting ready for his confirmation hearing in the Senate, he attended a party hosted by one of his friends, the cosmetics heir Leonard Lauder, who's worth about $10.4 billion. Lauder was glad for Ross's good fortune. "All I know is that here's a guy who's in to make money," he said before the hearing. "In my Palm Beach world, no one is complaining about him having screwed them." Lauder predicted that Ross would do well at his hearing. "Is he rich? He's rich," Lauder said. "Will he be grilled by some people about his investments in coal mines? Yeah, I guess he will, because he was a big coal mine guy." (In 2006, 12 workers at Sago Mine, one of Ross's holdings, died in the worst West Virginia mining disaster in decades. One miner, age 51, had time to write a message on a scrap of paper that was found afterward. It read in part, "It wasn't bad I just went to sleep.")
Lauder was wrong about the coal questions. When Ross sat alone at a table in front of the Commerce committee in Washington, he wasn't grilled about the years he spent putting together the International Coal Group, nor Homeward Residential, which Ross had made into the second-largest servicer of subprime mortgages during the housing crisis. There were few questions on his steel or textile conglomerates. The senators were chummy, tranquil, and distracted. At one point, Connecticut Democrat Richard Blumenthal praised Ross for planning to divest hundreds of millions of dollars in assets to take the job, even though a half-hour earlier Ross had told the committee that he wouldn't part with his stake in Diamond S Shipping, a tanker company that his private equity firm had invested in alongside China's sovereign wealth fund.
Near the end of the hearing, the ranking Democrat, Senator Bill Nelson of Florida, commended Ross's wife for not letting her eyes wander during the proceedings. "Let me assure you that this hearing is a piece of cake compared to some of the other nominees," Nelson said. Everyone grinned. Ross had sent Nelson $4,800 for his last run.
As Trump settles into the White House, some Americans have expressed fears that the Wall Street financiers he's bringing into government will usher in an era of cronyism, corruption, trade wars, and disregard for the plight of the poor. Trump, of course, argues otherwise. "One of the networks said, 'Why, he put on a billionaire at Commerce!' Well, that's 'cause this guy knows how to make money, folks," he said about Ross at a December victory rally in Cincinnati.
Trump stepped away from the microphone, spreading his arms. "I'd like to put on a guy that failed all his life, but we don't want that, do we?" The crowd hissed. "No, I put on a killer. I've been honest. I said, 'I am going to be putting on the greatest killers you've ever seen.' We need that. It's time. It's time. It's time."
—With David Carey