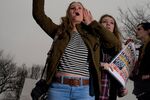 The Women Who Marched Into History in Trump's Capital
A photo essay following some of the hundreds of thousands of people—protesters and supporters—who descended on Washington, D.C. for the inauguration of President Donald Trump.
Hundreds of thousands of people walked though the streets of the U.S. capital on Saturday in defiance of a president who had taken office just one day before. They came on buses and airplanes to join the Women's March on Washington, creating the epicenter of a national protest event unlike any other recent presidential inauguration.
The official D.C. protest didn't start until 10 a.m. but at dawn people were already gathering in the National Mall. Some of the signs they carried were funny: "And you think SHE was nasty." Another: "I'm not usually a sign guy but geez." Others were somber, borrowing quotes from James Baldwin and Malala Yousafzai.
As the day wore on, it became clear that the march hopes to amount to more than signs and chants and messages. What started as a protest against Trump's one-day-old presidency has evolved into a rallying cry for equality: equal pay, equal rights, and equal justice. In some ways, this newest wave—is it fifth? sixth? what number are we on now?—of the women's movement can be seen as less of a reaction to an election than to the general level of hate permeating popular and political culture. Everything from Gamergate trolls on Twitter to videos of police violence to the fact that the new president once joked about grabbing women's genitals without consent served as prelude to Saturday's march. The organizers' five-page statement of their values and beliefs is so far-ranging, covering everything from immigration reform to the minimum wage, that it's unlikely the 200 or so groups participating in the event agree on all of it. Pro-life groups were visible today, even though the march's organizers have flatly proclaimed the event pro-choice.
It's difficult to keep a movement like this—one so big and unwieldy—from splintering into smaller causes or falling victim to internal conflict and dissent. But today, at this march, people remained together.
Updated January 21, 6:50 p.m.

















The Crowds On Inauguration Day

It was supposed to rain on Inauguration Day in Washington. The crowds standing expectantly on the National Mall under gray skies on Friday didn't have umbrellas. It was a safety hazard, they were told, so they withstood the rain with intermittent cheers: "Trump! Trump! Trump!" Outside the mall, things were different. Red hats with Trump's campaign slogan gave way to the garishly pink knitted caps that have become the symbol for the Women's March on Washington, set for Saturday. Some carried homemade signs proclaiming the new president a puppet or a tyrant or worse. 
After he took the oath of office, President Trump delivered one message aimed at the two very different crowds. "This moment is your moment," he said. "It belongs to everyone gathered here today and everyone watching all across America. This is your day. This is your celebration. And this, the United States of America, is your country." In that, at least, he was right. But the crowd—and country—he faced was at odds with itself. "When America is united, America is totally unstoppable," the new president said in his speech. 
A photographer and reporter for Bloomberg Businessweek walked through both crowds. There was little unity, and at time things turned less than peaceful. Above all, both crowds came to Washington for the same reason: they wanted to be heard.