Get Rich. Save the World. Gut Fish
Venture capitalist Ross Baird backs a radical plan to turn invasive Asian carp into American industry.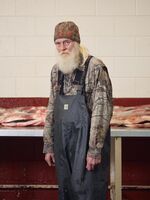 Photographer: Ross Mantle for Bloomberg Businessweek
Venture capitalist Ross Baird, 32, has red hair and an open face that calls to mind Happy Days-era Ron Howard. He's one of those preternaturally mature millennials who already has a developed philosophy, glossy academic credentials, and financial backing from important people for his fund, Village Capital. In high school at Phillips Exeter Academy, Mark Zuckerberg was the dormitory proctor who set up his e-mail. Plus, Baird wants to save the world while getting rich. All very Silicon Valley.
But the rule of Sand Hill Road (that's shorthand for the Menlo Park, Calif., epicenter of tech VC) is to invest widely in nouvelle concepts, hoping that one will be at least a "ten-bagger" (posting a return 10 times the investment). Baird, however, typically invests in unsexy ideas that he hopes will be three-baggers, often in agriculture, energy, and health care. Venture capitalists fixated on finding the next Snapchat put 85 percent of their $50 billion in funding last year into states that voted for Hillary Clinton, most of it in California, Massachusetts, and New York. Meanwhile, for the past seven years, Baird has been doggedly finding and developing successful businesses in the downtrodden places whose economic distress ultimately helped elect Donald Trump.
When Baird talks about the talented entrepreneurs he's met from Kentucky to Colorado, he unspools what sounds like the business version of Barack Obama's 2004 convention speech, the one about how red and blue America have much in common. "If Donald Trump wants to deliver on his promise to create rural jobs, he doesn't need to create anything out of thin air," he says. The talent is there, but the capital isn't. It occurred to him that the problem was similar to one he encountered in India, where he studied microfinance for his master's degree from Oxford. Grameen Bank and others demonstrated how small loans to poor entrepreneurs could jump-start poverty-stricken places. Baird, an Atlanta native, came home convinced the approach would work in parts of the U.S. that were starting to resemble a Third World economy because of persistent joblessness, poor health, and shrinking life spans. He raised an $18 million investment fund last year with money from tech grandees including AOL co-founder Steve Case, supplying seed money for such ideas as turning Tennessee-grown indigo into natural dyes for bluejeans.

Baird is especially excited about Fin Gourmet Foods, a company in Paducah, Ky., that buys invasive Asian carp from local fishermen and turns it into boneless filets for gourmet restaurants and fish paste for Asian supermarkets. Asian carp is best known as the biggest threat to the ecosystem of the Great Lakes; the federal government just earmarked $42 million to combat the species. The youngest fish eat their body weight daily, outcompeting bass for plankton, leaving sport fishermen in fear of economic ruin. Asian carp grow into 70-pounders known to jump as high as 10 feet: There's a wide selection of videos on YouTube of these leaping monsters terrifying—and occasionally injuring—boaters. And because the fish are full of bones that make them hard to eat without meticulous processing, they fetch a third the wholesale price of catfish.
Despite that, Fin Gourmet forecasts revenue will rise to more than $1.5 million this year from $320,000 in 2016. "They're growing like crazy, the profit margins are good, and they're taking something out of the environment that's bad and turning it into something that people want to pay for," Baird says. The couple who founded the company draw their workforce from the ranks of "people who need second chances from incarceration, drug courts, domestic violence," according to the company's website. One foundation dubbed Fin Gourmet "the future Zappos of fish processing" for its community-minded approach. Boneless filets from Asian carp have started appearing on menus in Louisville and Lexington, and even at the first farm-to-table restaurant in Paducah, where it's branded Kentucky blue snapper and costs $21. Served with spiced yogurt, mint, or cilantro, the white fish looks and tastes like tilapia.

In December, after a warning from my wife to wear a life jacket, I set out for the waterways of Kentucky, deep in the red-state America that's sparked no end of analysis—from best-selling memoirs such as J.D. Vance's Hillbilly Elegy to Margaret Mead-style travelogues by coastal journalists like me—to see if it's possible to create jobs in a place where the most plentiful resource is trash fish.

I accidentally drove past Fin Gourmet headquarters before circling back: It's housed in a onetime barbecue joint across from an abandoned gas station. Workers in blue "American Carp" T-shirts—a joke naturalizing the foreign species—sliced fish at tables covered in guts and blood. "Seven to 9 a.m., we do bladders," one said. Lula Luu and John Crilly, the energetic former academics who started the company, moved here from New Orleans because Paducah is near the confluence of the Ohio and Tennessee rivers, as well as Kentucky Lake, a vast reservoir created by a Tennessee Valley Authority dam, which are all rife with Asian carp.
Luu got a Ph.D. from the University of Kentucky in nutritional sciences, with a focus on health disparities in minority groups. Crilly, a former psychiatry professor at Tulane in New Orleans, has researched mental health and suicide in rural populations. In 2010 he and Luu started a New Orleans nonprofit job retraining agency. Among their clients were Vietnamese shrimpers looking for offseason fishing work. Crilly read an in-flight magazine article about some chefs' efforts to beat back the Asian carp invasion by eating the fish, and wondered if they could be another source of income. One problem: A series of Y-shaped bones run through the filets. Crilly sliced thousands of fish himself before finding a way to remove them efficiently.
Luu and her mother had fled Vietnam in 1980. Growing up in Tennessee, Luu hated Vietnamese fish cakes, made from a paste known as surimi that's a staple in many Asian dishes. Often loaded with MSG, the cakes upset her stomach. But when she made them from Asian carp, they were springy and fresh-tasting.
Carp became an obsession that she and Crilly juggled with their academic jobs. They sank $1.5 million in savings into a business they named Fin, for fish innovation. Skeptics told them you couldn't make money from U.S. surimi. Chinese carp farms, which operate with little regulatory oversight and can dump wastewater straight into sewers, had the market cornered with cheap product. The shrimpers lost interest in carp after the Gulf oil spill when BP set up a compensation fund; they worried the paid work might cut into their relief income. The couple put 110,000 miles on their Toyota Camry in one year, searching for other regional fishermen and selling fish paste in Asian supermarkets and nail salons staffed with Vietnamese immigrants. They even got an audience with then-Secretary of Commerce Gary Locke, who promised to help if they prepared an "ironclad business plan." (They completed one, but never got a call back.)

In 2014, Baird and Village Capital organized a three-month training program for agriculture startups in Louisville. Village Capital has made investments in more than 70 companies by putting entrepreneurs through these workshops, then having them rank one another in order to decide who gets funding. Luu and Crilly pitched their idea, and it was one of two winners. Baird put in $50,000, with a plan to get $150,000 back. (The deal gives him 5 percent of Fin Gourmet's revenue until it reaches that target.) "If you walk into TechCrunch Disrupt," says Baird, referring to the prominent conference, "Lula and John don't look or talk like your average tech entrepreneur. But they've identified a very specific market and know what they're doing," he says.
As I talked to Luu and Crilly at Fin Gourmet, fisherman Ronny Hopkins, more beard than man, stepped into the office. Everyone I'd speak with, including the fisheries director of the Kentucky Department of Fish and Wildlife, described Hopkins as the state's dean of Asian carp harvesting. Above his white, Duck Dynasty-style facial hair was a camouflage cap and a face the color of a persimmon. Hopkins, 66, launched into an analysis of the commercial fishing industry's shortcomings, variously likening its problems to a broken wagon wheel, a goose that's shot at, and a mixed-up puzzle. He seemed to have swapped talking points with Baird. "The industry is there, we just don't have the money to make this thing bloom and blossom," he said.
After a stop at his concrete storage room to receive a fish delivery, Hopkins and I were bumping along U.S. Highway 60 to Kentucky Lake, hauling his 24-foot flat-bottomed fishing boat behind his modified Ford Econoline van. Perched in the back as Hopkins drove were his fishing partner, Sam Roberts, and Roberts's 19-year-old son Ethan.
Hopkins pointed out American Indian burial grounds and the 1,000 acres his ancestors once owned. At one point he casually reached to the center console for a packet of peanut butter crackers. "I'm totally illiterate," he said, as if covering another talking point on the tour.

I'd seen him tabulating fish hauls on a pad, so I said he seemed to do pretty well with numbers.
"Oh, numbers, I can do numbers," he said. "But words. … See, I know this is peanut butter because I've had it before, but if I'm not careful, I'll get Swiss cheese."
When Hopkins invited me on the boat, he'd said a storm was coming and he'd need to get his nets out of the water that afternoon. I mentioned what I'd promised my wife about the life jacket. For the first time since we'd met, he was speechless. He opened and closed his mouth, fishlike, then turned away. At the dock he handed me a pair of his old waders with a hole in the seat. It was windy and about 25F; none of us wore a life vest.
Hopkins held the tiller and maneuvered his boat to his floating nets, which Roberts and his son hauled up, tossing silvery, bug-eyed carp into an open hold where they flopped and sprayed blood. It was then that Hopkins chose to announce that he's a felon: "I've threatened too many people." Catching my look, Roberts told me not to get scared until I saw a concrete block and an anchor. He laughed, and then alluded to another famous Obama phrase. "We are those people clinging to their guns and religion. You have arrived at the very place!" The next part of Hopkins's monologue was hard to follow, but it involved a tangle with Russian mobsters in New York over the caviar market. "White-collar crime," he said, archly.
There'd been trouble more recently over carp, too, that brought the law.
The same year Luu and Crilly met Baird, they also met Andre Raghu, a New York-based consultant who'd worked globally helping big companies develop sustainable supply chains. Raghu knew Dave Wang, a New Jersey-based former finance officer at a Chinese company who brought in some of his friends as investors. The Chinese saw Kentucky as a place of untapped potential and cheap raw material. Raghu says he hoped to balance the profit motive with social good. For a while they all worked together to turn a former catfish processing facility into a marquee operation called Blue Shore Fishery. It planned to employ 66 people and sell 100,000 pounds of Asian carp a day to overseas buyers, turning the undesirable fish into a "Kentucky-proud" export. The Chinese supplied $2.2 million, Hopkins the fish, and Fin Gourmet the expertise.

Raghu started traveling back and forth to Kentucky, where, he tells me, "I've become quite close with the local people." He came to admire their ability to "live off the land" while "somewhat living in squalor," he says. "Some of the people there, they're not living from check to check, they're living from dollar to dollar." He even gave the illiterate Hopkins a sparkling Twitter persona. Using Hopkins's name and a photo of him in front of an American flag, Raghu fired off boasts about Kentucky carp to influential food writers at the New York Times, Grub Street, and Eater NY.
Kentucky's lieutenant governor came for the October 2015 ribbon-cutting of the factory. But behind the scenes things weren't going smoothly. Crilly says he asked Wang, who was approving payments, to buy American-made fish-gutting machines he had used before. Wang imported a less expensive brand from South Korea designed for salmon. Bones in the bellies of the carp jammed them. The manufacturer sent technicians who didn't speak English. Within weeks of the opening, Luu says, Wang told her they were down to $700 and needed help meeting payroll. (Wang declined to comment.)
When Luu and Crilly sought an explanation, she says, they got a letter firing them as partners and accusing them of diverting funds for their own business. Early that November, Blue Shore's employees weren't paid, says Amanda LaGore-Smith, who'd been splitting time between the factory and Fin Gourmet. Local electricians, plumbers, and others who'd been getting the factory ready also stopped receiving checks. At one point, a group of them gathered around Wang in Hopkins's storage room. One septuagenarian contractor grabbed Wang by the strings of his hoodie. The contractor has told neighbors about keeping two Uzis in his truck—a loaded one in the front seat and an unloaded one in the back. The sheriff was called, and people calmed down, according to some of those present.
The big hopes for local employment faded amid lawsuits. In December 2015, Blue Shore sued Fin Gourmet, Luu, and Crilly in Graves County Circuit Court on nine counts including breach of contract, fraud, and breach of fiduciary duties. Fin Gourmet countersued for defamation. The contractors filed suit against Blue Shore, seeking more than $120,000 in missed payments. LaGore-Smith, now the floor manager at Fin Gourmet, says she's still owed overtime. Hopkins and other fishermen say they haven't sold fish recently to Blue Shore. Another contractor told me, "If I see Andre, Andre's gonna get his ass kicked."
Reached by phone, Raghu declined to comment on payments because of the litigation. He blamed the breakup on a difference in strategy, as Blue Shore sought to export fish products and Fin Gourmet was focused on creating branded products for domestic markets.
Fin Gourmet now employs 15 in its processing shack. Pay is $10 an hour to start. Kneading a bowl of fish maw, Jessica Pastor-Perez says the job is better than her last one, at a call center that slapped her with demerits for any absence, like picking up her sick daughter at school. Accumulate 48 demerits, and you were fired. LaGore-Smith met Luu through a Paducah rehab center called Ladies Living Free and says she's been sober now for three years. She never lived in a single place for more than a year growing up. "I never thought I would be part of something that somebody would want me to be a part of," she says.
The stories aren't all inspirational. Luu and Crilly had to fire three employees who started getting high on the Tuesdays they were excused for drug court. Crilly is working on a memoir about the characters they've encountered. "We've met dangerous people, nasty people, self-righteous/self-proclaimed experts, cheats, and impostors," it begins. "We've also met wonderful people." Baird's working on a memoir, too, about the challenges of creating startups. He takes inspiration less from Hillbilly Elegy than from Our Kids, a 2015 book by Bowling Alone author Robert Putnam that concludes that it will be a generation's work to rebuild the nation's profoundly neglected communities.

After my visit, it was hard not to feel deflated. The measure of career stability for those 15 people depends on a dynamic duo of Ph.D.s trained in public health, psychiatry, and social work, willing to sacrifice millions in savings and years of their lives. How do you scale that across Trump country? And how many forward-thinking investors have the patience for it?
Not many, in Luu's experience. She went to the Social Capital Markets, or SoCap, conference in San Francisco in September hoping to meet nationwide distributors of sustainable fish. The conference brings together venture capitalists and philanthropists who view themselves as "socially conscious," "triple bottom line," or "impact investors." This is often thought of as a global movement. But the domestic version is having a moment, in part because some coastal elites in tech and finance saw the revolutionary writing on the wall even before the election—because they'd backed the increasingly sophisticated apps, robots, and artificial intelligence that cost millions of jobs.
Steve Case, Baird's largest investor, began promoting what he calls a "Rise of the Rest" investment thesis for his Revolution LLC fund three years ago, hosting conferences in 26 cities, mostly between the coasts. Among its investments is Shinola, the Detroit watch and leather goods manufacturer. Baird joined him on many of the stops. Case says he's heard from friends shocked by the November election, asking what they can do. "Maybe it's a shake-the-snow-globe moment, and it will lead people to recalibrate, rethink, and take some of these challenges, but also opportunities, seriously," Case says.
In December the giant private equity fund TPG formed one of the most ambitious ventures yet to seek financial and social returns, a $2 billion fund called Rise that includes investments from Laurene Powell Jobs, Richard Branson, EBay founder Pierre Omidyar, and U2 singer Bono. It will invest half its funds in the U.S., in economically distressed territory similar to Baird's. At SoCap, Luu mingled with about 2,500 "changemakers" dedicated to, as organizers put it, "accelerating a new global market at the intersection of money & meaning." To Luu, much of it sounded like happy talk. "I think they want something to make them feel good," she says.
She was impressed when one investor there leveled with her. He told her his investments fell in one of two categories: a good deal or a good story. He needed a few good stories, but lots more good deals. Her fish company was a good story, but he already had plenty of those.
(
Company corrects revenue figure in 11th paragraph.
)