Startup Gets Tech-Industry Experts to Mentor Convicts
Most parolees are rearrested within a year. Defy Ventures says with entrepreneur training it's 3 percent.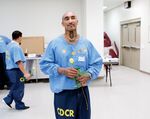 The California City Correctional Center, a medium-security lockup for 2,145 in the high desert north of Los Angeles, isn't going to be confused with Disneyland. Still, a small program here sometimes produces a similar kind of whispered awe.
In the U.S., most parolees are rearrested within a year. But the recidivism rate is just 3 percent among those who've gotten tech industry and entrepreneur training from Defy Ventures, a nonprofit that also works to finance businesses for some of the ex-cons who've gone through its program at California City. "That's unheard of," Chief Executive Officer Catherine Hoke isn't too modest to point out.
Hoke's six-year-old nonprofit has sent a small army of volunteers from tech companies and venture capital firms, plus a team of dedicated staffers, to teach Startup 101 to about 500 inmates at 11 prisons in California, New York, New Jersey, and Nebraska. Especially in California, where ballot initiatives are starting to fast-track parole for scores of low-level offenders in its overcrowded prisons, this kind of unconventional job training can be a critical way to keep parolees from returning to crime.
Hoke says the experience is eye-opening for the volunteers, too. "I'm hoping that, spending the day in prison, people will see the men in front of them for who they are now," she says. "Not someone who did something 20 years ago." She pushes volunteers to fund projects and hire parolees and says the program has created 350 jobs.

Chosen based on essays and behavior records, inmates average 20 hours a week in Defy classes (plus homework) for six to nine months, depending on the prison. Venture capitalists and workers from Google, video-hosting service Vidme, and other companies teach them basic computer and social media skills, how to write résumés and business plans, and, eventually, how to pitch ideas to VC firms. The 3,500 volunteers have included Bill McDermott, CEO of business-software giant SAP, and Brent Weinstein, a partner and head of digital at Hollywood mainstay United Talent Agency.
Defy has incubated more than 150 businesses dreamed up by 525 paroled alumni. It's also helped finance them, giving more than $500,000 and connecting the ex-cons with angel investors once they're out. "Within 10 months of enrolling in Defy, I was and am a CEO," says Gregory Bonds, who did 2 ½ years in San Quentin State Prison on drug charges and now makes trade show banners. "This is freedom."

In California City, those early success stories have won converts. On a recent morning, in a rec room that resembles the event space at an airport Best Western, 100 denim-clad prisoners with "Hello, my name is"-style nametags and the occasional face tattoo talked at length about their families, failures, and goals with a dozen or so volunteers. After a few emotional hours, several of the volunteers embraced one another, as did several inmates. (The two groups aren't allowed to touch beyond handshakes.) Wayne, a Defy entrepreneur-in-training convicted of kidnapping, said, "I'm here because I want to make a change."
Defy represents a second chance for Hoke, too. A former private equity investor, she drained her savings to found a different prison entrepreneurship program in Texas in 2004, after a church-organized prison visit warmed her heart to men desperate for second chances. She was an unlikely choice—when she was 12, her best friend was murdered, and she'd had little sympathy for convicts—but she and her husband helped teach hundreds of inmates in the state, earning plaudits from the governor's office and the White House. After she and her husband divorced, however, an anonymous letter to the Texas Department of Criminal Justice revealed that Hoke had become romantically involved with some of the paroled students. Barred from setting foot in Texas prisons, she resigned.
Hoke started Defy a year later. The humiliation forced her to reckon with herself and tested her grit, she says. And there's been an upside. "Because of my scandal, the people we serve at Defy can relate to me better," she says. "I have a much stronger 'why.' "

Defy's $5 million budget for 2017 depends on state grants and private donors—Google has pledged $1.3 million—and the nonprofit will likely need more of both. Hoke says she plans to expand into as many as 100 prisons by 2020; the typical setup cost is about $100,000.
For now, inmates and volunteers say they're optimistic that Defy's program is worth it. At the end of one class at California City, McDermott, the SAP CEO, told the cons, "Once you get out, send us your résumé."
The bottom line: Defy Ventures has helped incubate and finance more than 150 businesses dreamed up by its 525 paroled alumni.
(
Updated eighth paragraph to correct the sequence of Hoke's resignation from her previous program.
)