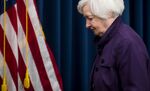 Inside the Fed's December Meeting: The Annotated Minutes
The rate hike that everyone expected to happen happened. Today we get to learn more about why it did and what's next, with the release of the minutes of the Fed's Dec. 13-14 meeting.
December's dot plot pointed to three interest rate increases in 2017 should the economic outlook match estimates by officials of the U.S. Federal Reserve, and raised their estimate of the long-run neutral rate by 12.5 basis points to 3 percent, the first upgrade in the short history of these projections.

While monetary policymakers are loath to talk about the U.S. election and its potential implications for the economic outlook, Fed Chair Janet Yellen said in the news conference following the December decision that a fiscal boost was not obviously needed to attain full employment. The central bank chief also pushed back against the idea that she wanted to see the economy "run hot" — that the Fed is ready and willing to provide monetary offset should a fiscal expansion ushered in by President-elect Donald Trump accelerate inflationary pressures.
The minutes will offer clues to whether the majority of the Federal Open Market Committee shares the chair's thinking.
The U.S. dollar and Treasury yields rose markedly in the run-up to the 2016 rate increase. The minutes may also shed light on how worried monetary policymakers are about tighter financial conditions crimping economic growth in the year ahead. 
And we may get some insight into the thinking underpinning the (at least) one Fed official who is forecasting a modest overshoot of the central bank's 2 percent inflation target. At the November meeting, two members dissented in favor of higher rates; the decision to boost rates the following month was unanimous.
Follow along as we annotate the latest release from the Fed.