Cycling Never Looked So Good
Love-it-or-hate-it brand Rapha years ago brought a new look to road riding, but now the pack is gaining on the leader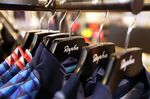 Cycling and fashion aren't often associated, for a simple reason: Every day many people prove how easy it is to look ridiculous on a bike.
For a moneyed minority, London cycling brand Rapha changed that years ago with stylish riding gear in subtle earth tones—at decidedly unsubtle prices. But these days that understated look is rippling through the sport, with so many copycats appearing that looking good is easier than ever. There's even a series of Instagram hashtags, from #Stravaphoto to #sockdoping, for further guidance.

To keep ahead of the competition, Rapha Chief Executive Officer Simon Mottram says he wants to take cycling from its current status as an almost-fringe pursuit to something far more mainstream—and sell many more $385 riding jackets and $800 leather "race bags" in the process. A former branding executive, he founded Rapha in 2004 and broke through by winning the hearts of riders traversing London's busy "hipster spice route," the Clerkenwell Road that links the fashionable East End and city core.  Later came the middle-aged men, and a small but rising number of women, who spend their weekends in Lycra. 
"To not look stupid on a bike sounds like a real low bar, but it's always been quite a high bar in the cycling world," Mottram says over a flat white in London's Soho. "My plan is to be this global brand that takes cycling and makes it the world's greatest sport, the world's most popular sport. I'm nowhere near that. We've barely started on that journey."
Photo Essay: See Inside the Rapha Marketing Machine

Rapha has thrived in part by constructing a sort of artificial nostalgia that connects it to cycling lore—an image akin to storied brands like Helly Hansen or Barbour, but without the actual history. The company takes its name from St-Raphael, a long-forgotten French road team with which it has no actual association. Its high-quality, digital-first videos and photo shoots that litter social media celebrate suffering and the hard men of yesteryear.
That combination of "aspirational" pricing and curated identity provokes a certain amount of eye-rolling from the harder core.
"For the real cyclists, the ones who drop people on the hill, it's almost good not to have the latest gear," says Chris Chard, the chief strategy officer of branding agency CP+B London and a keen cyclist himself. He offers an analogy: "The vast majority of people who buy Ferraris aren't very good drivers."
The marketplace is crowded with competitors offering alternatives. Former ad industry designer Brent Gale is one; his Minnesota-based Twin Six has tapped into a similar vein as Rapha, though with a look that's more high-tech than historic. These days he says he's having among his best years ever, declining to be more specific.

"People don't want to look like a billboard, and they don't want to look like a Euro racer anymore," Gale said, perhaps a subtle dig at Rapha. "And thankfully they don't have to."
What many of these online-first retailers are learning is that brick-and-mortar shops are key to growth. Rapha is pushing hard with cycle "clubhouses"—boutiques-cum-coffeehouses that mix camaraderie and caffeine with riding gear. While some early adopters bemoan the brand's current ubiquity, the mix is working. Sales are ahead of plan, up about 30 percent this year, from just under £50 million ($62.3 million) in 2015.

Rapha plans to open 20 to 25 new clubhouses in the next three years, a large chunk of them in the U.S., where it already has locations in New York, San Francisco, and Chicago. It's also pushing into Asia, where it's opened in Seoul, Tokyo, and Osaka. Many customers are members of its Cycling Club, which charges $200 annually for benefits such as group rides and a subscription to a high-concept biannual magazine, Mondial.
While inclusive, club rides aren't for posers. In a recent New York outing, led by two Rapha "ambassadors"—a photographer and a funeral home director by day—riders quickly sorted into two groups by ability. All were pushed, but no one dropped from their respective packs despite several sprints and tough climbs. Participants ranged from a TV producer to a film industry lawyer and a visiting Malaysian politician. A Rapha store manager hanging off the back of the elite group carried a nifty Leica to document the ride.

The rise of fashion-first cycling is impossible to separate from that of the sport as a whole. Thanks to the star power of racers such as Olympic gold medalist Bradley Wiggins, the past decade has seen huge increases in cycling both for commuting and recreation, perhaps nowhere more so than in London after British wins on the road and track at the 2012 Olympics. Almost one in three vehicles heading into the heart of the British capital during the morning rush are bicycles, and the city estimates bike trips will soon outnumber those in cars.
Mottram is hopeful the U.K.'s boom will be replicated in the U.S. as more cities embrace bike infrastructure and cycling erodes golf's status as the preferred sport of the moneyed and middle-aged.
"There's a trend going on in the U.S. that's faster and more dramatic than in other countries," he says. It appears to be broad-based; even Houston, "which you don't think about as cycling central, has so many of our customers," he adds.
Funded by investors including Active Private Equity, the London-based backer of Soho House and fast-food chain Leon, Rapha says it doesn't currently need to raise capital or contemplate an initial public offering to fund expansion. Speculation is nonetheless rife that a larger company might want to grab its loyal following; The Mail on Sunday reported in late November that luxury group LVMH was in talks about a potential acquisition of Rapha. Both companies declined to comment.

Rapha's success has provided a template for upstart rivals like Melbourne-based MAAP. Its sales are doubling annually, and the business is generating enough cash to fund further growth. Co-founder Oliver Cousins says he's looking at a U.K. base that would help serve the European market that Rapha helped develop. He tips a narrow-brimmed cap to Mottram: "Rapha has done a lot of work in the market on how to purchase cycling apparel, and they have paved the way," Cousins says. 
For all these brands, there's the bigger question of what happens if titans like Nike and Adidas take a renewed interest in cycling's potential. "I'm really surprised no one else has tried," says Michael Oliver of market research firm Mintel. "If sportswear manufacturers were looking for growth markets, this would be an obvious place."
Mottram insists Rapha is now better positioned than any rival to create a ubiquitous global brand—one that might ultimately appeal well beyond cyclists. Companies such as Patagonia and North Face provide a model; both started selling technical gear for serious climbers, but now stuff the closets of millions of consumers who've never been on a mountain.
"There's more potential in cycling to be that kind of platform than in any other sport," Mottram says. "Every day you can swing your leg over a bike and it's part of your life, right up to the Tour de France. No sport has that. But no brand has ever tried to connect that to more people."
—With assistance from Kim Bhasin and Joshua Petri in New York and Joelle Diderich in Paris.