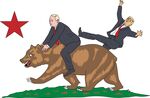 How to Make California Great: Secede, With a Little Help From Putin
A leader of 'Calexit,' the Golden State's independence movement, sees Trump—and the Kremlin—as a boon.
It's 1 p.m. in Yekaterinburg and midnight in Los Angeles when Louis Marinelli, the leader of a California movement to secede from the United States, sits down to lunch at the Double Bar & Grill.
Yekaterinburg is covered in snow and freezing at -4° C (25° F), balmy compared to -32° C the week before. Russia's fourth-largest city, on the Siberian side of the Ural Mountains, is about as far as you can get from L.A. But the heart of the Yes California campaign beats here.
As president of Yes California, Marinelli is organizing a statewide referendum on independence to be held in 2019—if he can collect half a million signatures by next fall. He runs the secession movement from 10,000 kilometers (6,000 miles) away while teaching English at a language school in Yekaterinburg. He is preparing the ground for an "embassy of California" in Moscow, with the help of a vehemently anti-American group supported by the Kremlin. The avatar on his professional Facebook page shows him posing in front of the Voskresenskiye Gates that open onto Red Square.

"California is a much more open, tolerant society, inclusive of immigrants or people of different sexual orientation," Marinelli said. Born and raised in the U.S., he said he had always considered himself a staunch American patriot, and in his teens imagined "a career of service to the United States." He gradually came to believe the political changes he wanted could be implemented only in an independent California.
"I felt that we would be able to achieve things like immigration reform here, give a legal status to undocumented immigrants, do all the other progressive things that I came to support," he said, also citing gun control and universal health care.
So how did he get mixed up with a pro-Kremlin group called the Anti-Globalist Movement of Russia?
Russia is well known for courting far-right, anti-establishment parties in Europe. Right-wing politicians from all over the continent are regular visitors to Moscow, to Crimea, which Russia seized in 2014, and to rebel-held parts of Ukraine, where they claim to be voting "observers" during dubious elections and referendums. Russian-controlled media blanket the airwaves with positive pieces on hard-right parties and causes all over Europe and in the U.S. Most recently, according to U.S. intelligence, the Kremlin tried to tip last month's balloting to President-elect Donald Trump.
But Moscow also maintains close contact with left-wing and secessionist movements that oppose what they see as global American domination. These efforts help the Kremlin sow discord between the United States and its European allies and disseminate its message on such issues as Ukraine and Syria, according to a recent study (PDF) by the Budapest-based think tank Political Capital that focused on Russia's influence on far-left parties in Europe.

The Yes California platform, which also scorns trade deals and the "subsidizing" of poorer states and the federal defense budget, was inspired by the Scottish independence movement, which campaigned in a 2014 referendum under the motto Yes Scotland and fell 5.4 percent short of achieving its goal. "We have picked up the torch," Marinelli said.
The vice president of Yes California, Marcus Ruiz Evans, author of a book titled California's Next Century, directs the campaign on the ground in the state. Marinelli, who in September moved to Russia with his Russian wife, Anastasia, partly for visa reasons, said his campaign receives no foreign funding, with all donations coming from supporters in California through the movement's website.
A fringe group, the California separatists captured the limelight on social media after Trump's surprise victory. Many voters in the liberal and overwhelmingly pro-Hillary Clinton state were so incensed at their compatriots, they decided that California, which would constitute the world's sixth-largest national economy if it were independent, might be better off on its own. The number of people who liked Yes California's Facebook page went from 11,000 before the election to 29,000 after it. That's a sliver of the state's electorate, but it's not nothing. California's Republicans have 43,000 likes on their page, and Democrats 40,000.
"We are closing in on them," Marinelli said.
Boosted by outrage over the election's outcome, Yes California filed a request with the state attorney general's office to hold the 2019 referendum. Marinelli said 14,000 supporters, registered on a Yes California site, will help pull it off as volunteers for the campaign. He plans to return to the U.S. when the campaign kicks off in earnest.
"Take California out of America and Donald Trump won a landslide," Marinelli said. "We believe the country is like a Titanic, and the election of Donald Trump is the equivalent of the Titanic hitting the iceberg."
The relationship between Russia and California predates the state's inclusion in the United States, he noted, referring to the Russian Fort Ross colony in the state's north. Founded in 1812, when California was still Spanish, the fort and surrounding territory were sold to the Swiss-American entrepreneur Johann Sutter in 1841. The legacy of the settlement includes the name of the state's second-largest river, the Russian River, and some of the earliest vineyards in the north. Back in Russia, the love story between a czar's envoy and the daughter of the Spanish governor of California became the plot of a famous Soviet-era musical, Yunona & Avos.
Marinelli, 30, moved to California from New York in 2006, the year he first visited Russia, on a summer student exchange program with St. Petersburg State University, President Vladimir Putin's alma mater. Over the next five years he alternated between California and Russia, where he taught English in the cities of Samara and Kazan before settling down in San Diego in 2011 with Anastasia.
In the U.S., he campaigned against same-sex marriage, working as a social media strategist for the National Organization of Marriage, a conservative group. Mingling with counter-protesters, he said, he eventually took their side. There were also personal reasons for his fallout with the American right. He got sucked into a bureaucratic quagmire over his Russian wife's residence in the U.S. and grew exasperated with anti-immigrant rhetoric, which he thought bordered on outright racism. He grew fond of his adopted state's views.
Despite his newfound liberalism, Marinelli voted for Trump. With Bernie Sanders, the candidate he favored, out of the running and Clinton an exponent of "the oligarchy," he decided that Trump represented the real America—and that his election would "invigorate people to understand that they shouldn't be a part of that country."
Trump as useful frenemy is a view Marinelli shares with his Russian friends. Ten days after returning to Russia, Marinelli took part in the annual Dialogue of Nations conference, organized in Moscow by the Anti-Globalist Movement of Russia. Attended by representatives of mostly left-wing separatist movements from Western Europe, the U.S., and the former Soviet Union, the conference was held at the Ritz-Carlton and funded by a grant of 3.5 million rubles ($54,000) from the National Charity Foundation
The National Charity Foundation, which describes itself as operating "under the patronage" of the Putin administration, is one of several foundations that dispense government grants to nongovernmental organizations . A representative of the foundation declined to discuss the Anti-Globalist Movement of Russia by phone, requesting instead a list of written questions, which it is reviewing.
The Anti-Globalist Movement advocates extreme forms of Russian nationalism and imperialism, as well as supporting the Kremlin's strategic military intervention in Syria and Ukraine. Its leader, Aleksandr Ionov, sits on the boards of Antimaidan and Officers of Russia, pro-Kremlin groups out to purge Russia of the liberal opposition. In 2013, Ionov met with Syrian President Bashar al-Assad and made him an honorary member of the movement. Another honorary member is former Iranian President Mahmoud Ahmadinejad.
The movement's page on the Russian VKontakte social network is updated several times a day with materials bashing Barack Obama, Hillary Clinton, the Ukrainian leadership, and the Syrian opposition. A post published before the U.S. election shows Clinton taken to the gallows and said, "Help Trump and Putin defeat the witch."
Ionov sees President-elect Trump lifting sanctions imposed on Russia in the wake of its occupation of Crimea, according to an interview with pravda.ru. More fancifully, a post dated Nov. 14 calls for Russia to take Alaska, its former territory, back from the U.S. and to seize Hawaii, which the author suggests could become "Russia's second Crimea," citing an agreement between one of Hawaii's chiefs and a Russian explorer in the 19th century.
Ionov's movement courts a number of secessionist groups in the U.S., including some in Hawaii, Puerto Rico, Texas, and Florida, whose representatives have attended its conferences in Moscow. Yes California is "closely coordinating" with the Texas Nationalist Movement, Marinelli said.
"We don't have an ambition to destroy America, but we stand for the rule of law and human rights," Ionov said. Asked whether the movement was in reaction to interference by Washington in Russian affairs—a thesis favored by the Kremlin—he said, without offering specifics, that some U.S. senators had entertained the idea of supporting separatist movements in Russian regions, but that he wasn't playing tit-for-tat. "This is not revenge," he said. "This is an adequate response to the aggression that comes from the U.S."

Asked about his Russian links, Marinelli cited the example of America's Founding Fathers seeking the support of France and other foreign powers during the War of Independence. Unlike Franklin and Washington, though, "we are not getting Russian Navy to blockade ports, we are not getting Russian soldiers in California, and we are not getting financial and intelligence support from Russia."
He laughs off the idea that Russia is trying to sow strife and division in the U.S. "If they want to divide America, then they are getting in late, because the country is already divided," he said.
Marinelli's Russian connection has created a schism, if not quite the Great Schism, in the breakaway movement with members of the California National Party, a group that is formally affiliated with Yes California but has publicly disavowed Marinelli as a Russian marionette. Silicon Valley investor and Hyperloop co-founder Shervin Pishevar briefly became another standard-bearer of "Calexit," as it come to be known, threatening Marinelli's virtual monopoly on the cause, but backed off, saying he didn't really support secession.
Marinelli calls the California National Party "spineless opportunists." Ionov and the Anti-Globalist Movement "support our right to self-determination," he said. "We may disagree on several issues, but if we have common ground on one issue, why shouldn't we have a dialogue?"
As for Russia's internal affairs, Marinelli said "every country has corruption and skeletons in the closet." Like the American president-elect he largely deplores, he admires Putin, who "knows what to do in order to make his country great again."
"I'd like to meet him someday," Marinelli said. "With the Russian and Californian flags behind us, perhaps."