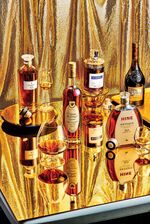 Beyond Hennessy: Get Fancy With These Five Cognacs
Experience a different amber spirit this year.
For most of the mid- to late Aughts, cognac producers concentrated their marketing dollars on China's ballooning middle class. But with a greater emphasis on personal austerity—along with a new suite of anticorruption laws—killing demand for high-end gifts there, those producers are turning to the U.S., where we can't seem to consume enough brown spirits: There were 4.7 million cases of cognac sold here in 2015, and that number is expected to reach 5 million this year. Some bottles can get pricey (Tesseron sells one for $1,200), but don't let that deter you from gifting an option not so insanely expensive—a little austerity certainly can't hurt.

Chateau de Montifaud VSOP

This light, golden cognac is made from grapes grown on the chateau's estate, located in Petite Champagne, one of the six subregions (or crus) of Cognac. Did you know there are only about a dozen such grower-producers in the world? Probably not, but now you have an excellent tidbit to drop at cocktail parties.
Delamain Vesper XO

Cognac for the Scotch lover: Its aromas of leather, mushroom, and vanilla will be familiar to anyone with a soft spot for Macallan.
Hine Antique XO

All 40-plus eaux de vie in this cognac are from Grande Champagne, the most highly regarded cru, and each is aged at least 20 years before blending.
Martell Blue Swift VSOP

Martell, the world's oldest cognac house, is learning new tricks. These include finishing its latest release in bourbon barrels, which adds vanilla and coconut aromas to a typically fruity profile.
Tesseron XO Passion

VSOP? Please—Tesseron doesn't bother selling anything younger than an XO. This one's a blend of 30 eaux de vie, resulting in a spicy, floral spirit.

What is cognac, exactly?
Short answer: It's brandy made in France's Cognac region. And what is brandy? It's an amber spirit produced from a blend of eaux de vie wines distilled from grapes and aged for at least two years. All cognacs are brandies, but not all brandies are cognacs.
What do the letters on the labels mean?
VS (very special): Barrel-aged for a minimum of two years, these tend to be lighter and less complex.
VSOP (very superior old pale): These are aged for a minimum of four years and are darker and more concentrated as a result.
XO (extra old): Prior to 2016, these were aged for a minimum of six years; now it's a minimum of 10. Also known as Napoleon cognacs, they're the most sophisticated and complex out there.
Prop styling by Chloe Daley.