Who's Who In the Battle for Trump's Team
From billionaires to GOP insiders, a guide to the new ruling elite.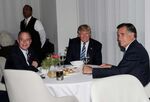 Donald Trump's victory over Hillary Clinton was a shock to nearly everyone. But looking back, perhaps it shouldn't have been. Clinton's vulnerabilities were always evident; so, too, where those of Washington's Republican establishment, even as the party chairman, Reince Priebus, tried to strengthen and modernize the party. The strategy Trump employed to fell Clinton was no secret either: Steve Bannon, Trump's Machiavelli, laid it out publicly and at great length more than a year ago. What truly was surprising was the sophistication of some parts of Trump's campaign operation, which was widely (and mistakenly) believed to encompass little more than Trump's Twitter feed. But in fact, backed by powerful Wall Street cronies and staffed by a motley team of data scientists, Trump's campaign was always searching for the millions of disaffected voters most pollsters didn't see, the ones Trump insisted would materialize to support him. And come Election Day, they did. From the inception of Bannon's anti-Clinton strategy to the morning-after revelations from Trump's victorious campaign team, here are the Bloomberg stories that tell the tale of the most unlikely presidential election in U.S. history. 

Chief strategist: Donald Trump picked former Breitbart news chief and campaign executive Steve Bannon for a role as chief strategist.
By Joshua Green
October 8, 2015
Read the story

Big donor: Robert Mercer is one of the wealthiest, most secretive, influential, and reactionary Republicans in the country.
By Zachary Mider
January 20, 2016
Read the story

Treasury secretary: Steven Mnuchin has been tapped to be the new Treasury secretary, but his Wall Street pedigree makes him the type Donald Trump fans love to hate.
By Max Abelson and Zachary Mider
August 31, 2016
Read the story

Chief-of-staff: A day in the life of Reince Priebus, reluctant GOP peacemaker.
By Joshua Green
May 26, 2016
Read the story

Win or lose, the Republican candidate and his inner circle have built a direct marketing operation that could power a TV network—or finish off the GOP.
By Joshua Green and Sasha Issenberg
October 27, 2016
Read the story

By John Micklethwait
January 3, 2016
Read the story
 

Updated graphic to include Ben Carson's nomination.