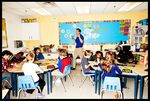 Welcome to Capitalism Camp for Kindergartners
For $495 a week, Spark Business Academy will teach your kid about price elasticity of demand.
One day this summer, to occupy our two boys and maybe teach them something about money, my wife and I set up a sidewalk lemonade stand. She put out a chipped red table that had been hers as a girl and helped our older son, who's 5, carefully letter "LEMONADE" and "50¢" onto construction paper. When neighbors stopped by, our younger boy, 3, would splash juice from Costco into a plastic cup as his big brother slowly counted change. The customers often let them just keep the dollar, and by afternoon's end, they had collected $8. Our 5-year-old later got awww-that's-cute laughs explaining how they'd managed such a haul: "I don't give change."
So much of parenting feels rushed. For once, I thought, here was a memory that would have a satisfying, Rockwellian glow.
Until the following week, when I met Chuchi Arevalo. The founder of a youth business academy popular with professional parents in the suburbs of Washington, D.C., he told me, in so many words, that my sons' effort was an entrepreneurial embarrassment. A Georgetown MBA and former banking consultant, Arevalo has developed a curriculum for children as young as 5, and it starts with an introduction to the lemonade stand—which he views as a vehicle for lessons in strategy, operations, and finance. "It's not just, hey, winging it," Arevalo told me, wearing tan slacks and a blue polo. Operators of successful stands, he explained, have a marketing plan: fliers, social media, partnerships with school sports teams. They know their supply costs and gross margin. And they diversify into new revenue categories. "Could you have cookies or bananas or fruit or something that allows you to sell more stuff?" he asked. "By the way, what are you going to do in the winter? You're not going to sell cold lemonade—what about hot chocolate?" I tried to decide if Arevalo was a dynamo of American capitalism or an innocence-stomping robot.
His company is called Spark Business Academy. I'd seen its course descriptions in a flier of D.C. summer camps, next to the more typical fare of art, music, and sports. His blurbs had pictures of grade-school moguls in suits talking on cell phones and promised to teach children such things as "cultivating an entrepreneurial mindset" and "building a stock-market portfolio." Arevalo offered to let me sit in on his flagship Future Millionaires Bootcamp, a weeklong, $495 course in budgets, investing, entrepreneurship, business ethics, and leadership.
On the first day, at a white-columned Baptist church on a leafy corner in Arlington, Va., the parking lot filled with Volvos and Priuses as parents dropped off their children. Younger kids, age 6 to 10, filed upstairs, where a Ph.D. candidate at George Washington University put them to work devising business plans. Some drew pictures of their products—it was August, and ice cream was a recurring theme—while others filled out forms with estimates for prices, cost, revenue, and profit. "What's our mission statement?" asked a sandy-haired fourth-grader.
Older kids, age 11 to 16, gathered downstairs, in a choir room filled with long tables. Arevalo took the lead. He blitzed through the financial milestones of life. Credit cards. FICO scores. Student loans. Investment portfolios. Even, perhaps, managing a company and solving difficult business problems. "Leading practices—that's important for you to know," he said at one point, the first of many times during the week he lapsed into corporate-speak.

To entertain the group of about a dozen teenagers, who could have been at the pool or making mischief or otherwise enjoying summer, Arevalo didn't joke or play the guitar. Instead, he tapped calculations into a spreadsheet projected onto a large screen, as if he were at a banking conference. I got the sense he hadn't changed his style much from a previous job, when he was an in-house instructor at consulting firm PwC. The class remained tomblike as he broke down the factors that affect a FICO score and showed how to build retirement savings through the magic of compounding.

When Arevalo observed that Facebook once turned down a $1 billion offer from Yahoo!, an 11-year-old with glasses asked how much the social networking giant was worth. "Great question!" Arevalo said, segueing to an explanation of market capitalization (and the answer, based on that day's stock price: $359 billion). The mention of a company with some relevance to their lives seemed to perk the kids up. But as the day went on, I began to inventory the various ways it's possible for a teen to slouch: the lean-back, the head-on-desk, the Leaning Tower of Pisa, and my favorite, the Linebacker—one kid who sat sideways, with elbows on knees, as if poised to spring up at the first opportunity to flee.
Arevalo was born near Madrid in 1971. After studying economics at the University of West London, he moved to Washington and got a post as a research assistant at the International Monetary Fund. He joined PwC in 1999, the same year he earned his graduate degree from Georgetown, and settled in Arlington with his wife and their two sons. One year, Arevalo helped bring a chess club to his sons' school, and that got him thinking: Why weren't there any classes about money management in a country famously addicted to credit?

Arevalo worked up a syllabus in his spare time, and in 2013 he e-mailed a proposal for a basic finance class to Beauvoir, a private grammar school on the grounds of the Washington National Cathedral. Beauvoir is a feeder for St. Albans School and the National Cathedral School, college preps that count Kennedys and Rockefellers among their alumni. While Beauvoir offered math, robotics, and Mandarin, it had never taught finance, says James Gilroy, director of auxiliary programs. The school hired Arevalo to teach his first class, called Money Matters, to 13 students in January 2014. He quickly expanded to other schools, thanks to word of mouth in the elite parent set.
In Washington and its suburbs, it's like the Great Recession never happened. Almost a quarter of D.C. households now earn more than $150,000 a year, compared with 8 percent in 2000. Five of the 10 wealthiest U.S. counties are D.C. suburbs; the city is chockablock with lawyers, government contractors, and consultants. Tasting-menu restaurants have proliferated, even in Shaw, the district that burned in the 1968 race riots, and a Washington Post article this year gave a name to a new phenomenon: the $1,000 date night. Area schools are notorious pressure cookers, as high-achieving parents push their children to begin their own ascent.
"Lifestyles have changed a lot," says Maura Schauss, managing partner of Washington Wealth Advisors, a suburban Virginia money manager that's hired Arevalo for classes with clients' kids. "But you can still teach children the value of money." Another customer, Natalie DeGraaf, likes to joke that on her street in Alexandria, everyone has a security clearance. DeGraaf, a biosafety expert with two master's degrees, and her husband, a lawyer, sent their 10-year-old daughter to one of Arevalo's classes last year. Afterward, DeGraaf was pleasantly surprised when her daughter began listening intently to news about Apple on National Public Radio.
Three years after founding Spark, Arevalo left PwC this year to work full-time on building the company. He now employs 15 instructors to teach 85 after-school classes and 10 weeks of summer camp at 45 schools, mostly in the D.C. area, plus a few in New York.
At Future Millionaires week in Arlington, Arevalo started camp as he always does, by destroying a time-honored financial tradition: a child's first bank savings account. In the era of quantitative easing, he said, historically low interest rates make stocks a better long-term investment. Somehow, Arevalo's almost pathological inability to speak at a kid's level came off as charming. He asked questions that forced them to do math in their heads and casually deployed microeconomics terms like price elasticity of demand. At one point, he put IRS Form 1040 on the screen and explained it line by line.
Whytni Kernodle, a lawyer who spent almost $1,000 for her two sons to attend the camp, told me that she'd mentioned Future Millionaires to a Parisian friend—who teased her that in France, such a thing would be picketed. But Kernodle said Arevalo provided an experience her sons didn't get from their other summer pursuits, which included trips to Morocco, Ghana, and a camp in Malibu, Calif. "I find it incredibly difficult to set limits," Kernodle said. She worries that children these days rarely see their parents handling physical money, let alone doing much in the way of labor to generate it. "The work they see us doing is reading, writing, talking on the phone," Kernodle said. "So the value is abstract."
Eventually, Arevalo broke through to even the most skeptical campers. When he divided them into teams for a finance quiz most adults would probably flunk, they clapped and pounded the tables. Just about everyone could name the main U.S. stock exchanges, calculate an investment's rate of return, and explain the concept of portfolio diversification.
On the last day of camp, Arevalo brought doughnuts and pizza and led one last debate, about the ethics of Mylan's decision to raise prices sixfold on its lifesaving EpiPen. Or, as he put it in a note to parents, "Campers practiced stakeholder management by seeking to strike a balance between the company's duty to increase shareholder value (and profits) and its duty to its customers."
When it was time to say goodbye, Volvos and Priuses again filled the parking lot. Another parent, Patricia Harrison, later told me she spent the rest of the summer evening discussing the ethics of the Mylan controversy with her son Colin, 15, instead of more typical fare such as sports, apps, or video games. The talk only ended when Colin got up from the dinner table, saying he had to check on his stocks.