A Guide Through Brazil's Unreal Art Destinations
A four-day trek will cure the white-cube blues.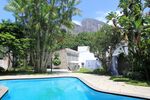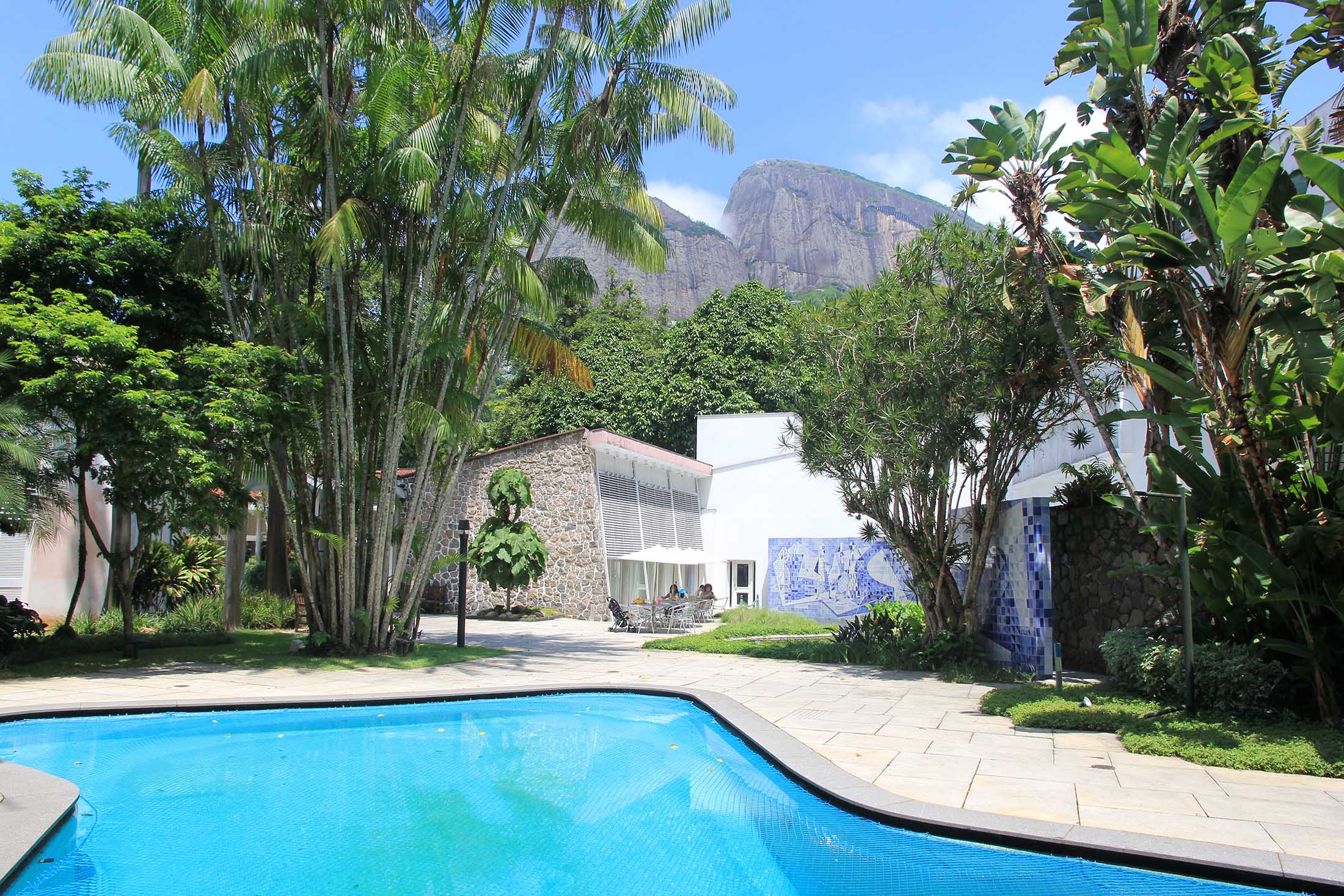 London's Tate Modern just expanded by 60 percent. San Francisco's Museum of Modern Art unveiled a new building with 50 percent more exhibition space earlier this year. The New Museum in New York just released a plan to double its size, too.
As cities compete to build increasingly mammoth temples to art, the estimated 380,000 visitors heading to Brazil for the 2016 Summer Olympics will find something very different—namely, a country that has successfully avoided the white-cube blues with a unique integration of art, architecture, and landscape design that stretches from Rio to the mountainous jungle just a couple of hours away. Buildings, monuments, even architecturally significant dance halls blend indoor and outdoor architecture paired with stunning, planned vistas. Here are five of my favorites.

The Utopian Mansion
For centuries, Brazilian architecture has operated on the premise that the landscape surrounding a building is as important as the structure itself. Nowhere is this better illustrated than in Rio de Janeiro parks and gardens designed by the midcentury designer Roberto Burle Marx. He "completely revolutionized the way we think of landscape design," says Claudia J. Nahson, co-curator of an exhibition on Burle Marx currently on view at the Jewish Museum in New York. Before him, the country's elites were importing roses from France instead of using native flora. As Brazil began to establish itself as a cultural and economic force, Burle Marx was at the forefront of making its parks, sidewalks, and recreational spaces an integral part of a newly empowered national identity.
One of his more lavish private commissions is in Rio's mansion district of Gávea, at the former home of the banker and diplomat Walter Moreira Salles. Now a nonprofit cultural foundation called the Instituto Moreira Salles, the house, designed by the architect Olavo Redig de Campos, is set back from the road and showcases Burle Marx's grand gestures on an intimate scale. There are striking lines and kinetic shapes—the trademark asymmetry of the pool matches his designs of Copacabana's sidewalks—while a sweeping tiled mural, also designed by him, elevates the rear terrace from every other gracious home in the neighborhood. "How he connects the garden to the architecture is so beautiful," Nanson says. "There's an area with a stream and a waterfall. He just lets it go there."
Tickets are R$22 ($6.50) for adults; opening hours are 11 a.m. to 8 p.m., Tuesday through Sunday. Parking on site is free.

The Two-Mile Long Urban Oasis
Perhaps Burle Marx's grandest example surrounds Rio's Modern Art Museum in the Glória neighborhood. Built in 1955 after the city leveled a nearby mountain and used the debris to expand the coastline, the MAM-Rio was the first phase of a project that eventually encompassed a 2.5 mile stretch of parks, highways, buildings, and sculptures called Flamengo Park. Burle Marx designed the landscape for all of it.

Even though a four-lane road cuts through the park, and a dense residential neighborhood of Glória is adjacent, Flamengo Park feels secluded. Groves of exotic palms unfold into giant circular seating areas, and waving paths open onto a succession of pavilions, reflecting pools, and statues. Visitors are in public, and yet, thanks to the copses, benches, nooks, and crannies, the experience of his design is totally private. "The beauty of this garden is that it's so urban, squeezed between the sea and the highway, that it can be experienced from a car window or by walking through it," says Nanson. "When you're in it, you leave the road behind, and it skews you so that you're looking at the beauty of the city."
Inside the museum, look out one of the south facing windows, and you'll notice a path, flanked by a rock garden on one side and a manicured lawn on the other, that mimics the sightline and dimensions of the window frame in the building. The eye follows the garden paths, and the paths, in turn, lead the visitor through the museum.  

Tickets are R$14; opening hours are 12 p.m. to 6 p.m. Tuesday to Friday, 11 a.m. to 6 p.m. on Saturday and Sunday.
Places to stay in Rio: The old-world Belmond Copacabana Palace (from $390 a night); the hypercontemporary Hotel Fasano (from $395); the secluded La Suite by Dussol (from $250).

The Modernist Pleasure Compound
Oscar Niemeyer, the midcentury architect responsible for defining Brazilian modernism for most of the 20th century, enacted one of his earliest social experiments between 1940 and 1943 in Pampulha, then a suburb of Belo Horizonte, Brazil's third-largest city, which is an hour flight from Rio.
Along a manmade lake meant for the city's emerging middle class, Niemeyer built a church, tennis club, dance hall, and casino that's now a modern art museum. The lake was meant to serve as both a source of water for the city and a suburban idyll for residents, and Niemeyer's buildings were meant to entice development. That didn't happen, at least initially, but "those buildings are a key turning point in modern architecture, both in Brazil and across the world," says Alan Hess, an author who's written several books on Niemeyer. "Up to that point, modernism had been fairly Teutonic, but Niemeyer injected it with the love of life and nature that is so much a part of Brazil." 

From downtown Belo Horizonte, the area is a 20-minute drive through the city's hilly residential streets, and, once there, Pampulha's buildings can easily be toured in a laid-back afternoon. Start at the church, shaped like a wave, then wander to the tennis club. It's closed to the public, but on a recent visit, I asked in broken Portuguese to go inside and was let in immediately. Inside, the sound of Strauss's Blue Danube floated from a cotillion class in the club's elevated, rectangular dance hall; shirtless teenagers played tennis in the oppressive heat, and families picnicked by the pool.
Across the water, the art museum's glass and marble facade glinted from its perch on a landscaped hillside. To the right of the boat club and just visible from the shoreline is Niemeyer's dance pavilion, a sinuous compound that houses a dance hall, water garden, and cobblestone terrace. The pavilion is set on its own island and can be reached by a short bridge.
Pampulha's buildings double as sculptures from afar. "There's an attention to nature and a response to nature," says Hess. "And it's also urbanistic: He created a sense of unity between the buildings, so you can see one from the other."
Places to stay in Belo Horizonte: The city lacks 5-star hotels. Make do with the Ouro Minas Palace Hotel (from $116 per night), or the Royal Savassi Boutique Hotel (from $61). 

The Baroque Jungle City
Stylistic cues similar to Pampulha's can be found in Ouro Preto, a mountaintop town two hours away in the state of Minas Gerais. Founded in the late 17th century by explorers who stumbled across its ample gold mines, it was one of the wealthiest cities in Brazil by the mid-18th century. At its peak, the city shipped back hundreds of tons of gold to Portugal. (For a time, the city's name was officially "Vila Rica," which translates as "Rich Town.") As a center of commerce and culture, the city's architects and sculptors let their filigreed fantasies go wild, building, over the course of a century, more than a dozen ornate churches for a population of approximately 100,000. 
The most adventurous route is the two-hour drive from Belo Horizonte, which follows switchback roads along ravines that would be beautiful if they weren't so terrifying—and those two hours can stretch to three if you get stuck behind one of the many very large, very underpowered buses that struggle to make it up and through the many mountain passes. (Don't take a bus.) But cresting the last of them, the town appears like a baroque theater. Rows of white stuccoed houses with red-tiled roofs cascade down one steep hill and up another, and ornamented gates lead to alleyways covered in flowering vines. There's also an observatory, in white, on top of a 19th-century library. 

But it's the churches that make the biggest impression. The interior of Our Lady of Mercy, completed in 1733, is so gilded that it's rumored to be covered in 1,000 pounds of gold; Church of Our Lady of Mount Carmel, completed in 1756, is one of the first examples of Rococo in Minas Gerais; Church of St. Francis of Assisi, a structure that took almost 100 years to complete, has an ornate mural that covers the ceiling. Each church sits on its own plateau, like a confection on a cake plate. You don't simply enter these churches—you make a long approach to them first, walking up carefully inlaid stone paths, through ancient archways, and over long terraces dotted with topiary and plantings.
You can spend an hour in the town or or a day or two, though hotels are scarce. Arguably the best—the Grand Hotel of Ouro Preto (rooms start at $60)—was one of Oscar Niemeyer's first commissions.
The Multi-Million-Dollar Art Park
Think of Inhotim, a 250-acre sculpture park, as a contemporary art Neverland. Founded by the mining magnate Bernardo Paz, the park began as his country retreat in the 1980s and expanded as his fortune and ambitions grew. From a single, fairly conventional pavilion along with a few nicely manicured paths, the park grew in size and scope, becoming, over the past decade, one of the most substantial sculpture parks in the world.
Reached via a twisting, two-hour drive from Belo Horizonte punctuated by speed bumps in otherwise abandoned stretches of jungle, the park rewards the journey. Miles of manicured paths take you to sleek, space-ship-like pavilions and sculptures dropped seemingly at random alongside massive palms and flowering trees. At present, there are 16 pavilions and art galleries and dozens more sculptures: A 32-foot-tall bronze floating tree by the post-modern Italian artist Giuseppe Penone appears to hover alone in a field; a pavilion by the American conceptual artist Doug Aitken has a hole drilled 663 feet into the ground so visitors can hear the earth's vibrations; an installation by the young Brazilian artist Marilá Dardot allows visitors to plant hollowed out bricks with flowers on a rolling lawn with views of the mineral-rich hills of Minas Gerais in the distance.

It's extraordinary, sure, but what might first come across as a singular, multimillion-dollar phantasmagoria is in fact the latest addition to 300 years of like-minded art and architecture. "There's a strong connection between Inhotim, modernism, and the baroque," says Rodrigo Moura, the director of art at the institute as he stands in the park's newest pavilion, a gallery dedicated to the photography of Brazil's indigenous people by the Swiss documentary photographer Claudia Andujar. "If you look at the plants, the water as we talk here: We're surrounded by landscape. It's everywhere. You can always find a thread."
Places to Stay: Stay either in Belo Horizonte or in Estalagem do Mirante, a compound of luxury chalets set in the jungle. Rates start around $150 a night. Eat while you're at Inhotim, where there is a series of cafes and restaurants.