Wall Street's Straight Man in Washington
Representative Scott Garrett's antigay views are making Wall Street reconsider how it does business.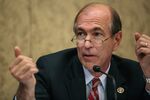 On Oct. 15 the leading lights of the House Financial Services Committee, Republican and Democrat, arrived in Bern, Switzerland, for a gathering hosted by the U.S. Ambassador to Switzerland and Liechtenstein, Suzi LeVine. It was the final leg of a three-country congressional delegation, or Codel, led by the committee's Republican chairman, Jeb Hensarling of Texas, that had already traveled through Germany and England. Officially, the trip was a "fact-finding mission" to study global banking networks and bilateral trade. In reality, it was a luxury European vacation.
Codels are a cherished perk, one of the few still available to members of Congress. Lawmakers bring their spouses. Staffers jockey to be included. The plush hotels, foreign-dignitary treatment, and bipartisan bonhomie are a welcome relief from Washington's normal travails. Hensarling had magnanimously invited the top-ranking Democrats along with his Republican subcommittee chairs, so the mood in Bern was highly convivial.
At one point, LeVine gathered everyone for a photo. Then the politicians mingled. A little while later, though, a nervous ripple spread among some in the crowd. LeVine had tweeted the photo from her official account, @AmbSuzi. In doing so, she unwittingly provided photographic evidence of an awkward drama preoccupying members of the traveling party: the noteworthy absence of Republican Representative Scott Garrett of New Jersey, chairman of the powerful Subcommittee on Capital Markets and Government Sponsored Enterprises.
Garrett's committee is vital to Wall Street. "The rules of the road for handling money and anything with the SEC go through this committee," says Marcus Stanley, policy director of the nonprofit Americans for Financial Reform. "There's a ton of money at stake." In Washington, the committee is known as the ATM, because banks and hedge funds shower the chairman with contributions. After the Dodd-Frank financial law forced hedge funds to register with the Securities and Exchange Commission, Garrett, already the recipient of more Wall Street money than almost any other member of the House, got millions more. The banks pay to have a voice, ensure they're at the table when new rules are discussed, and insinuate themselves into the chairman's good graces.
Much of the money Garrett collects from Wall Street is supposed to be passed along in the form of party dues to the GOP's campaign arm, where it's used to help other candidates get elected. So the committee is also important to Republicans because it binds the party with the business community in a mutually profitable arrangement. But back in July, Garrett threw a wrench into this smoothly humming machine.
At a private caucus meeting, he got into a heated dispute with his colleagues by declaring that he'd withhold hundreds of thousands of dollars in National Republican Congressional Committee dues to protest the party's support for gay candidates. His outburst immediately caused a rift in the caucus. "I was shocked," says Richard Tisei, a Massachusetts businessman who was one of the candidates Garrett objected to. "The first time I ran, I was nervous my sexuality would be a problem. But everyone was just great. John Boehner, Paul Ryan—they went out of their way to let me know it wasn't. Eric Cantor pulled me aside and said, 'You know, I'm the only Jew in the caucus, so I understand better than anyone how important it is to have you down here to broaden and diversify our ranks.' "
Garrett did have his defenders in the party's most conservative redoubts. "Scott is a very devout Christian, and he had some very strong feelings about it that he discussed at that meeting," says Representative Mick Mulvaney of South Carolina, who was present when Garrett made the remarks. "It was very respectful. I think the end result of the meeting was that Scott had mentioned he'd come to some agreement that he'd still support the party but in a way that didn't cause a conflict with his morals."
Some of Garrett's colleagues were simply upset that he was stiffing the NRCC. But others understood that he was jeopardizing the party's electoral and financial fortunes: As the GOP struggles to widen its appeal, Garrett's comments, which quickly became public, reaffirmed the impression of Republicans as stridently intolerant.
Although both men are deeply conservative, staffers say Garrett and Hensarling fell out over the issue—and that Garrett's absence in Bern was no accident. Members of the delegation had jokingly taken to calling their group the "Leadership-minus-Garrett Codel," since he was the only chairman who hadn't come along. Now Ambassador LeVine's tweet had advertised this to the world.
The political fallout from Garrett's remarks pales compared with the anguish it's created in some corners of Wall Street. The financial industry ranks among the biggest donors to the Republican Party. But it has also been a pioneer in advancing gay rights. Garrett's reelection race presents banks and investors with a fascinating—and excruciating—moral dilemma: Do they follow their financial interests and continue supporting a chairman whose antiregulatory views largely jibe with their own? Or do they honor their professed commitment to LGBT equality by cutting off that support and potentially angering a powerful industry overseer?
For all the criticism heaped on Wall Street, the Human Rights Campaign's "Corporate Equality Index" ranks banking and financial services firms behind only law firms as the industry most committed to providing LGBT-friendly workplaces. Prominent figures such as Goldman Sachs Chief Executive Officer Lloyd Blankfein have made a point of publicly championing this ideal. And support has been bipartisan, encompassing major Republican donors, such as hedge fund magnates Daniel Loeb of Third Point and Paul Singer of Elliott Management. "Wall Street understands this isn't just a civil rights issue—it's about being able to attract and retain the best talent," says Todd Sears, a former investment banker who started Out on the Street, a group promoting LGBT awareness at financial firms around the world.
As Bloomberg Businessweek reported in April 2015, Singer and Loeb are founding members of a new pro-equality group that uses business leaders as emissaries to the mostly Republican legislatures in states that lack nondiscrimination laws. "I bring it up in almost every conversation we have with Republicans," Loeb told me in April. "This will be good for the country and good for the Republican Party."

Garrett's close ties to the Wall Street lobbyists and executives who attend his hearings and fundraisers led many of them to take his outburst personally. One gay banking lobbyist told me he got the news while driving to work and was so upset he had to pull over. While Garrett's social conservatism was no secret in Washington, antigay sentiment is rarely stated so bluntly. "Garrett, unlike some of the other Republicans, has embarrassed them by being so explicitly bigoted," says Barney Frank, the former Democratic chairman of the Financial Services Committee, who worked with Garrett for years.
But banks and investors inclined to drop Garrett over his antigay views would be taking a risk: They rely on him to fight their battles and could open themselves up to retaliation. Garrett, for example, has led the effort to block the Treasury Department from designating nonbank institutions as "systemically important financial institutions" and imposing an added regulatory burden. He's pushed to privatize mortgage markets and abolish Fannie Mae and Freddie Mac. And his jaundiced view of activist investors has led him to explore measures that would make it easier for companies to fend off unwanted attacks.
These bankers also recognize that the issue could cause them problems internally. Most large financial firms have active (and powerful) LGBT groups. They also have political action committees that donate to politicians. Employees generally pay little heed to how this money is spent—unless they're given reason to. "When I was at Credit Suisse," says Sears, "we had serious issues around [supporting] the Boy Scouts, given their prohibition of gays."
Another effect of Garrett's rebellion is that it's dragged into the spotlight the uncomfortable question of what accommodations banks were willing to make for politicians before gay equality became a priority—and what accommodations they're willing to make now. Goldman Sachs, JPMorgan Chase, UBS, Citigroup, and Brown Brothers Harriman were all among Garrett's top donors in the last election. "I argue this with Blankfein all the time," Frank says. "Their own economic self-interest has gotten them to support people who have very extreme views contrary to what they profess to believe. Blankfein told me, 'Well, I shouldn't have to make a choice.' I said, 'Well, that's life. You make choices.' "
Nothing illustrates this tension better than the man regarded as the most prominent Republican champion of gay rights on Wall Street. According to data from the Center for Responsive Politics, Paul Singer and the employees of Elliott Management have been Garrett's biggest donors by a huge margin during his 13 years in Congress. It's no surprise that an activist investor like Singer, with $27 billion under management at Elliott, would prefer Garrett to think of him as an ally.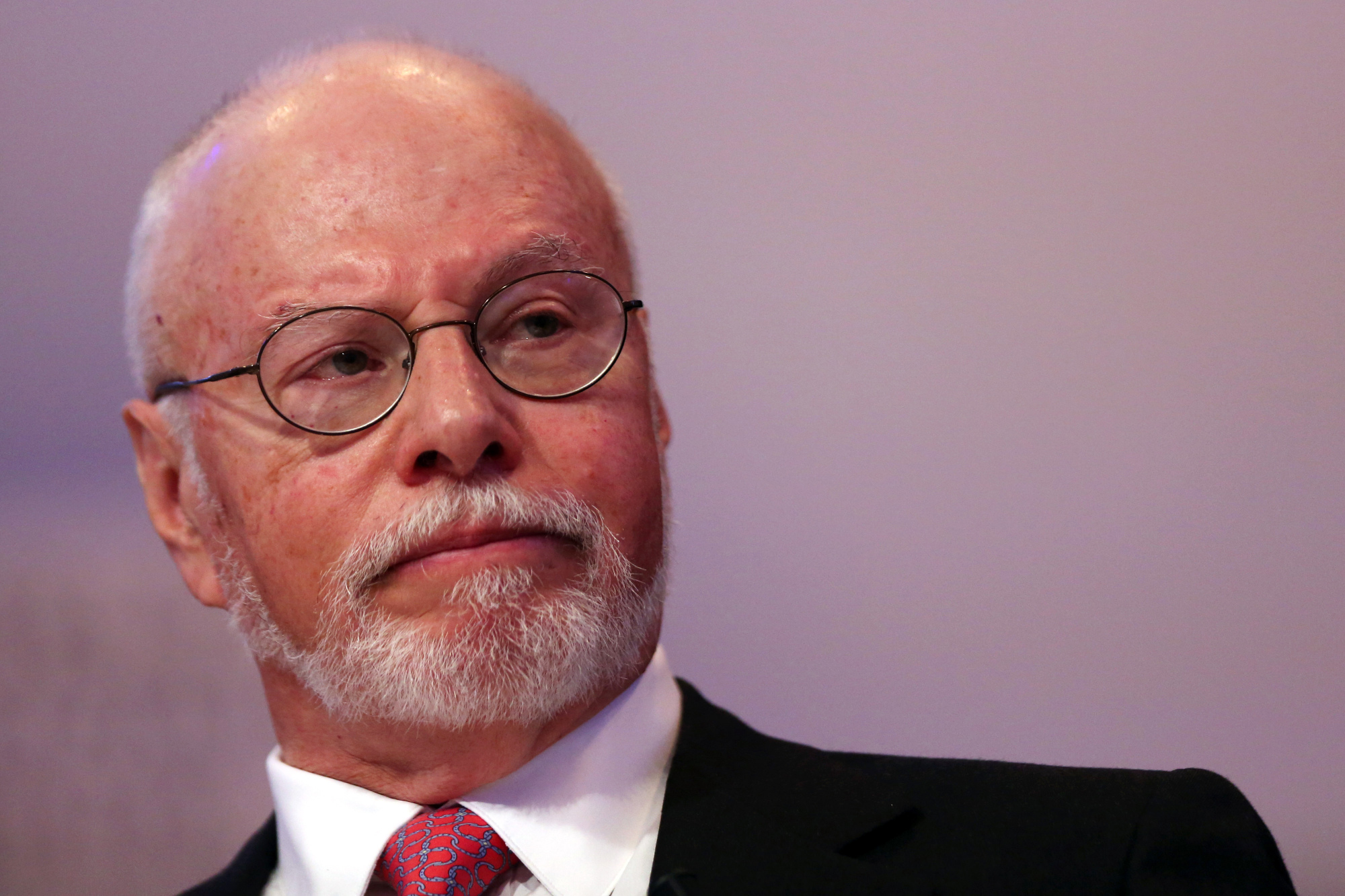 With Garrett's reelection campaign gearing up for November, all of these interests are going to have to choose a side. As one political strategist who deals with several of the interested parties puts it: "It's the biggest scandal nobody in Washington or Wall Street wants to talk about." Sure enough, Hensarling, Singer, Loeb, and Blankfein all declined interview requests; Garrett's office ignored multiple interview requests.
Garrett's timing couldn't be worse. Democrats have already recruited a strong challenger for his congressional district in what is one of the most expensive media markets in the country (a factor that until now worked in the chairman's favor). "Garrett's biggest political asset has long been the financial windfall he received primarily due to his perch on the Financial Services Committee," says David Wasserman, the House editor for the nonpartisan Cook Political Report. "If that goes away, it could be a whole new ballgame."
Politically speaking, Garrett is a fascinating anomaly—a bit like encountering a penguin in the desert. His views are those of a rural Alabama conservative, yet he represents a prosperous New Jersey district just over the George Washington Bridge from Manhattan that's home to many bankers, brokers, and financial analysts. New Jersey's 5th District resembles a chevron: it stretches up the Hudson River, runs northwest along the New York state line and then bends to the southwest along the border with Pennsylvania. For two decades it was represented by Marge Roukema, a moderate, pro-choice Republican.
Garrett, on the other hand, is a founding member of the ultraconservative House Freedom Caucus. He's staunchly pro-life, has voiced doubts about Obama's citizenship, and voted to oust his own party's former speaker, John Boehner. When I visited his Democratic challenger, Josh Gottheimer, in late November, the young Microsoft executive and veteran of Bill Clinton's White House said the best way to understand Garrett's hold on the district was to drive through it.
Our trip began in the heavily populated eastern end. Gottheimer and his consultant, Adam Silverstein, picked me up in Ridgewood, and we soon hit heavy traffic in Paramus, even though it was lunchtime on a Thursday. "As you can see, most of the population is centered around here, in Bergen County," Gottheimer said. Paramus, he noted, generates more retail sales than any ZIP code in the country. Bergen County, which makes up 72 percent of the district, is the last true swing district in the state, he said. Obama won it by 40,000 votes in 2012; Governor Chris Christie, by 50,000 votes a year later. But it's inching Democratic. The latest redistricting added the blue urban centers of Hackensack and Teaneck.
We got onto Route 17 and drove north to Upper Saddle River. "This is the wealthiest town in New Jersey," Silverstein said, waving a hand as we drove past multimillion-dollar estates. "Bergen County Republicans tend to have high incomes and vote with their pocketbooks. But they're generally socially moderate or even liberal." Roukema was the classic Bergen County Republican.
Next we headed southwest along Interstate 287. After 30 miles or so, the terrain grew hilly and the towns farther apart. We crossed into Sussex County, Garrett's home, and stopped for gas. It was clear from looking around that horses and cows outnumbered Wall Street workers. Residents of Sussex County and neighboring Warren County are less wealthy and more socially conservative than their counterparts to the east. And there are enough of them to shade the district red.

Garrett got his start—and his politics—here, winning an Assembly seat in 1990. He gained a reputation as a staunch right-winger, "part of a unique cadre of legislators who took a deep pride in pushing a radical-right agenda and were known informally as the Mountain Men," says former Democratic Governor Jim McGreevey, whom Garrett tried to force from office after McGreevey confessed to having a gay affair. "The leadership in both parties worked to sideline them, since many of us, Republicans included, considered their views ossified. What happened in that caucus meeting was not a surprise." The term Mountain Men, McGreevey adds, refers to the terrain in the western region from which they hailed—not to the movie Brokeback Mountain.
In 1998 and 2000, Garrett challenged Roukema in the Republican primary and lost. But in 2002, when she retired, a pair of Bergen County Republicans split the moderate vote and Garrett won the primary and the seat. Early in his first term, he committed the lone apostasy that blemishes his conservative record, bowing to pressure from President George W. Bush to vote for a Medicare drug benefit he opposed. According to a former Garrett staffer, an irate constituent—possibly a chiropractor—sent him a life-size model of a human spine and pelvis, with a note suggesting Garrett lacked one of his own. The spine had its intended effect. Garrett kept it in his office and hasn't wavered from his principles.
Democrats have argued for years that Garrett is out of step with his district but have never managed to unseat him. The New York media market is prohibitively expensive, so opponents can't define him through TV ads. Before now, Garrett kept a low profile, seldom flaunting his social conservatism. "He's very good at hiding," says Steve Elmendorf, a financial services lobbyist in Washington and former Democratic House staff member. Anchored by his strong support in the deep-red part of the district, Garrett has had little trouble getting reelected. Most handicappers, including the Cook Report's Wasserman, still consider him a narrow favorite to win in November.
But his attack on gay candidates appears to be altering that equation. "He's an ideologue who doesn't represent the values of our community nor my outlook as a businessman," says Peter von Halle, a Republican who owns a brokerage firm in Ridgewood and is supporting Gottheimer. "Most people wouldn't believe that one of the most radical representatives in the country is sitting right here in the middle of northern New Jersey." Von Halle says the issue is especially sensitive because Tyler Clementi, a gay Rutgers freshman who was bullied and killed himself by jumping off the George Washington Bridge in 2010, was from Ridgewood. "We are a very tolerant, diverse, and accepting community who wouldn't want someone bullied over their sexual orientation," Von Halle says.
If Garrett is subjected to more scrutiny in the upcoming campaign, this issue could pose a serious liability because his objection to gay people isn't limited to political candidates. Examining his public-disclosure filings, I noticed that he's a co-founder and former trustee of a private high school, Veritas Christian Academy, in Sussex County, which explicitly forbids "homosexual activity." The "Code of Conduct" on the Veritas website warns students that any violation will draw an automatic suspension and possible expulsion.
It's imperative for Garrett to be seen as firmly in command of the capital markets subcommittee, because that's the basis of his Wall Street donations. A weak chairman ostracized by his colleagues won't move many bills or sway the full committee; the invisible transaction of Washington influence will stop working for him. Bank lobbyists who write checks to remain in his favor and get their CEOs invited to his hearings to offer their "perspective" will be less receptive to fundraising entreaties.
Yet Paul Ryan, the new House speaker, won't dare remove Garrett, because punishing recalcitrant members of the Freedom Caucus is what cost his predecessor, John Boehner, his job. Garrett's biggest threat is the possibility that his financial supporters will abandon him—something that's already begun happening in the wake of this summer's controversy. Banks and hedge funds are loath to address Garrett's remarks, but his most recent disclosure filing shows that several major donors stopped giving to him, including Goldman, JPMorgan, and his biggest donors, Singer and Elliott Management. Loeb and his wife have gone a step further, personally contributing to Gottheimer.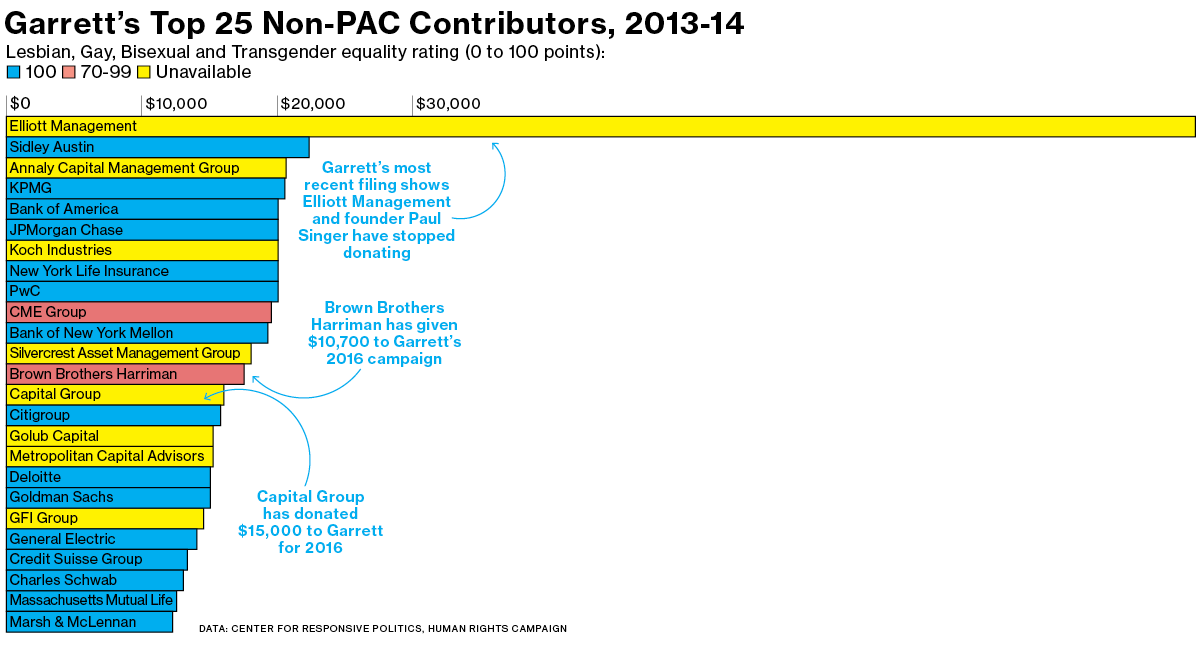 Still, many companies, including U.S. Bancorp, UBS, Nomura Holdings, Capital One, and the mutual fund firm Capital Group, continued giving money even after his outburst came to light. New Jersey's Democratic Senate majority leader, Loretta Weinberg, sent a letter pressuring these banks and others to "take a stand against hate" and stop giving to Garrett; at least one bank, Banco Bilbao Vizcaya Argentaria, said it will comply. But other banks held firm. In a reply to Weinberg, Capital One initially defended its actions: "We believe that maintaining a PAC focused exclusively on issues that are core to the banking industry is the most effective way for us to evaluate candidates." Then, just before Christmas, Capital One reversed itself and announced it would cease donating to Garrett, after student protesters from the University of Pennsylvania demanded the bank stop.
When contacted by Bloomberg Businessweek to ask about their rationale for sticking with Garrett, U.S. Bancorp and Nomura both said they would cease donations. "We are a company that is committed to diversity and equality in the workplace," said Nomura spokeswoman Jennifer Will. UBS and Capital Group wouldn't comment. Meanwhile, Gottheimer raised more money than Garrett did in the third quarter of 2015, bringing in $400,232 to the incumbent's $175,000. (Garrett still has $2.3 million on hand from happier days, compared with his opponent's $934,000.)
"My takeaway from talking to people in the financial community," Gottheimer says, "is that they don't think that someone who's a social extremist can also be a problem solver who can sit at a table and do business with them." That concern extends beyond Garrett's district. Last cycle, the Chamber of Commerce, fed up with Tea Party-driven shutdowns and default scares, took the unorthodox step of endorsing six Democrats; five of them won. Gottheimer could be next. "We're looking for good, probusiness candidates who can win in the fall and focus on governing," says Scott Reed, the Chamber's senior political strategist.
Garrett's fundraising won't get any easier, because he hasn't backed away from his comments. Politico reported over the summer that he's worked out an accommodation whereby his dues will be paid into the NRCC's building fund and thus won't be used to support gay candidates. It's a position that ensures he won't get another human spine in the mail. But it doesn't fix his problem with Wall Street Republicans offended by his antipathy to gays and lesbians. "When I take [Gottheimer] around to raise money, including to activist hedge funds, it won't be because they're activists or from hedge funds," said a conservative New York hedge fund manager backing Jeb Bush for president. "It will be because they're supportive of gay rights."
Such cross-party support could end up being decisive. "Gottheimer has a golden opportunity to drive a wedge between Scott Garrett and moderate Republicans on social issues," Wasserman says. That could potentially give Gottheimer the 10 to 15 percent of Republican voters he'll need to win the district.
Sears, of Out on the Street, says the situation banks face with antigay Republicans is similar to one they face abroad. "Places like Uganda and Singapore are massively antigay, yet banks still have to do business there," he says. "The key is leveraging the soft power business leaders have in these countries." The same strategy could apply with Garrett. "Capital One is supporting him this time," Sears said, a few weeks before the bank's reversal, "but they might not the next time." He added that Capital One had just joined Out on the Street's board.
Banks are leery of criticizing Garrett because the committee chairman could well be reelected. But that straddle may not be viable for much longer. Wall Street's near-universal acclaim for the Supreme Court's decision legalizing same-sex marriage was a clear sign of which way the wind is blowing. "Corporate America views LGBT issues as a basic civil-rights issue," lobbyist Elmendorf says. "If an elected official said something racist about Hispanics or African Americans, it would be very hard for a corporation to support that official." Garrett's continuing favor on Wall Street shows that some firms don't yet accept this parallel. It will take more controversies for that to change. "The thing the LGBT community needs to do," Elmendorf says, "is put a bigger spotlight on the people and the firms who help lawmakers like Garrett, and let them know, if you want to be known as pro-LGBT, you can't support someone like this."
—With Robert Schmidt and Silla Brush