How to Entertain in Perfect Style, by Five Top New York Chefs
The cooking teams at Daniel, the Cecil, Navy, Osteria Morini, and Estela teach you entertaining tricks and share recipes while modeling the best holiday styles.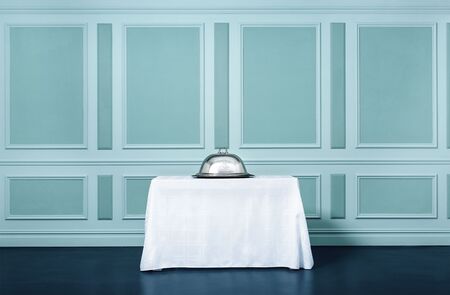 Photographs by Tina Tyrell — Styling by Nic Screws — Set Design by Ryan Schaefer
Daniel
Daniel Boulud's buttoned-up bastion of French dining on the Upper East Side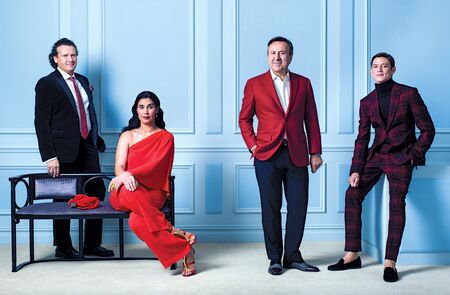 Chef and owner Daniel Boulud shares his rules for entertaining, and demonstrates how to cook his favorite hors d'oeuvres. (Lobster Roll, Three Ways recipe here.)
What's your favorite holiday recipe?
Anything that lets me combine white truffles and black truffles, because Christmastime is the only time they're both in season. I like to put them in scrambled eggs, risotto, and any roasted bird. My favorite holiday dessert is a Bûche de Noël with chestnuts, ginger, and chocolate.
What were holiday celebrations like for you, growing up in France?
Holidays were always a big, happy time at my childhood home in Lyon. The best tradition was to eat Clementines after a meal and then burn the peels in the fire to create a nice aroma. We usually had 35 people at the dinner table, but it was always a formal occasion. What I love about holidays in the United States is that you never count how many family members you cook for and the door is always open.
What do you think is an ideal number for a dinner party?
Eight for a sit-down meal because that way everybody gets a good pour of wine—nobody wants to share their best bottles with dozens of people.
Do you have any hard and fast entertaining rules, or do you prefer to improvise?
As a chef, I need a few rules: One, always set the table early in the day so that you're relaxed by the time guests arrive. Two, wine should be at the proper temperature—chilled for whites and room temperature for reds. Three, make sure whatever you're cooking will taste good at room temperature. People are going to be late during the holidays, and your food should be able to withstand a little waiting.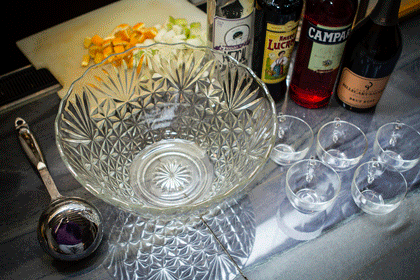 Daniel's Negroni Punch
Principal bartender Fabio Raffaelli channels his Italian homeland—and two big cocktail trends, mezcal and bitter cocktails—with this easy and festive, party-pleasing punch. In Northern Italy, Prosecco is added to negronis to make the Negroni "Spagliato," although here a rosé Champagne gives it that Daniel je ne sais quoi. The lightly sweet bubbles lighten up this boozy and herbaceous punch.
Serves 10-12
4 cups fresh fruit, diced
1/2 cup Demerara sugar
2 cups Campari
2 cups Amaro Lucano
1 cup Mezcal
2 bottles of rosé Champagne
1/2 cup star anise
Large ice cube
Marinate the fruit with the Demerara sugar and Campari for about 25 minutes. Apples and oranges are recommended, but other fruit will suffice as well. Transfer to a punch bowl with the ice cube and add the remaining ingredients; stir to combine. (Make a large ice cube at home by freezing in a plastic quart container.) Stir to combine; serve chilled.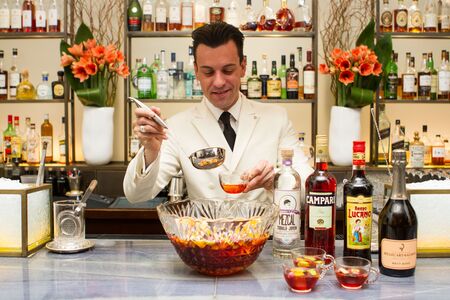 Estela
Ignacio Mattos's eccentric take on Mediterranean food, housed in an unassuming but bustling dining room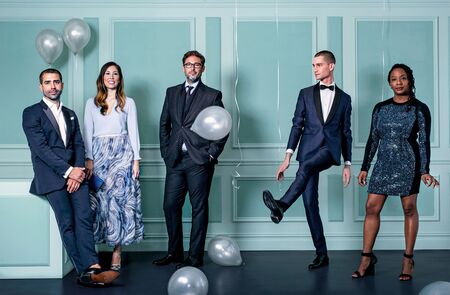 Co-owner and chef Ignacio Mattos discusses his favorite holiday traditions.
What were holiday celebrations like for you? How have they influenced your current approach to entertaining?
The celebrations were big, as you can expect in South America. We would get together at my grandparents' house and sit around a large table. The highlights were Christmas and New Year's, which are especially warm gatherings in my culture. I maintain a similar spirit in New York—the more, the merrier. Every year, there's a new friend at my table, and I really enjoy that. And just like when I was growing up, the idea isn't to overcomplicate anything. You always want a relaxed experience for everyone involved, where time passes before you know it. If the host is stressed, that changes the whole energy of the evening.
What's your ideal holiday meal?
I always like starting with oysters, because they are effortless, but there's also something festive about them: You can involve others in the shucking process. You can follow that with a roast—a whole chicken with parsnips or sweet potatoes and onions always works.
Beer? Wine? Both?
Champagne is a fun way to go, or you can start with an aperitif of some kind, or cocktail, and then go for wine.
What's your favorite holiday dessert?
I don't really eat tarts or pies that often, but when it comes to holidays or entertaining people, they can be a great end to a meal … with ice cream.
What are some festive foods that aren't too heavy, for those who want to party after dinner?
Stick with a whole fish or crispy and flavorful filets, with some salad on the side. Finish with a sorbet.
The Cecil
A taste of new Harlem, with a refined jazz-club vibe, overseen by chef-restauranteur Alexander Smalls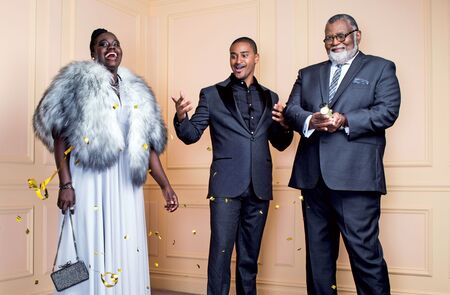 The Cecil's creative team reveals the secrets to keeping a crowd happy, and executive chef Joseph "JJ" Johnson shows how to make his favorite cocktail party appetizer. (Chicken 'n Dumplings recipe here.)
What, in your minds, is the recipe for a good party?
Mame Sow: A good party has to have delicious food, amazing cocktails, and wine, with great music playing in the background.
What are your favorite easy, never-fail recipes?
Alexander Smalls: One-pot dishes … casseroles, and anything in a wok!
JJ Johnson: Roasted pork shoulder, pumpkin salad, rice and beans.
How do you keep a rowdy crowd entertained?
Johnson: I keep the drinks flowing, the music up, some great games up. It's all about the energy.
Sow: I try to keep my guests entertained by involving them in the cooking process.
What's your favorite holiday-themed beverage?
Johnson: I love bourbon, but I'd have to say that coquito (the Puerto Rican version of eggnog) is my all-time favorite.
Your menus often combine flavors from different countries. What are some delicious, unexpected pairings to put on a dinner table?
Smalls: I love interesting salads: fresh greens with unlikely pairings like stuffed dumplings or crispy plantains. I also like to create interesting combinations like cornbread with cayenne chocolate bits and scallions.
Sow: I love using unconventional spices in my desserts, like tellicherry pepper or my version of a pumpkin spice mix, which contains ground espresso beans, Aleppo pepper, and Indian cinnamon. The spices go so well with a Christmas rum punch.
Navy
The new SoHo seafood destination opened by Camille Becerra, where fresh catches meet chic maritime décor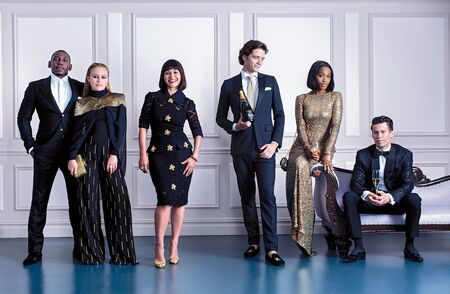 Co-founder and former chef Camille Becerra (she's since parted ways with the restaurant) gives tips for welcoming guests into the home and preparing for a party.
What are your kitchen must-haves?
A mortar and pestle, coconut milk, and always my Misono petty knife.
Any go-to entertaining tips?
Always have a welcoming cocktail and snack. The simpler the better. Go to the market and pick up the freshest, prettiest vegetables you can find, a block of cheese, nuts, dried fruit, olives or pickles and add a some edible flowers to spruce things up. Use a gorgeous board that's on the smallish side so that the pairings look abundant—like a modern cornucopia. This also makes for an irresistible Instagram moment.
You're a big seafood fan. What fish dishes are sure to please picky eaters?
Paella with a side of aioli, always.
Where are your favorite places to shop for groceries in New York City?
SOS Chefs, the Union Square Greenmarket, Chinatown's outdoor markets, and Kalustyan's.
How do you get ready for a party?
I find a beautiful scarf for my hair and comfy dress, and I always go barefoot since I'm most at home that way. Some '70s funky jazz on the radio puts me in a festive mood, too.
Osteria Morini
An old-school Italian joint from Michael White that specializes in dishes from ­Emilia-Romagna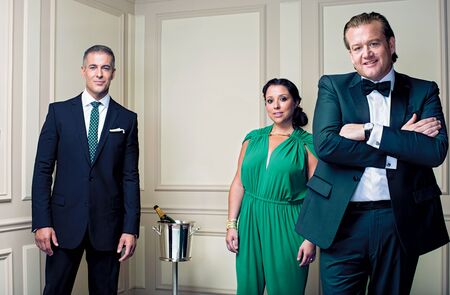 Head chef and Altamarea Group owner Michael White chats about his cocktail style and shares tips for building a menu.
To cook or not to cook when guests are present?
I like to do as much of the cooking as possible before guests arrive so that I can actually enjoy their company. … I do like to make sure there's something going on in the kitchen: It's always the gathering place for any party involving food.
What's a good appetizer to keep hungry family members happy?
Anything they can grab with one hand while holding a cocktail in another. A great shrimp cocktail is never a bad thing, and I love crudo, oysters, and caviar. People love prosciutto and other sliced meats, too. It's best to serve appetizers that are light enough so guests don't spoil the meal but hearty enough to leave them somewhat satiated before dinner.
Are you a fan of the premade cocktail? Build-your-own bars?
Eh, I'm more of a fan of classic cocktails and really great Champagne and hand-selected wines to pair with the menu. I do, however, love a great Campari and soda or Aperol spritz in the summer and rarely turn down a Dark and Stormy—as long as it's not premade. Nobody should serve premade cocktails, ever.
What are your favorite entertaining tips?
Make an approachable menu, so that everyone can enjoy and understand what they're eating, and have recipes on hand to send guests home with so they can recreate them later. Always prepare more than necessary: Nothing is worse than not having enough food or drinks. Keep boxes on hand to send guests home with leftovers, if there are any.
Any traditional holiday recipes in the White family?
My mom's corn souffle is a never-ending tradition.
Associate market editor: Moti Ankari; assistant stylist (women): Brittany Berger; hair by Hanjee at Jed Root; makeup: Sylvester Cepeda & Carlo Longo at ba-reps.com for Dior Beauty. Riedel Heart to Heart Champagne glass, $39.90 (set of two), riedel.com. Moët & Chandon Grand Vintage Brut 2006, $65, us.moet.com. Ice bucket and stand courtesy Christofle.