This Rock Climbing Gym Wants to Disrupt Your Work-Life Balance
Brooklyn Boulders is tapping climbing's popularity in the tech world to become a co-working haven for (very ripped) entrepreneurs.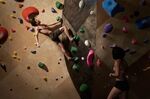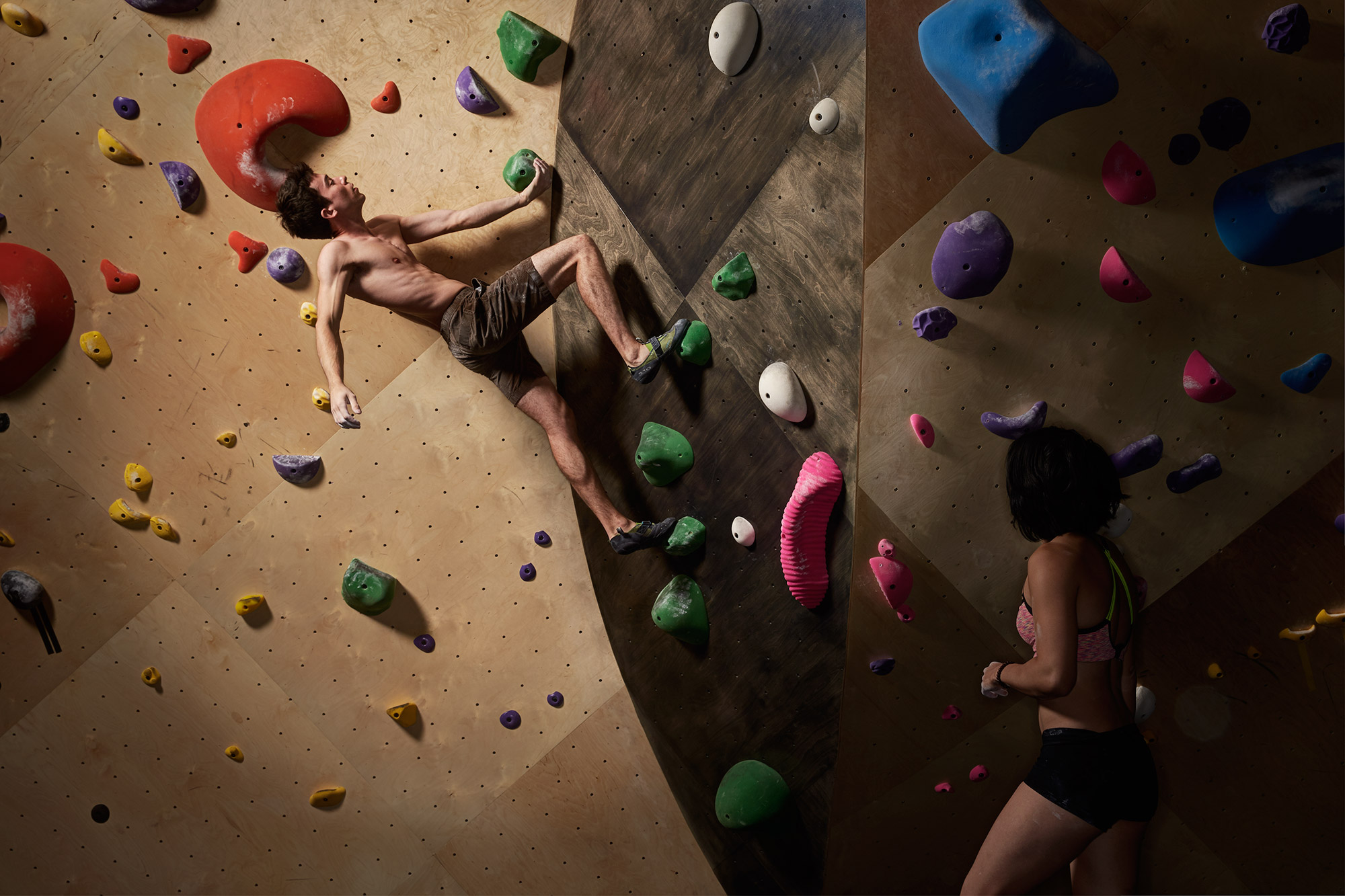 When Joe Lemay, a 38-year-old developer in Boston, decided to leave his corporate job to launch a startup, he opted against a permanent office. Instead, Lemay spends his days at Brooklyn Boulders (BKB) Somerville, a rock-climbing gym designed to double as a co-working haven for entrepreneurs. "I'll be sitting there coding and get up from my chair, go over to a squat rack, and do 10 reps on the rack, then come back to my computer," Lemay says. "You can always be in the mindset of being active and productive at the same time."
Lemay's startup, RocketBook, produces a line of digitally enabled notebooks. The venture might not have been possible without Lemay's time on the wall: It was during an epiphany after a midday climb that Lemay realized his company's technology would be better suited for smaller notebooks than big whiteboards. "Climbing forces you to be completely present in the moment when you're hanging onto a wall, trying to make that next move without falling," he says. "It gives your subconscious its own space to think about things. When you come back, you have different ideas, angles, and perspectives you couldn't have before."
Lemay is a model client for BKB, which is incorporating office areas, conference rooms, and even apartments into its national chain of gyms. "A lot of places are having live-work scenarios. They're trying to do work-play, but they don't deliver," says co-founder Lance Pinn. "We deliver on work-play."  
BKB's latest location, in the airy basement of a high-rise apartment building in Long Island City, N.Y., opens this month. It's filled with 20,000 square feet of curvaceous blonde wood climbing walls, splashed with a rainbow's worth of fiberglass holds. Between the walls are modular co-working spaces on raised platforms, pristine glass-walled conference rooms, saunas, a yoga studio, and a ballet barre. A cafe is in the works.  
For a monthly fee of $115, BKB offers members a holistic "lifestyle-domicile," Pinn says during a hardhat tour of the gym during its construction. The premise is to tap indoor rock-climbing's popularity among those in the tech industry, a trend that puts physical fitness next to disruptive potential and laptops next to free weights. But it's easy to see the gym more as a kind of millennial day care, at which members can drop themselves off and stay for days. "We want to make a facility that you don't want to leave," says Pinn, who looks more startup founder than climber in a plaid short-sleeve shirt, baggy jeans, and bright blue New Balances—a look he calls "outdoor business casual." 
Pinn is also helping to broker upstairs condos, whose tenants will get a discount on BKB membership. Ideal members will live in the apartments, found companies in the co-working space, hold meetings while hanging on the walls, and maybe even network over cocktails after hours. "Having a party at an Equinox? It's not designed for a party," Pinn says of the luxury gym chain. "Our place is designed for a party. You could have a sick party in here, and we're going to."

Indoor rock-climbing is a quietly expanding exercise industry ripe for a Crossfit-like explosion. Climbing gyms boasted revenues of $151 million in 2014, up from $147 million in 2013, according to IBISWorld. That figure is expected to hit $162 million by 2019. The number of climbing gyms in the U.S. increased by 9 percent last year, with a total of 353 facilities; California is the fastest-growing state market. The nascent market lacks a clear frontrunner or signature national brand, though Brooklyn Boulders aspires to the title. Outside New York, the company has locations in Somerville, Mass., and Chicago, with Los Angeles up next; the startup counts 3,000 members, as well as 60,000 visitors, each year.
BKB was founded in 2008 by Pinn, Jeremy Balboni, and Stephen Spaeth, who met as students at Babson College. Their first location was in a Gowanus, Brooklyn, garage that had previously distributed the New York Daily News. It opened as a dank, cave-like climbing gym in September 2009. Within a few years, members were picking up their CSA groceries from the lobby while Vampire Weekend played on the in-house speaker system. BKB's original gym doesn't include office space, but all subsequent locations do, and Pinn says additional locations will expand on the lifestyle aspect of the business. 
Similar to other specialized sports such as surfing or cycling, climbing retains a veneer of being somehow nerdy; it's a hobby for obsessives. Rope climbing involves a pile of intricate gear, and bouldering—which refers to scaling lower walls without ropes or harnesses—requires a punishing physical logic that rewards repeated failure. "That problem-solving mentality that appeals to both climbers and developers is the biggest part of it," says Scott Stephen Smith, co-founder of Startup Climbing, a national group of over 2,000 entrepreneurs who meet at climbing gyms for networking and presentations. Smith describes himself as a freelance web developer and "growth hacker"; he's been climbing at BKB since 2013. Like funding rounds or ROI, "the achievements are very obvious; it's measurable," says Tim Flannery, a co-founder and partner at Pilot Mountain Ventures and a BKB-goer since 2011. "Walk around the gym and look how many start-up T-shirts you're going to find." Indeed, recent BKB visits revealed logos from such companies as Twitter, Uber, Dropbox, and Wefunder.
The co-working areas—open to members, as well as to visitors who pay $28 for a day pass—come with their own fitness rules. "We want to incentivize people to not be sitting," Pinn says. So the gym levees a physical rent for using the space: five sit-ups or five pull-ups every half hour, or one conversation with a stranger in the spirit of enhanced serendipitous innovation. BKB's Somerville location has pull-up bars directly over desks. A few feet away, members do deadlifts and massacre punching bags while wearing bluetooth headsets. "Physicality stimulates innovation and creativity," effuses one sign in the office space.
Sometimes the overt emphasis on exercise can distract people from performing a day job. Andrea Lowe, a 26-year-old Harvard Law School student, often works and climbs at the Somerville gym, but acknowledges that the combination isn't for everyone. "People who want a totally quiet environment, it doesn't really work for them," she says. "I'm not concerned that there are people foam-rolling next to me." Michael Brown, 28, who co-founded the outdoor equipment sharing startup GearCommons and who also works out of BKB, sees the affinity as an advantage for his company. "Every person who walks through the door at BKB is a potential customer," he says.
Other gyms are picking up on BKB's all-inclusive approach. In spring 2016, a similar climbing-oriented lifestyle center will open in northeastern Washington, D.C., featuring climbing walls, co-working spaces, a coffee roaster, and a beer garden. The "hipster playground," as the Washington Post called it, is the work of Joe Englert, a veteran Washington developer and restaurateur. "All three things dovetail into each other: coffee, climbing, beer," Englert says. "If you're snagging a bit mid-morning or mid-afternoon, you go and boulder for a couple hours, you're totally rejuvenated, get your laptop into the coffee place or beer garden, and you're in the game. As long as you don't do beer before the climbing, we're good to go." 

On a later visit to BKB's new Long Island location, a bevy of routes runs up the walls and the holds are already capped with chalk dust from climbers' hands, although the space hasn't yet opened to the public. (It awaits city permits.) Some routes, with yellow marking the easiest, are ladder-like in their excess of places to grab. Others, the forbidding black-and-white ones, are minimalist arrangements of a few lumpy rocks that require literal, as well as imaginative, leaps to complete.
A "problem" refers to the "sequence of holds that are set up to get up the wall. It directs you," says Michelle Watt, a 26-year-old photographer and BKB member who's at the new gym to test fresh routes. Completing a route—solving its problems—means "sending" it. "It's intimidating at first. You just have to start climbing," she says. "Men always excel faster than women because they naturally have upper body strength. But over time, women, they go past the men pretty quickly because they learn how to use their feet earlier on."
As he checks up on his latest lifestyle-domicile (though not evaluating the routes personally), Pinn has grand plans for BKB. "I'll eventually take over brokerage for this building because I have a population that wants to fill it," he says. "In our business, retention is key, so why wouldn't you just take an elevator down here?" Yet for all the talk of co-working, collaboration, and innovation, it's the simple act of ascending a wall that defines the climbing gym. As with other fitness fads that BKB will have to outcompete, its members' motivation is most likely physical. In that case, it doesn't hurt that the constant climber's body is also appealingly easy to identify.
Pinn gazes out at a few climbers stretching acrobatically across the new walls, their backs etched with extravagant ribbons of muscle that no amount of yoga could create. "That's my product," he says, with an audible tinge of admiration.
(Corrects Scott Stephen Smith's name.)