Rushing the Corner Office: This MBA Program Is for NFL Stars
Several business schools have tried and failed to sustain an MBA program tailored to current and former sportspeople. Has the University of Miami finally gotten it right?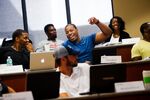 Takeo Spikes, a 242-pound former linebacker for the National Football League's San Diego Chargers, is delivering a speech on organ trafficking that sounds like a dramatic monologue.
"When finances are tight, people sell their bodies, literally. People sell their hair, blood, eggs, in addition to their organs," he booms, reading from a sheet of paper. Until now, the presentations given by others in the lecture hall have been pretty casual. Now the room is silent with all eyes fixed on Spikes.
"The problem, what we see, and what we will get into, is—" Spikes pauses, for more than a breath. People start to giggle.
"Just chill, it's not that serious," says a voice from the back row.
"No, I just saw Santana (Moss)," Spikes says, pointing to the veteran wide receiver who is staring at him point blank from the second row. "I'm like, I really have him, I got him right here!"

The room explodes into laughter, and Spikes leans his 6-foot-2 frame over one row of seats to give the now-grinning Moss a high-five.
The presentation is in front of the third course in the University of Miami's Executive MBA for Artists and Athletes. It's heavy on the athletes—40 of the 43 students are former or current NFL players—and they just fit into the classrooms that fit 50 normal-size humans. "We may have to put a limit to the offensive linemen on campus," jokes Eugene Anderson, the dean of the School of Business Administration.
UM wants to succeed where other MBA programs tailored to stars in the entertainment world have outright failed or simply petered out. In 2011, George Washington University announced an executive MBA for football players to great fanfare, only to quietly stop enrolling players two years later. DeVry University launched a similar program last year, but has not been able to enroll more than one former player. In March, Indiana University's Kelley School of Business launched an online program for the NFL, and while it has enrolled 12 current and former players, it couldn't garner enough interest to fill an entire class.
Financial challenges facing former athletes are well-documented. Just 12 years after retiring, 16 percent of NFL players file for bankruptcy, according to a paper released by the National Bureau of Economic Research in April. The typical player who makes it on a team's roster on opening day leaves the league six years later, the NFL says, but even the best-paid players who have long tenures are not immune to money problems. Bankruptcy rates spike sharply after players have been retired for three years, according to the NBER research.
"When football is done, some guys are lost," says Torrey Smith, a wide receiver who is in the new UM program with his wife, Chanel. "Most people have never seen this type of money. They don't come from families that have money or understand money." Players aren't just grappling with their own urge to spend on shiny things or investments—they also face family and friends who see a bunch of zeros, and want in. "You can get into a hole real fast," Smith says.

Smith is perhaps an unlikely candidate for career anxiety. The 26-year-old signed a five-year, $40 million contract in March with the San Francisco 49ers. But the league and its players are more aware of the danger of financial ruin than ever before. In 2013, the players' union established a $22 million trust that, among other benefits, provides scholarships or financial reimbursement for professional education. The NFL also provides so-called boot camps, which span three or four days, for careers after football. The challenges are being reflected in popular culture—HBO's new show Ballers is about a broke former player advising fellow ballers on their finances. "Somebody told me when I got drafted, 'Congratulations, you made it to the NFL. Now you're on your way out,'" says Smith, who with Chanel runs a charitable foundation focusing on aiding kids in Baltimore. "You don't know when your last snap is going to be."

Anderson, the dean of Miami's business school, says the program will flourish because it's more intense than anything that has come before and has been carefully molded to fit players' lives and motivations. For the Kelley and DeVry programs, flexibility meant being able to complete coursework online. Miami's involves six two-week courses at the Coral Gables campus, three online classes over 17 months, as well as a tour of Elon Musk's SpaceX program in California and a planned trip to New York City to meet with companies like UBS and Google. "What Miami did was take it to the next level," says Michael Lythcott, an entrepreneur who helped launch the program and also had a hand in the effort at George Washington University. "These guys think it's as easy as putting out a shingle and telling people to go to business school. It's not," he says, referring to programs at other schools. "Not everyone can learn (online), especially if they haven't been in a classroom in 10 years." UM has also hired professional trainers, through Lythcott, to work out with current players at 6:30 a.m. before class and tutors to work with them at night from around 7:40 p.m. to 10:30 p.m.
Lythcott recalled a recent morning he spent on Miami's football field flipping tires with Carlos Dunlap, defensive end for the Cincinnati Bengals. Eight hours of classes followed the morning training session, and the pair studied bond ladders and accounting T-charts for three hours that night. "Typically, if you ask a player if they want to go back to school, they are going to tell you no, but if you ask a player do they want to not lose money, they'll say yes," says Lythcott.
Even at a cost of $105,500 (minus up to $60,000 reimbursement from the players' union), many of the guys packed into the one-window room in late June said the commitment was worth the cash and the energy. "If you're not business-savvy, you can find yourself in a lot of ditches, not knowing what you're doing, just because you have the liquid to do it," says Moss, the Washington Redskins' veteran wide receiver. At 36, Moss notched fewer receptions and yards last season than he has since 2002, and is already considering his future as a spectator. He walked into class wearing a backwards blue snakeskin hat and an alligator-skin backpack, and could probably pass for a strong high school student. "Right now I am free agent; I want to get one more year in. If not, I'll move on, but one day there is going to be a time when you are done with the NFL, and it's like, what else?" Moss says. He currently runs a home security system called Do Not Enter and says lessons about customer service have helped him manage a major contract with security services company ADT. A recent lecture on the management style of Jack Ma, Alibaba's founder, made him more conscious of company culture. "He makes the atmosphere of working fun and friendly for his workers, so they don't want to go anywhere else," Moss says.
During the morning class in June, players interrupted the four-hour lecture on business ethics whenever they had something to add, raising their hands or just calling out questions. When Oakland Raiders cornerback Chimdi Chekwa asked about the benefits of a court system where judges decide cases instead of a jury, Torrey Smith interjected loudly. "You want one person?" Smith asked. "Do you want Roger Goodell to have all the power?"