Can SoundCloud Be the Facebook of Music?
The forgotten giant in the streaming wars needs labels, artists, and publishers to share its beautiful dream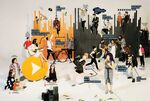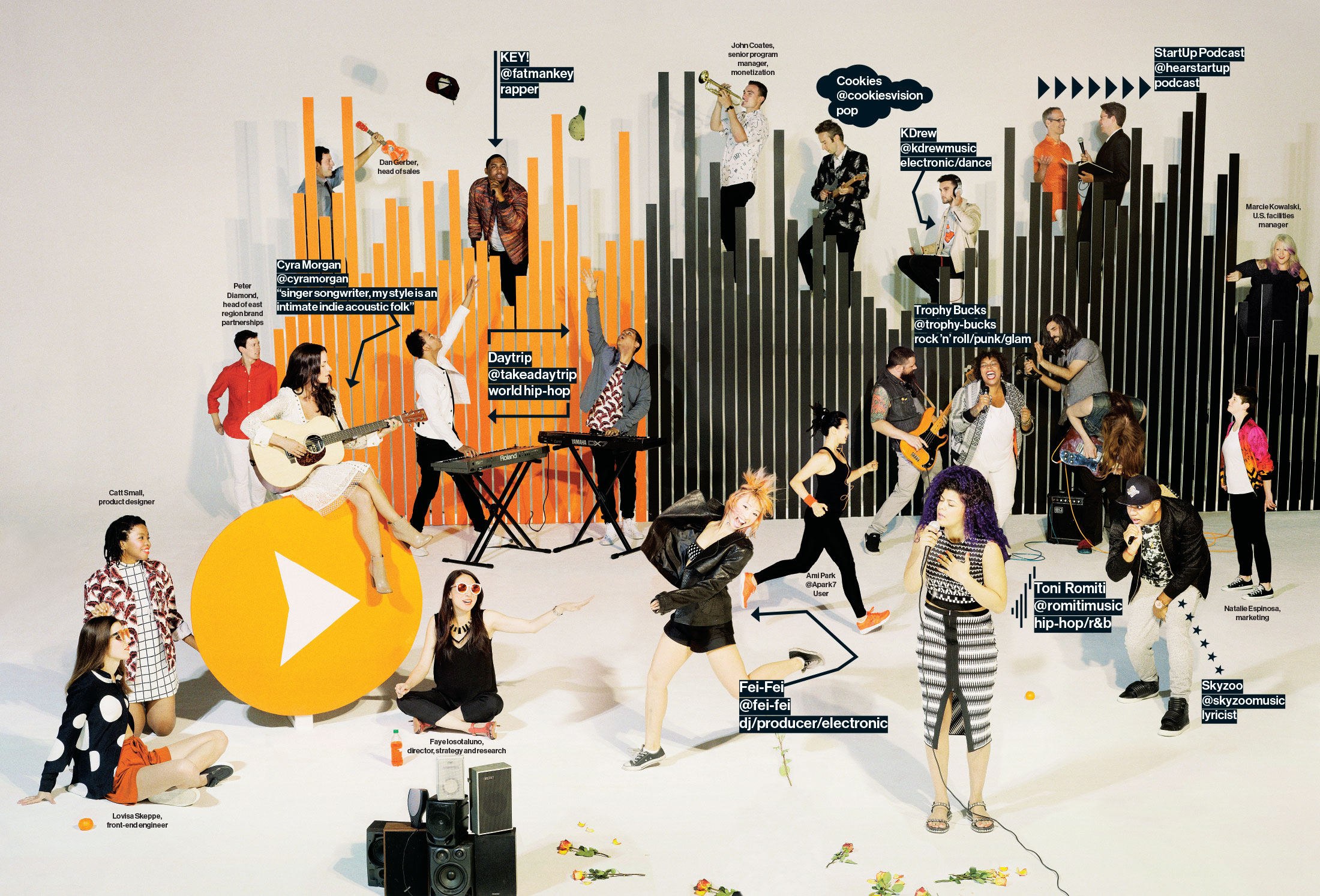 In ripped white jeans and a midriff-baring SoundCloud T-shirt, 20-year-old Toni Romiti belts one of her modern R&B-flavored songs to a roomful of strangers. She hits the notes, bobs to the beat, flips her long, magenta-streaked hair. Still, as she finishes her opening number, there's a hint that she's not yet a polished live performer: "That was the first one," she says abruptly.
Her audience is all enthusiasm. Romiti is singing to the New York office of SoundCloud, the fast-growing Internet audio service that's attempting to turn the corner from popular app to viable business. SoundClouders, as the company refers to grass-roots music makers such as Romiti, are the soul of the enterprise. If her career takes off, she'll owe much to SoundCloud. She made her first recording on its app and has since attracted 70,000 followers and scored a handful of gigs she hopes will lead to a tour. When her first successful song took off, she recalls, she was getting 1,000 plays an hour. "I just sat at my computer and cried all day," she says. "SoundCloud changed my life."
She closes her short set with a song called PBB, noting that it has a million plays and counting. Almost as an afterthought, Romiti then alludes to her participation in the company's new revenue-sharing program. "And money is great."
Musicians drop by the New York office all the time. On this April afternoon, the co-founders are in town, and the 33-year-old chief executive officer, Alexander Ljung, glides over to offer kind words and a smile. He and the chief technical officer, Eric Wahlforss, 35, built SoundCloud as a tool for the Romitis of the world to share their work across the increasingly social Web.
While their creation has become a familiar feature of the digital landscape, it's barely registered in most coverage of the Grand Streaming Wars of 2015, in which Apple Music, Spotify, Pandora Media, and others scrap for earshare. Then again, 8-year-old SoundCloud has a different mission. Its content is a creator-driven free-for-all: Anybody can upload a song (or other audio) and use SoundCloud's tools to get it out there. Aspiring musicians, mainstream artists, DJs, podcasters, and others have uploaded 100-million-plus tracks and clips, creating a YouTube-like sprawl of unpredictable content.
For listeners, SoundCloud is less like a music collection or radio station than an audio-based social network. To navigate it, you might sort what's trending by descriptive tags (which get as specific as "melodic house," "deep house," and "tropical house"). Maybe you start with the latest from electronica act Major Lazer, then see what else is trending under "dance" or "EDM" or "Diplo." Perhaps you end up on producer/musician Diplo's official SoundCloud account. You can "follow" him or any creator. Possibly you'll find like-minded listeners who assemble cool playlists, or simply repost tracks you like. Leave comments, like, share, and gather your own followers. Everything shared by everyone you follow flows into a constantly updated "stream" of new sounds: SoundClouders collectively upload about 12 hours of audio every minute.
That may sound like a hassle if all you want is a predictably enjoyable soundtrack to your workday or workout. But SoundCloud has 150 million registered users, up from 10 million in 2011, and claims 175 million total listeners a month. According to ComScore, its traffic across desktop and mobile rose 14 percent in May from a year earlier, and 142 percent from two years ago. The audience skews younger than Spotify's and Pandora's.
It's an environment where novelty-obsessed music fans can be the first to discover and support the promising rapper GoldLink, or the independent singer-songwriter Cyra Morgan, or the producer/musician duo Daytrip. Established artists from Snoop Dogg to Beyoncé to Drake have taken to the platform, posting special tracks, remixes, live versions, and promotional experiments. Lorde used SoundCloud to release Royals; Prince used it to release a new track, Baltimore, before his recent "Rally 4 Peace" concert. And that's only music: SoundCloud is a home for audio of any kind, from amateur field recordings to edgy comedy podcasts. For an adventurous listener, it's an aural creativity bonanza.
Like Romiti, SoundCloud dreams of a bigger breakthrough. The company recently trumpeted an agreement with the third largest of the three major music labels, Warner Music Group, making some of Warner's content a sanctioned component of the service. The deal closely followed SoundCloud's announcement of a scheme for generating revenue and sharing it with grass-roots creators and multinational music giants alike.
Still, crossing over is never easy. Another big label, Sony, recently pulled several of its major artists off the platform. And other digital music players keep moving. The debut of Apple Music includes an element called iTunes Connect that seems calculated to appeal to up-and-coming music makers. Spotify has opened up to podcasts. And YouTube, arguably the most popular on-demand music source in the world already, has a more overtly music-oriented offering in the works.
And yet, SoundCloud's potential is fascinating, and perhaps unique. The founders have ambitious goals that respond to changes in the way music and sound are created and consumed. It's a beautiful dream. So long as all the crucial participants—labels, publishers, artists, SoundCloud itself—can agree on how to share it. 
Ljung and Wahlforss are Swedish, live in Berlin, and fit right in at a trendy locavore-cosmopolitan bistro in Lower Manhattan. The fresh-faced Ljung, maintaining a Zen demeanor, sports a stylishly layered haircut and a hoodie with a zipper in the back. Wahlforss is tall and rangy, more affable but also more demonstratively driven. Each punctuates the other's soliloquies with a patter of "yep," "that's right," and "exactly." They look like two guys whose late-night plans include practicing for a joint DJ set. Which is, in fact, the case.
They met in 2006 in the computer lab of the KTH Royal Institute of Technology in Stockholm. The first version of SoundCloud evolved directly out of their desire for a better music collaboration tool. Instead of a ho-hum progress bar, the player used a waveform visual to display a track's progress. A listener could leave comments at specific spots on that waveform.
They put a priority on ease of sharing—nothing that required a standalone player or even a visit to SoundCloud.com. At the time, Flickr was popular, YouTube was growing fast, Twitter was starting, and "the Web was sort of switching from becoming just big to becoming social," Ljung says. A photo, video, or status update functioned like "a social object, almost like a campfire that people gather around. For us the social object would be the piece of audio."
The duo moved to Berlin, where SoundCloud has since become a hometown hero of the local tech scene—a source, rather than an exploiter, of local creative-cool pride. Its 2008 public launch was conducted from a nightclub dance floor, and one of its early employees, David Noël, recalls a recruiting process involving lengthy discussions of social media in discos at 3 a.m.
Raising capital took a while. "It was less than 10 people in this rickety office doing this because it was fun to do," Noël says. "You know, we didn't have a strategy, we didn't have a team."
They did have an enthusiastic core of users and 2,000 unanswered customer service e-mails, which it was Noël's job to address as the first SoundCloud community manager. He was surprised to discover that even then users went well beyond electronic-dance types. SoundClouders, from musicians to people making recordings of whales, were sharing sounds with diverse microcommunities. The number of registered users passed 1 million by 2010 and rose to 5 million the following year.SoundCloud now has dozens of people working with its user community, nurturing the idea of the platform as a tool for amateurs and pros alike. To anybody familiar with YouTube comments, SoundCloud's are notably supportive and upbeat: Registered users have embraced the time-specific comment function, chiming in with a lot of "awesome!" and "love it!"

The Grammy-winning electronic artist Skrillex is a longtime and highly active user and says he sees SoundCloud as a vital way of reaching the audience he wants. "There are kids on SoundCloud who only hang out on SoundCloud," he says. Instead of worrying about whether people will buy his music, he'd rather "evolve with the world," make sure he's where his fans are, and figure out how to adjust. "I'm constantly discovering new music on SoundCloud," he adds. "I use it just like any normal kid."
Podcasters and media outlets pulled the company in new directions. An experimental sound effort called Disquiet Junto issued music-making challenges that have drawn hundreds of musicians. The Berlin Symphony Orchestra uploaded two dozen samples of Dvorak performances and held a remix contest. The White House set up an account, and so did the European Space Agency, which had a viral audio hit last year, weirdly racking up more than 5.8 million plays with a clip from the Rosetta comet probe.
Along the way, SoundCloud layered in standard social media features geared to nonmusicians, such as reposting, so a superfan can function like a curator. But ultimately it wasn't the company that made SoundCloud an online fixture. It was those users. Romiti is a good example: A social media savant, she had a huge following on Vine and used that to draw tens of thousands of fans onto SoundCloud. "That's the secret sauce of growth for us," Wahlforss says. "People who create something, they want to reach an audience with it, and so they will do everything they can to get out there and promote it. So the platform has been promoted by literally millions of creators." 

By the end of 2013, SoundCloud had raised about $120 million in four rounds of financing, including investments from Union Square Ventures, Kleiner Perkins Caufield & Byers, and Institutional Venture Partners. The most recent round pegged its value at about $700 million. That same year, however, it lost $29 million, on revenue of about $14 million, according to numerous press reports in the U.K. The money it took in came from enhanced accounts for creators, with extras such as more storage space and more precise data about a track's performance, with listens broken down by city, for example. Not surprisingly, the company's focus has shifted to additional revenue sources such as advertising and, at some point, a paid listening tier.
The ad strategy includes commercials that crop up in a listener's stream and visual ads on the site or app. But because SoundCloud functions more like an anyone-can-contribute social network, it can offer unconventional options such as "custom sponsorships" and "native" ads that involve willing SoundClouders. Jaguar, for example, commissioned a track by London producer SizzleBird, which has since gotten 1.7 million plays. Mountain Dew ran a remix contest; Taco Bell commissioned SoundClouders Viceroy and Big Data to team up on a track. According to head of sales Dan Gerber, a Pandora veteran, this ability to associate with exclusive content that exists in a format built to spread easily across social media is what's really "resonated with brands." Other early advertisers include Starbucks, Scion, Squarespace, Axe, and Netflix's Sense8.
Key to this strategy is On SoundCloud, a program roughly comparable to YouTube's splitting ad revenue with its creator community. On a recent listen, Romiti's PBB was preceded by a brief spot for Jeep Renegade. "Every time you see or hear an ad," went the company's official pitch to users, "an artist gets paid."
In May, SoundCloud said it had "over 100" participants in the program, to whom it has paid about $2 million. The list of partners isn't public but includes labels, podcast networks, and entities such as Maker Studios that represent large numbers of individual creators, so it's hard to gauge what that number means on a per-artist basis. (Romiti didn't want to get too specific, but said that in her case it should soon add up to a down payment on a new car.) The goal is to open the program up to every SoundClouder who wants in. Gerber predicts "a big scaling year" for ad revenue in 2016.
A big part of that plan also involves getting the major labels on board, but that process hasn't been particularly harmonious. 

The wildly hyped debut of Apple Music underscored a broader trend: In 2014 the number of digitally downloaded tracks in the U.S. fell for the second straight year; the number of active monthly Spotify users spiked. In May, Warner said quarterly revenue from streaming surpassed its download revenue. Music consumption is evidently moving away from owning (downloads or CDs) to streaming businesses supported by advertising, subscriptions, or both. SoundCloud argues that its approach to this shift is unique because it doesn't require the all-encompassing, full-catalog arrangement with the music industry that a Spotify or Apple prefers. Instead it's given Warner and a variety of smaller labels choice and control over which content to make available and how it can be monetized.
At first this sounds like such a sensible deal for the labels that it's hard to imagine why Sony and Universal Music haven't signed on, too. Stephen Bryan, a Warner veteran and SoundCloud's senior vice president for business development and strategy, says the industry is undergoing "a strategic rethink" as it researches and analyzes the rise of streaming. "Those kind of moments take time."
Or possibly never. Two weeks after Bryan offered his theory about the holdup, Sony announced it was yanking Adele, Kelly Clarkson, Hozier, Leon Bridges, and other major artists off SoundCloud. Neither side said much for the record about it. Nor did Warner or the third major, Universal. Billboard cited an unnamed Sony source complaining of "a lack of monetization opportunities"; SoundCloud's boilerplate response pointed to its ad revenue-sharing payouts.
This sour note matters, because a significant amount of the "grass-roots" material on SoundCloud is so-called derivative content: remixes, mashups, and sample-based music built from existing songs without permission. The company won't discuss how much of what SoundClouders upload makes unauthorized use of others' intellectual property, but it's not trivial. If SoundCloud can convince the labels it has a solution to that dilemma that will make money for everybody, it would be a breakthrough.
If it can't, this musical ecosystem will shrink, alienating a chunk of creators and their fans and undercutting SoundCloud's business plans. In addition to blocking users from uploading the latest Taylor Swift single or the Eagles catalog, SoundCloud honors legitimate takedown requests from rights holders whose material is used in unsanctioned mashups and the like, and does so despite some users' loud complaints. (Even some artists complain about the takedowns: Madeon, who records for a Sony label, took to Twitter to take a swipe at the music giant's "disconnected-from-reality strategy.") Still, given how it easy it remains to find supposedly verboten music on SoundCloud—remixes of Adele's Rolling in the Deep, for example—many rights holders don't seem to be as aggressive about such requests as they could be. The attitude, for the moment, seems to be: Let's see if SoundCloud can figure out how to make money—and give us our share.
A percentage of potential ad revenue may not cut it. Sony Music chairman and CEO Doug Morris argued in June that ad-supported streaming schemes are "not so good" for the bottom line, unless they lure listeners into signing up for subscription-style services. (Some artists have taken a similar line, noting that, for instance, royalties from streams on Spotify's free tier are set much lower than those on its $9.99- a-month plan.) And it's not just the big labels that are watching: The head of PRS for Music, a British copyright collective representing a slew of songwriters and publishers, recently complained that SoundCloud and YouTube unfairly exploit copyrighted material.
SoundCloud's premium-listening offering may help it clear all this up, but while the company had previously said that was coming in the first half of 2015, it remains a mystery. A leaked and unsigned SoundCloud licensing contract suggested it might include two additional tiers offering different levels of access to ad-free content. The company wouldn't comment on this. In early July, a spokesperson would confirm only that the offering "will be rolled out later this year." 
Over the locavore dinner in Lower Manhattan, Ljung and Wahlforss don't seem worried about SoundCloud coming to terms with music industry rights holders. As the conversation stretches, Ljung seems increasingly more concerned about that DJ practice session he and Wahlforss had planned.
While major-label music is important to SoundCloud, the founders say the audio-as-social-object idea is bigger than that. "The breadth of the content will be as broad as human creativity, basically," Ljung says. "So that's straightforward." Both talk about a billion-user future.
They also argue that it's specifically because they've designed their service from a creator's perspective that they will ultimately win over Big Music: They want to give rights holders, small and large, control over their work. (In June, SoundCloud struck a licensing agreement with an organization that represents 20,000 smaller labels, boosting the participation in On SoundCloud.) But, they add, they want to do so in a way that recognizes what music consumption has become and where it's headed. "Remix culture, derivative culture, is already, today, a huge part of society," Ljung says. And starting with On SoundCloud, their plan is to create a way to make money on such content that will be fair to everyone. "It's something that we're unlocking," Ljung says, declining to be more precise.
In their view, what's happening in the audio technology world goes well beyond a transition to streaming. "It's easier to create music, to collaborate on music, and to share it instantly across the world," Ljung says. "It's much easier now to create a new genre." Maybe that means music that gets big fast, fades fast—or morphs. A hit song will still matter, but perhaps less for its canonical self than for the versions and variants it spawns. Access to a catalog of past music or a momentous album-like release every year or two would become less important than a steady supply of material that keeps fans' attention.
Deep into the second decade of the digital music revolution, some of this may seem familiar. But even now, most modern listening options essentially replicate ideas—the record collection, the radio—that younger listeners don't relate to. Their reference point is the Web itself: open, participatory, nonstop, and ever-changing.
From the early days of SoundCloud, Wahlforss says, he and Ljung had a thesis about the implications of a new audio production cycle, the end of the old constraints around distribution, the democratization of music-making, and a revision of the fan-artist relationship. "We're the one platform that is really leading that shift," he says. The old model is "slowly dissolving," and he sees more evidence of the new every day. But, like many an aspiring creator who's certain that stardom is coming, Wahlforss punctuates this with one caveat: "It's taking longer than we maybe thought."
—With Adam Satariano
(Corrects the number of SoundCloud registered users and the size of Warner Music Group.)
(
Corrects the number of registered users in the seventh paragraph and the size of Warner Music Group in the ninth paragraph.
)