How a Hard-Core Carnivore Fell in Love With Vegetable-Mad Paris
The latest trend in haute cuisine has us asking, "where's the boeuf?"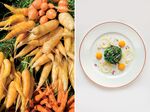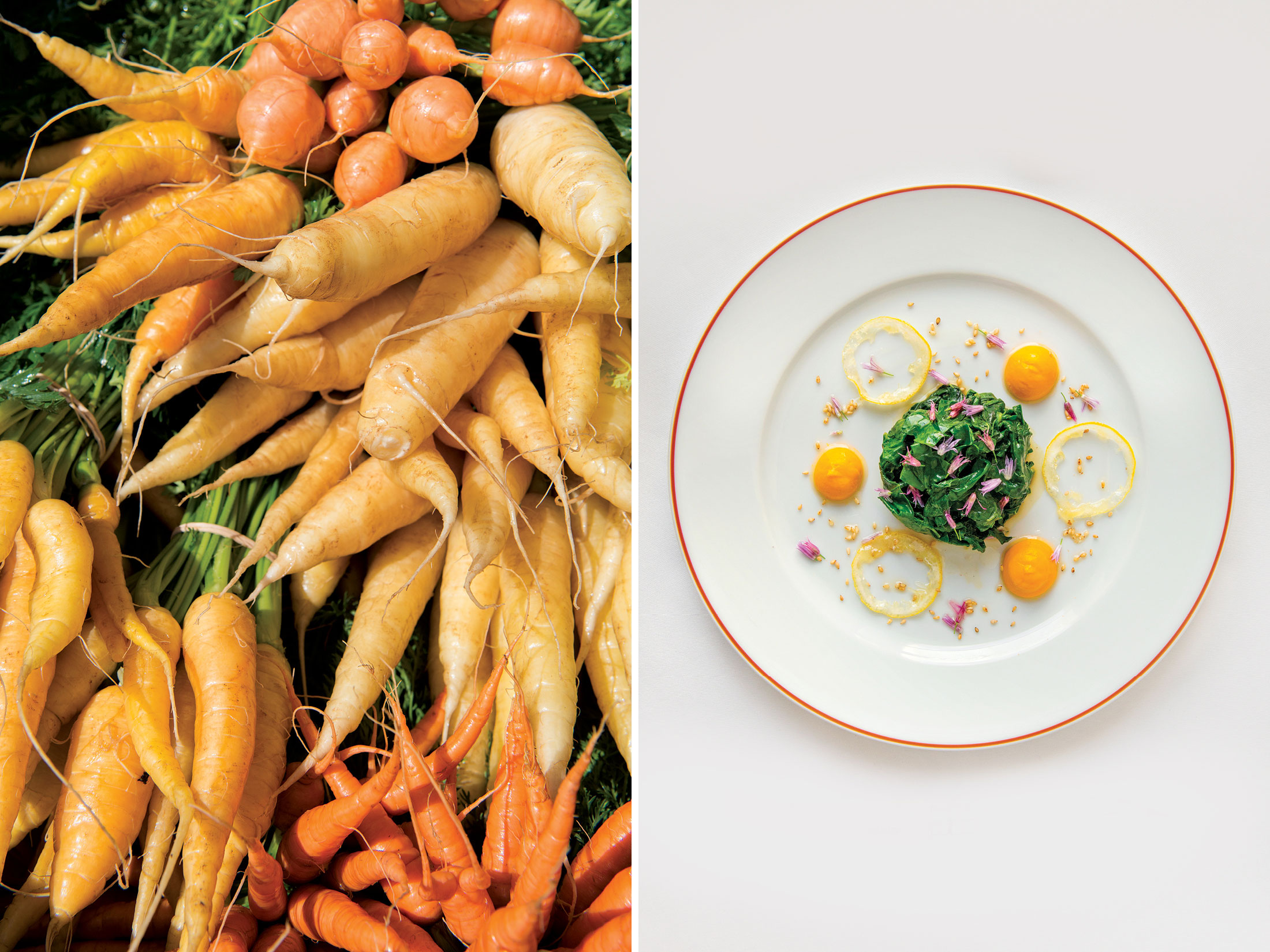 I don't remember exactly when it was during our marathon dinner at the Parisian vegetable palace, L'Arpège, that my wife finally cracked. Maybe it was after dish No. 4, a helping of chef Alain Passard's radissotto, delicate beads of fresh radish designed to look and taste like typical rice-and-cheese risotto. It could have been during the kitchen's spinach presentation, which featured perfectly formed forest-green fronds. Or maybe it was during the finale of Passard's famous vegetarian menu—on this early spring evening, it consisted of a single gnarled beetroot, baked to a delicate tenderness in a thick crust of rock salt, then carved tableside like the finest Peking duck.
My wife is normally an avowed soldier in the roughage army. She's spent a lifetime dutifully eating her peas, happily consuming any asparagus spear or heirloom carrot or early springtime ramp put on her plate. But as wave after wave of this high-concept produce pounded us, she fell silent and finally put down her fork. "I don't mean to be rude," she whispered, "but will you please tell them to make it stop?"
I told her to buck up and carry on. We were on a mission, after all. Paris is in the midst of a great vegetable revolution, and for several days we'd been ping-ponging around the City of Light, devouring legumes at a frightening rate. Already we'd tasted delicate cannelloni wrapped in black truffles and Old World pastries flavored inventively with streaks of beet juice and hibiscus. We'd dined on the button-shaped "Venus Belly," which grows in the rocks on the Brittany coast, a species of leek so large and exotic that it has its own name, le monsteur de Caronton, and so many different iterations of asparagus that our tongues were on the verge of turning green.


Grand French chefs have always been attuned to the rhythms of the seasons, but thanks to a variety of factors—the farm-to-table revolution, global warming, residual fears of mad cow disease—Paris is suddenly awash in faddish juice bars and salad dens. In haute cuisine circles, veterans of Passard's Michelin three-star kitchen are opening their own "vegetable-forward" ateliers around town. And at his glamorous new restaurant at the Hôtel Plaza Athénée, chef Alain Ducasse has banished red meat altogether in favor of a "natural" menu featuring seasonal vegetables trucked in from the actual gardens of Versailles, blocks of gluten-free bread made with rice instead of whole grain, and even scoops of nondairy ice cream flavored with buckwheat.
Like most professional gluttons, I usually spend my time in Paris staggering up the boulevards, hoovering down roast chickens and vats of cassoulet. This trip, it was my fairly radical idea to subsist on these dainty of-the-earth specialties for as long as I possibly could. Never mind that I'm known as a nose-to-tail-loving carnivore who's never seen a pork jowl or foie gras log he didn't like. I'd subsisted on an old-fashioned fat man's diet for long enough: If the great chefs of France couldn't persuade a jaded, steak-loving New Yorker to embrace the wonders of a winter radish or a perfectly cooked carrot, then no one could.

"These days in Paris, everyone wants to eat the carrots, the tomatoes in the summer, the garden peas," Bruno Verjus declares on the first night of our green-market odyssey. Verjus used to travel around France as a noted food writer and critic, searching for the ideal asparagus and tomatoes, but now he cooks and serves these dishes at his own posh little restaurant, Table, on rue de Prague in the Twelfth Arrondissement. He still loves his old bistro favorites—foie gras is a staple at Table, speckled with crushed cacao beans—but more and more, he says, these meaty dishes have become controversial. "We had the mad cow disease, which is still a problem. The wild salmon is no longer wild, and now the sea bass and the local lobster have been overfished. Everything with four legs, basically, there's a problem; even in France, these days, we have problems with the chickens."
Then there's the matter of variety. "Take the carrot. It has more tastes than you can imagine; some are sweet, some taste like flowers, some taste like citrus," says Verjus, who has ruddy farmer's cheeks and likes to cook at Table's open kitchen wearing his trademark scarf, from Louis Vuitton. The first dish we taste is a tangle of watercress, which he's gotten just that morning from an old gentleman who brings it in bundles from a town called Merville on the Somme coast. The watercress is served over a pool of yogurt dappled with tiny elderflowers and drizzled with olive oil and a dusting of sea salt. It tastes faintly wet and bitter, and is followed by a large serving of seashell-colored shavings of carrot, radish, and turnip, and then those monsteur leeks, baked in thin, buttery, vividly green layers. It dissolves gently on the tongue, like some exotic, vegetal form of mille-feuille pastry.
As we munch our way through this feast, Verjus regales us with tales of his locavore adventures around France. The best carrots, he says, grow wild on the Brittany coast, around the town of Vendel. The best asparagus are from the Luberon, and the finest tomatoes also come from the south, around Nice. ("The tomato, they need the sun!") Verjus's favorite vegetable of all is probably asparagus. "It's the bell for spring. When they come up, the vegetables are coming!"

The meal is delicious, but, alas, without any meat it's not quite enough to satisfy. So the next morning I eat a stout nonvegan breakfast of eggs Benedict (sans bacon) and lemon macaroons at the original pastry shop, Ladurée, on the rue Royale. Then we take the train north, out of the city, to tour one of Passard's famous potagers, or kitchen-gardens, near the tiny village of Sartre. Passard started with one garden more than a decade ago; now there are four of them, churning out more than 500 varieties of heirloom produce for his Left Bank restaurant. "It's a bit like being a parent. You can't control everything. You just want to guide things along," says a genial gardener named Mikhail as we wander down pungent rows of coriander, nibbling like rabbits on baby arugula leaves and bits of watercress.

In the past five years, Mikhail explains, the public's appetite for different sizes, textures, and types of vegetables and fruit has exploded. This potager alone produces six kinds of turnip in the winter, numerous strains of beetroot, exotic carrots, and five varieties of garden peas. He gives me a tiny, pale "white satin" carrot to taste—it's as sweet as candy—and introduces me to Mary Deseles, who's in charge of the more than 80 varieties of tomato. She's known around the farm as Mary the Tomato Lady. Chef Passard is an enthusiastic amateur gardener, Deseles says, and when it comes to vegetables, what he likes most is a veritable rainbow of colors. "Growing vegetables for Alain is the job of a colorist," Mikhail says. "We try to find as much color as we can, so he can paint pictures on the plate."
That evening at L'Arpège, our plates are painted with milky white purées made with parsnips, purple-beet tartares, and deliciously chewy ravioli filled with different shades of orange and garden green. The restaurant's much smaller than I'd imagined, and the walls are covered in blond wood paneling, like the stateroom of a billionaire's yacht. Instead of flowers, the tables are decorated with winter root vegetables, and the air is suffused with the smell of freshly baked bread. Like Verjus, Passard is not a vegetarian, and you can order a nice country chicken at L'Arpège, as well as several elegantly prepared varieties of fish. But most of the people are here for his famous 14-course Garden Menu, and as I happily finish Mrs. Platt's leftover radish risotto, Passard circulates among the tables, dressed like an eccentric auteur in orange-striped trousers and his fancy white leather shoes.
"With vegetables, it's a little bit like being a magician—you have to trick people," says Passard, who's still wearing those shoes (he's famous for them) when I drop in to chat the next day. He grew up in Brittany and started learning the classic art "of the sauce and the flame" at a variety of Michelin-starred restaurants at the age of 14. Over time, however, he came to regard the bounty of the French garden as a neglected resource, ripe for the kind of creative disruption Silicon Valley entrepreneurs are so fond of talking about.
"The perfect chicken you cook one time the same way," Passard says, "but with vegetables there are a thousand ways to do things." Although vegetables tend to be more delicate than the average protein—"one minute cooking a côte de boeuf is a lifetime for a carrot!"—they're also much cheaper, which means you can conduct endless madcap experiments without running out of material. With each Garden Menu going for a cool €210 ($238), you can also make more money from them. "Ten years ago was like the Dark Ages compared to now," says the chef, who in his spare time paints pictures of his carrots and asparagus. "Today we are in the golden age of vegetables!"

It's difficult to disagree. American chef Daniel Rose, who runs an excellent restaurant called Spring just blocks from the Louvre, says that whenever he returns to his hometown of Chicago, he has a hard time duplicating the vibrant taste and variety of produce he's used to back in Paris. "Most American carrots look nice, but they turn to mush when you cook them," he says. "And the leeks have no sweetness. They go straight to onion." Unlike persnickety vegetarians back home, he says, the French don't like their vegetables raw or steamed. Which means that in most Parisian restaurants, even the dreariest winter cabbage is doused with the kind of time-honored flavor enhancer—a spoonful of cream, a drizzle of salty butter, a surreptitious gout of lard—guaranteed to make almost anything taste good.

Mrs. Platt respectfully retired from our assignment shortly after the L'Arpège onslaught, so at this point in the trip, I'm soldiering on alone. For dinner, chef Rose serves a helping of baby artichokes set in pools of mint-flavored yogurt, a little stack of spongy morel mushrooms soaked in shallots and cream, and asparagus from the Loire Valley, which I enjoy with a nice glass of '07 Gilbert Muscat. To keep my stomach from grumbling late into the night, I devour the better part of a baguette before bedtime. After another large egg-and-croissant breakfast I tour the kitchens of Ducasse's new restaurant at the Hôtel Plaza Athénée. I then meet the chef for a pot of green tea in the gilded, white marble lobby.


"Vegetables are more than a fashion in Paris. We are entering a new age," says the chef, who runs 25 restaurants around the globe and is dressed for tea in a natty businessman's blazer and a starchy monogrammed shirt. Ducasse made his reputation during the late 1980s, in part by featuring the famous garden cocotte on the menu at his original three-star restaurant in Monte Carlo. Now he's intent on moving the needle even further in the direction of what he calls "a new code of fine dining." It involves using oils instead of butter and dairy, sustainable seafood instead of fatty cow flesh, and truckloads of boutique garden vegetables selected by Alain Baraton, the head gardener of the Parc du Château de Versailles. Ducasse recently lent his name to a line of organic vegetable juices. When members of the venerable Old World Gastronomic Societies came to sample his radical new menu at the Plaza Athénée, he announced to the startled group that, in this establishment, "red meat is over—red meat is finis!"
There's certainly no red meat in sight when I sit down to my last all-vegetable Parisian meal, and when Ducasse tries to slip in the occasional fish dish, I chastely move the flesh to the side of my plate. The Versailles vegetables appear in a stately, colorful procession, served in a succession of small metal pots, followed by the highlight of the feast, a kind of vegetable Wellington that Ducasse and his chefs construct with cauliflower instead of beef. There are nuggets of black truffle baked inside the warm pastry crust, with melted deposits of Comté cheese. Every now and then, a waiter appears to shave more black truffles onto this elaborate confection. When it's all gone, I'm compelled to do the same thing I do when finishing a great stew or a fine cut of steak. I call for more gluten-free rice bread and happily wipe the last bits of flavor from my plate. 
Adam Platt is the restaurant critic for New York magazine. You can follow him on Twitter and Instagram at @plattypants.