What Happens When an Ex-Google Executive Creates a School System?
Max Ventilla used to run a team that personalized your search results—now he wants to do the same for kids' education.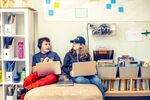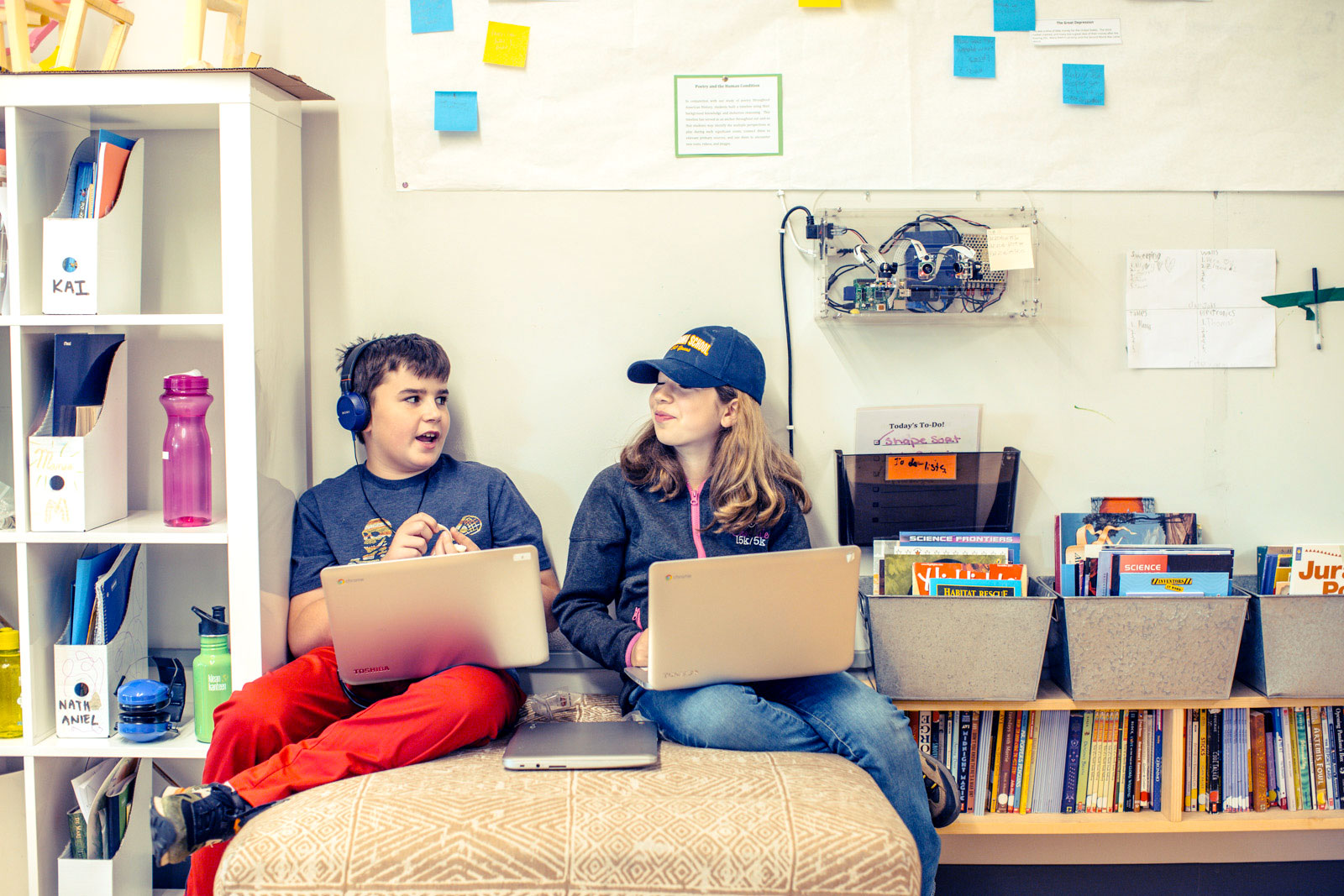 Emma Eisner, a 12-year-old with short hair dyed green in parts, has roped off an area around an art project she's building from cardboard. "Go away, child," reads a handwritten sign to ward off classmates. At about 10-feet long and 3-feet tall, the white structure looks like it could be a spaceship or maybe an elaborate tunnel. Actually, she says, "It's about how the human quest for knowledge has turned the world inside out."
There are no desks in the classroom, just some tables pushed together on one side of the room. Above Eisner's art installation three boys wearing blue Beats headphones are crammed on a bunk bed working on laptops. Two other boys are outside on the rooftop patio, measuring to build a meditation garden that will overlook the neighborhood. Downstairs, in another classroom with younger children, some students are listening to audio books on their iPads, while another group binds their own journals. The school is located in a converted fitness center in San Francisco's Marina neighborhood. It's loud and rambunctious, as schools can be, and amid the organized chaos teachers roam around helping students with their work.   
This is AltSchool, a for-profit, $21,000-a-year elementary school system founded by former Google executive Max Ventilla and backed by $133 million from venture capitalists and Mark Zuckerberg. AltSchool started with 15 students in a single classroom in 2013, and this year will have about 400 students in eight schools in San Francisco and Palo Alto. Its first location outside California will open in Brooklyn later this year. Clues of the system's tech pedigree are everywhere. On classroom walls and in ceilings are custom-built cameras and microphones that record the school day. Assignments are called "playlists," that students access from their laptops or iPads. Performance metrics—there are no grades or report cards—are sent to parents via the AltSchool smartphone app. A projector screen in one class has a video game-style leaderboard with points for finished work and good behavior. Students who can't make it to school can teleconference in on a Beam robot that looks like an iPad on stilts. And, of course, there's a 3D printer, which students recently used to design candy.

"We've literally built an operating system for a 21st century school system," says Ventilla. AltSchool's premise is to abandon the traditional notion of curriculum, and instead use data capture and analysis tools to tailor education for each student. Just as Google shows ads customized to a person's browsing habits, or Netflix recommends movies based on viewing history, AltSchool pupils get a curriculum designed just for them.
This Google-Montessori school mash-up sounds either wonderful or terrifying, depending on where someone falls on the early adopter-traditionalist spectrum. Many AltSchool parents work in the tech industry, and say they like how AltSchool lets their kids learn independently and pursue their own interests. And if the company's packed information sessions are any indication, plenty more parents are willing to spend big to get their kids into an AltSchool classroom.

The $133 million question is whether AltSchool's approach will actually work. Not to mention whether Ventilla's model can expand beyond San Francisco and a base of affluent parents who are open to being test cases for a tech-centric, VC-backed effort to rethink education.
"For good reason there is a lot of skepticism about any new technological innovation really cracking the nut and making a change," says John Pane, a senior scientist at Rand Corporation who studies the effectiveness of education technology. "Even if we see positive results early on, there is no guarantee it's a scalable thing."

Ventilla, 35, is tall and fit, with a square jaw and thick dark hair. Sitting on a cushioned bench in a conference room at AltSchool's San Francisco headquarters, his knees pulled up to his chest, he offers a well-rehearsed summary of what he thinks is wrong with education today. The system is outdated, resistant to change, and isn't readying students for a fast-changing world. "The primary purpose of schools is to prepare children for the future," he says. "So for schools to be so behind the times is not just an ancillary problem, it's a primary failing."
The son of Hungarian immigrants, Ventilla grew up in Manhattan and got a scholarship to one of New York's top private elementary schools, the Buckley School. He later attended the Phillips Academy boarding school in Andover, Massachusetts, where he graduated close to the top of his class and got a near-perfect score on the SAT (which he proudly posts on his LinkedIn profile). Ventilla went to college at Yale University, studying math and physics as an undergrad before getting a master's degree in business and starting his own company, Aardvark, a social Q&A service that Google bought in 2010 for $50 million. In Ventilla's view, his professional success in adulthood never would have happened without that Buckley scholarship.  
"There's this horrific notion that you need to pick your preschool based on what elementary school you want your kid to go to, with the obvious implication being that leads to high school and college, and if you don't pick right for your 2 year-old they are going to be penniless and alone in their 30s," Ventilla says. "What's most awful about that is there actually is some truth to it. It's not just total nonsense."  

In 2012, Ventilla was itching to leave Google and start another company. At Google, he was in charge of "personalization," an effort that links a user's search history, Gmail inbox, Maps queries, and YouTube viewing habits into a single profile, making it easier to customize search results and other features. While criticized by privacy advocates, the work convinced Ventilla that software could parse troves of information to curate an experience that matches a person's needs and tastes.
Around the same time, he found himself frustrated by preschool and elementary options for his then 2-year-old daughter. With their rows of desks and one-size-fits-all curriculum, Ventilla felt that the approaches limited creativity and treated kids as if they had the same interests and abilities. Ventilla instead wanted Google-esque personalization applied to his daughter's schooling – and thought other parents would agree. Over the course of a few months in 2013, he resigned from Google, founded the company, and opened the first AltSchool in San Francisco. Three teachers were recruited with the help of Craigslist listings, and students were found by targeting parents with ads on Google and Facebook. "We didn't really know what's involved but thought 'how hard could it be,'" Ventilla says. "Turns out it was really hard, and if we knew how hard it would be we probably wouldn't have done it. But we got it done."

The differences between AltSchool and a typical U.S. public school are stark. AltSchool's classes are filled with the latest technology -- Macbooks for teachers, Chromebooks or iPads for students, top-of-the line projectors, flat-screen televisions, art supplies, and (yes) paper books. A trained engineer works fulltime for the company, traveling from school to school to conduct science experiments. An acoustic guitar is available to play in one classroom. In another, there's a quiet room for students who want time alone. While there are no gymnasiums at any AltSchools, the company occasionally has instructors lead fitness activities at nearby parks. Cheese, crackers, and salami sit on trays for students to snack on.
Emily Dahm, one of the first teachers hired, came from a San Francisco public school with a class of 33 students and not a single computer. Now she works with another teacher in a class of 14 students, all of whom were vetted through AltSchool's rigorous admissions system and then placed in a class with compatible peers. Dahm expenses supplies, and takes Ubers to meetings at the company headquarters. Teachers can make more than $90,000 a year with benefits, and get an annual bonus and equity in the company. "The public school system is very top-down and AltSchool is the opposite," Dahm says. "We sort of dictate what's going to happen based on best practices that we know, and our experience and our knowledge, and we don't have to go through a bureaucracy to get what we need."   
AltSchool uses software built by engineers recruited from Silicon Valley companies, including Google and Zynga, to customize each student's education. The key is to quantify as many metrics as possible about a given child, from reading and math abilities to interests and motivations to energy levels and social skills. Teachers use the data to determine what students are taught. Students who are advancing more quickly in math or reading are given assignments to match instead of waiting for classmates to catch up. If a child expresses an interest in a book, a teacher will craft a lesson around it. Same goes for the student who wants to be a DJ, build a drone, or master meditation. Parents offer input on what skills they want emphasized for their child, and teachers take all the information and build "playlists" for each student to complete each week.
Then, they monitor them. Instructors log students' progress in an online database. If a lesson is successful it may be used on another child with similar personality traits, interests, and abilities.  Footage from classroom cameras can be reviewed by teachers to evaluate each student's performance and progress, and the company is building speech recognition software so teachers can quickly search to find a particular moment in class. Wearable devices are also in the works, so that teachers know where students are at all times. AltSchool is even testing a recommendation tool so that teachers will receive computer-generated suggestions on lessons to give certain students. 
AltSchool plans to start selling this technology to other school systems, including public, private, and charter schools — a prospect that has investors excited.  "I don't think of it as an elementary school system; I think of it as a gigantic software system," says Lars Daalgard, a partner at Andreesen Horowitz, one of AltSchool's main backers. (Bloomberg LP is an investor in Andreesen Horowitz.)
Brian Rogers, a web developer in San Francisco whose daughter attends AltSchool, says his seven-year-old wasn't getting enough attention in a San Francisco public school where many students spoke English as a second language. AltSchool overcame some of his initial concerns about its use of technology. "I like that her first forays into really engaging in technology are sort of in a controlled academic environment," he says.
Other parents are less enthusiastic. After attending a recent presentation at AltSchool's San Francisco headquarters, Reece Hart, a computational biologist and software engineer, decided against enrolling his 10-year-old daughter. He's uncomfortable with elements of the technology used by AltSchool. He also worries about the intersection of children's education and Silicon Valley business interests. "The people who are investing want to see a return on their investment and I'm pretty uncomfortable on lots of levels on kids being the widgets of a VC firm," he says. "I'm also pretty uncomfortable with making another walled garden in our society where kids of the parents with the money to do it send them off in an environment that's rarified and gives them all sorts of benefits and neglects those who can't afford that."  
Critics such as Larry Cuban, an education professor emeritus at Stanford University, doubt that AltSchool can successfully expand beyond a small cluster of like-minded parents. "For a lot of people who are in policy the question is can this go to scale," says Cuban. "My answer is probably not. Right now it's a boutique operation." And even if it does grow, Cuban adds that AltSchool doesn't address the root problems with education in the U.S. "For a lot of suburban white, middle- and upper-class families, the public schools are working; their kids are in advanced placement classes, they are graduating and going on to four-year institutions," he says.  Meanwhile, schools in poor, inner-city neighborhoods – hardly the AltSchool demographic -- are languishing. A 2012 Stanford University study by Cuban's colleague Sean Reardon found that the gap between the performance of affluent and low-income students grew by about 40 percent since the 1960s.

Katie Davis, an assistant professor at the University of Washington who has studied the incorporation of technology in schools, says research suggests the personalized teaching approach that AltSchool is advocating can be effective. Like Cuban, she says the system's broader challenge is growing beyond an enthusiastic (and well-to-do) cadre of parents. AltSchool may meet resistance as it attempts to sell other schools on its methods. "It's easier in private schools and charter schools because they tend to have more resources, smaller classes, and more technology," says Davis. "In a lot of public schools, teachers are really stretched thin and they are more in survival mode than thinking strategically about how to personalize learning for the many students they have."
Ventilla says he's not interested in carving out a niche. In fact, he says the company is designed for growth. Instead of building big, centralized schools with dozens of classrooms and offices, each AltSchool has only a few rooms and can be opened in a few months. It leases small spaces in neighborhoods where there's demand, including a former gym and a converted mechanics garage. He says the first several schools are being treated as research and development labs, to test ideas and learn what works best. As more students enroll and more data is collected, the company's teaching software will improve. In the next year, AltSchool plans to help others open schools -- including public charter schools -- that adopt AltSchool's model. "They'll be supported by all of our centralized infrastructure, technology, and team," he says. In about five years, Ventilla expects to be selling AltSchool's technology to entire public school systems. "When you come from a place like Google," he says, "scalability gets spliced into your veins."

Whether AltSchool turns out to be a case study in Silicon Valley's change-the-world hubris or a breakthrough way of teaching, the company is clearly tapping into broader desires for a new approach to education. Charter school enrollment rose to 2.5 million students last year, up from 350,000 in 2000. Ventilla won't release test scores, but says early results are promising. Few students have left, only one teacher has quit (because of a nightmarish commute), and enrollment and hiring are up. Ventilla says AltSchool will double its number of classes every year, and he has an ambitious plan to open new schools in large cities around the country.
It's hard not to want Ventilla to succeed after visiting an AltSchool. The children are energetic, respectful, and engaged. The teachers are ambitious and eager to experiment. After a teacher recently assigned a paper on the "nature of truth," one student came back with a report about the design of a polygraph machine. Another, moved by recent events of police brutality, interviewed a San Francisco police captain about officer dishonesty. It's an impressive scene, but what's unclear is whether this is the product of anything new AltSchool is doing, or a result of the resources at its disposal. Having two smart teachers in each classroom with state-of-the-art technology makes learning a lot easier.
Ventilla, whose own kids will attend AltSchool, says it will be years before a verdict can be reached. But he's got no shortage of anecdotes to help him show off the system's early success. Ventilla raves about students who teamed up to build a catapult after one expressed interest in machine design. The children first read about the use of catapults in medieval Europe, and then used geometry to outline how to build a model. They tested how far their catapults would shoot and studied why some designs were more effective than others. "There are at least a dozen standardized-based objective in there that are much more interesting for those kids than if they were sitting in rows of desks," he says. Later, he adds, "What we're looking for is not a school, but a whole new school system."
Correction: The original version of this story misspelled the name of Ventilla's previous company Aardvark in the ninth paragraph. It also misidentified Sean Reardon's colleague in the 20th paragraph. It is Cuban, not Cohen.
(Corrects the name of Ventilla's previous company Aardvark in the ninth paragraph.)