John Kasich's Crusade
Is the Republican governor going to run for president? Or does he just want to seem like he's running for president so he can sell states on his balanced-budget amendment?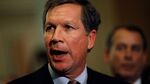 COLUMBIA, S.C.—One by one, the Republican members of the South Carolina legislature walked into the Hilton and were asked a stumper. What did they think of John Kasich? What did they make of the governor of Ohio, who'd run for president in 2000, who'd won his current term by a landslide, whose visit to Columbia had been four-alarm breaking news in the political world?
"I can honestly say I haven't spent five minutes studying John Kasich," said Representative David Hiott. 
"I know very little about him," said Representative Sam Rivers, Jr. He paused as he poured honey mustard sauce on a complimentary chicken tender. "Well, that's not right. I've heard of him."
Just then Kasich arrived; nothing lends a politician authority like a phalanx of lobbyists and legislators strolling behind him. Kasich posed for a photo with Lieutenant Governor Henry McMaster and his wife. "This must be your daughter," he said. He signed the newspaper of a fan who wanted to talk about Republican budget wonks. "I'll tell you something—Bill Archer, to me, is the smartest," said Kasich. "He and John Sununu—the two best."
Kasich was not in Ohio to run for president. "I'm on a kind of crusade," he explained. He wanted South Carolina to join "25 other states" and pass a balanced-budget amendment to the United States Constitution. If 34 states did so, they could dash around Congress and "put the fear of God" into the people currently wrecking the country. And his 501(c)(3), Balanced Budget Forever, was sending him to any state Capitol that wanted to act boldly when Congress wouldn't.
"Even down in Washington now, with us in control of the House and Senate, they're kind of putting the budget on the back burner," said Kasich. "They say the deficit's down a few bucks, well, we don't need to worry about it. When interest rates rise, as inevitably they will. We will drown in a sea of red ink."
This version of John Kasich was irresistible, not least because of how he chose his words. Slim, compact, topped by the sort of haircut that is diplomatically described as "boyish," Kasich told a history of the past few years that made a mandatory balanced budget sound sensible.
When he said the deficit had fallen by "a few bucks," for example, he was referring, off-hand, to how the trillion-dollar deficit from the bottom of the recession had fallen to $468 billion. He said he won 86 of Ohio's 88 counties, including the Democratic stronghold of Cuyahoga. This was true; he did it against a Democrat whose campaign had effectively ended three months before the election, done in by scandal and non-existent fundraising. Having left Congress and his Budget Committee gavel in 2000, he was horrified at how a surplus had been wasted. "You'd have to get up every morning to figure out how to spend that $5 trillion," said Kasich. He did not mention the Iraq War or the tax cuts that a Republican president got through Congress.
Kasich has not been coy about his national tour. The Republican sweep of 2014 put the party in command of 69 of 99 state legislative bodies. That lit the torch for a long-held conservative dream: Passing Constitutional amendments in the states, perhaps at an Article V convention. In December, Kasich told Politico that he was using speculation that he might run for president to sell states on the amendment. "The punditry," he said, "has put me in a better position to be listened to."
In South Carolina, as in other states, the glow around Kasich helped elevate his cause. After the Wednesday reception with legislators, he cheerfully took questions from reporters, explaining that he had no timeline or external pressure for making a race. Not even the fundraising power of Jeb Bush was scary to a man whose 2000 bid was buried by the fundraising power of George W. Bush "I don't feel pressure from anything other than my wife to make sure I make an on-time telephone call," said Kasich. From there, he stayed up until 10:40 p.m., talking to legislators. He reunited with them in the morning, at the state capitol, meeting one by one, Republican and Democrat, to sell them on the budget amendment. Only a handful of them declined to queue up and talk.
"I think he helped discourage the idea that this was maybe a partisan effort, or an attack on Obama, or something like that," said state Senator Larry Grooms, the sponsor of South Carolina's push for the amendment. "It was helpful to have someone who operates in a bipartisan fashion say that this was a bipartisan effort."
If it passed? Why, the benefit to Kasich's ambitions was just a bonus. "I think he'd be able to come here and take partial credit for the legislative victory here in South Carolina," said Grooms.
In the 1990s, when the budget actually balanced, it had been a bipartisan effort. Tax rates were lower now. Kasich had once argued for capping defense spending at $270 billion; in 2015, it was closer to $600 billion. En route to Ohio, Kasich had told the Washington Post that defeating the Islamic State would require "boots on the ground"—but he was stumping for a balanced budget anyway.
After his second round of meetings, Kasich led another phalanx of legislators into another conference room, ringed with cameras. "I'm not a big guy that plays suck-up," he said. "I have to say: This is one of the most sophisticated, intelligent bodies I've had to work with."
Did Kasich think the balanced budget made as much sense in 2015 as it did before the war on terror? "I don't know how much you know about defense spending," said the governor, "but there have been times when, in hallway conversation, we've called it the Armed Services committee the uniform public works committee."
Kasich had been a "cheap hawk." Cheap hawks had been proven right before when they cut funds for useless military equipment. "What you have to do with the Department of Defense," he said, "and it's almost an impossible task, is you have to figure out what your needs are, and you have to find a way to build around those needs, to keep the pork barrel politics out of it."
That doesn't convince some Republicans—not even some Republicans who generally agree with Kasich's goals. In a Thursday interview, U.S. Representative Mark Sanford, who served alongside Kasich in Congress, emphasized how much he liked and trusted the governor but questioned whether a new amendment, or a constitutional convention, was going to stop policymakers from blundering into wasteful spending.
"As much of a supporter I've been of the balanced budget, it is ultimately not a silver bullet," said Sanford. "An educated populace that holds its appointees accountable is the silver bullet. I mean, I was governor of a state that required a balanced budget. Does that mean we balanced the budget? Of course not."
Meanwhile, Kasich was headed to West Virginia—since the election and some party-switches, newly run by Republicans. The crusade would go on.