Why Is Lindsey Graham Standing in Jeb Bush's South Carolina Path?
The hawkish senator is locking up supporters and talent in the state that traditionally has selected the nominee. Does he really think he can be president?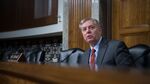 GREENVILLE, S.C.—David Wilkins spent many years and a small fortune to make a president out of George W. Bush. In 1999, as speaker of South Carolina's state House, he endorsed Bush as early as he could. In 2004, Wilkins bundled more than $200,000 in donations for Bush, earning him the elite "ranger" status. Bush paid him back in 2005 by making him America's ambassador to Canada.
In 2015, Ambassador Wilkins is supporting Senator Lindsey Graham for president.
"I have great love and respect for the Bush family," Wilkins said from his Greenville office. "I have great respect for Governor Jeb Bush, and I had an early conversation with him. But Lindsey Graham and I have been good friends since 1992. When your friend tells you that he's running for president, you support him."
On Wednesday, shortly before Graham's exploratory bid for the White House would take him to Iowa, Wilkins joined dozens of friends and colleagues for a fundraiser-cum-breakfast at a Greenville country club. They gathered as an NBC/Marist poll showed Graham with a statistically insignificant lead in the 2016 South Carolina primary. The senator's bid was a fount of tricky questions. One: What was Graham doing? Two: Did they need to take him seriously? Three: Seriously, what was Graham doing? 
"If he's serious, and I think that he is, one impact it will have will really be that he'll take potential infrastructure away from somebody else," said Representative Mick Mulvaney, taking his seat at the front of a chandeliered ballroom. "Lindsey's the best politician in the state. He knows the best political consultants in the state. He knows the best grassroots organizers in the state. He's the very best at what he does. If he does get into the race I think he sucks some of that oxygen out of the room."
As Mulvaney's hot tea arrived, Gordon Sherard, a conservative doctor and consultant who'd managed campaigns in the region, came over to say hi. Mulvaney conducted an impromptu one-person poll on the Lindsey Question.
"He pulls away from Jeb Bush, doesn't he?" asked Mulvaney.
"I don't know if he's in," said Sherard with a shrug. "If he throws South Carolina to a candidate and they win, he's a kingmaker, I guess."
"There's a real argument that he helps Rand Paul," said Mulvaney. "There are Republicans in the state who don't care for Lindsey very much. They may be looking for someone who's as opposite from Lindsey as you can get."
As they talked, Wilkins shook hands with Representative Trey Gowdy and Representative Jeff Duncan. Gowdy, the district's congressman, had just received $5,200 from Jeb Bush's Right to Rise PAC. But he was not endorsing anyone, focusing instead on getting candidates to South Carolina for town hall meetings. And after the breakfast ended, Politico confirmed that Gowdy would attend a March 3 fundraiser for Graham's exploratory committee.
There is no real precedent for what Lindsey Graham is doing. In the modern age of primaries, no "favorite son" has run from a key primary state. In 1980, 1988, 1996, 2000, and 2008, the Republican voters of South Carolina anointed the eventual party nominee. In a few of those races—2000 and 2008 especially—an avalanche of snowbird, veteran, and country club ballots ended an insurgency against the GOP establishment.
That changed in 2012. Mitt Romney, who'd run fourth in the state's 2008 primary, had trouble winning over the right people. Senator Jim DeMint, who'd endorsed Romney in 2008, used the new clout granted him by the Tea Party movement to sit out—and encourage others to "keep the powder dry." Governor Nikki Haley endorsed Romney. Representative Mulvaney even endorsed Rick Perry. (In Greenville, Gowdy joked that this was because Mulvaney "doesn't like large crowds.")
The result was a chastening, landslide win for Newt Gingrich. For the first time, South Carolina had not picked the candidate who went on to become the party's nominee. "This will make me feel slightly guilty every time we go through South Carolina," Gingrich said, half-jokingly, in his May 2 speech exiting the primaries. Yet in South Carolina, it really did sting. "We want that record back!" said Republican state Rep. David Hiott, while milling around at a Wednesday reception for Ohio Governor John Kasich.
In Greenville, one of the state's most reliably Republican counties, there was also evidence of why a Graham run made sense. First, he wasn't expected to clear the field – or even to try. Not only was Kasich in the state this week, but Florida Senator Marco Rubio was en route to Greenville to sign copies of his new, dry campaign book. Gowdy said that he would make no endorsement in 2016; he and Sen. Tim Scott would focus on bringing candidates in to be vetted at town halls.
"Senator Graham would wholeheartedly, full-throatedly endorse Timmy and I bringing other candidates," said Gowdy in an interview. "People need to hear from Rand Paul, from Scott Walker – he knows that. And if the microphone were big enough, we'd do a town hall with him, although neither of us would get a word in edgewise."
That raises the second reason for the Graham run. Graham's faced primary challenges in both of his re-election bids, 2008 and 2014. In 2008, he won 67 percent against an RNC committeeman. In 2014, he won 56 percent against a divided field that included a state senator. Both years, the animus against Graham—insufficient as it was—was rooted in his advocacy for immigration reform. He's interpreted his 2014 win as proof that the restrictionists—or "bigots," as he once called them—make up a loud, beatable, minority.
"There's a growing element in our party that would like me to speak up," said Graham in a short interview last month. "Where is the Republican Party on problem solving? Is there a rational way forward on immigration? Do you deport 11 million people? I don't think so."
The division has not closed up. Graham announced his Security Through Strength PAC days after the end of the South Carolina Tea Party Coalition convention, which he did not bother attending. On its Facebook wall, the coalition recently posted an article about the "crime wave" spurred by "Obama's illegals," with a warning: "Remember how conservative Lindsey Graham, told us he was just 3 months ago? Do you think he lied to you?"
Graham happens to be exploring a run as immigration reform fades from the center of the Republican grassroots hit list—and as terrorism rises. In Greenville, Representative Jeff Duncan spent some time explaining that the White House's proposed authorization of military force against ISIS was a massive dodge. "It's very weak," he said. "I think he wants us to pass that so he has someone to blame."
When the audience was allowed to ask questions, it wanted its reliable, conservative congressman to go even further in attacking terrorism. One Greenville Republican asked them to investigate reports that there were "twenty-two terrorist training camps" in the United States. Another asked if Congress could pass the most expansive AUMF possible.
"In the 1930s, Hitler killed over 6 million Christians for not believing in his vision," said Dick Collett, a retired aerospace engineer. "He killed many millions of Jews for the same reason. Now we have ISIS, and we have the fundamentalist Muslims who, in my opinion, want to take over what Hitler was trying to take over: Europe, and after that the United States. Any freedom loving American will have to bow. There has been no policy by the White House to create a state of war against those people. Does Congress have any way to create a state of war where we take the fight to them, totally in this world?"
The congressmen—any of whom could have challenged Graham from the right on environmental issues, or immigration—would not go that far. After the breakfast, Collett clarified that he thought Christians could co-exist with Muslims, and that a war on ISIS could involve "putting 300 marines on the ground, in the right spot."
Graham couldn't have said it better, and saying it may be the whole point. In conversations Wednesday, other voters, donors and Republicans wondered whether Graham might "run" long enough to make his foreign policy views essential. Some wondered whether he could do so, then join a winning ticket or a Republican administration. All agreed that Graham's status as a bachelor, and the perennial smear campaign about why he's single, would be vetted and found irrelevant.
"No one has the same level of intensity in the same areas of their life," said John Rainey, a Bush bundler who was also backing Graham. "I have more than one friend who just doesn't have the burning interest that some of the rest of us have. Of course, my burning interest subsided substantially when I crossed 70."
Rainey, like Graham's other allies, acknowledged that his bid was tying up some local campaign talent. He just didn't see a scenario where it hurt Graham's cause, or made South Carolina less relevant, or prevented the state from nominating a winner again.
"Governor Bush knows firsthand what's going on here," said Rainey. "He knows that if Lindsey drops out, we all move in lockstep behind him. If Lindsey drops out, Governor Bush wins the South Carolina primary."