Queen Elizabeth
Lazard banker Antonio Weiss was a perfect candidate for Treasury—until Elizabeth Warren changed the rules.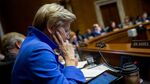 Elizabeth Warren's latest victory over Wall Street arrived in the form of a letter. Over the weekend, Antonio Weiss, a top investment banker at Lazard, sent President Obama a note withdrawing from consideration to be under secretary of domestic finance, the third-ranking position in the Treasury. Weiss was nominated late last year and drew vehement criticism from Warren and other liberals for his Wall Street ties—quite to his surprise, say his friends. Since Weiss wasn't confirmed last year, Obama would have had to re-nominate him in the new, Republican-led Congress. Weiss spared him the trouble. "I am writing to request that the administration not re-submit my nomination," he wrote to the president. "I do not believe that the Treasury Department would be well served by the lengthy confirmation process my renomination would likely entail."
The news, which caught even Warren's staff by surprise, is a big deal. It's evidence that while Democrats' fortunes have suffered amid Republican advances, Warren's own power keeps growing. "One key thing that's changed with Warren is that it used to be that the philosophical piece mattered—if you could demonstrate you're committed to the president's economic agenda, that's what mattered," says Ben LaBolt, a former Obama official. "She's established a new litmus test that you can't have worked anywhere near Wall Street if you're going to a regulatory agency or even an agency that touches on economic policy."
Indeed, interviews last week with Wall Street-affiliated Democrats and Republicans yielded a common concern: Weiss's nomination was a critical fight for the White House, not just because a loss would further empower Warren, their nemesis, but because Weiss had spent years (and plenty of money) positioning himself for the job, and had made himself a near-perfect candidate in traditional terms. With no glaring flaws, he was expected to be a lock for confirmation—and might well have been, until Warren decided to go after him. "Enough is enough," she wrote in a November op-ed lambasting Weiss's nomination. "It's time for the Obama administration to loosen the hold that Wall Street banks have over economic policy making."
Friends and allies of Weiss and Warren say the Lazard banker began eyeing a high-level government job several years ago and deftly positioned himself to land one. The firm's long lineage of senior partners who have served in top government positions (Felix Rohatyn, Steven Rattner) gave him no shortage of patrons and advisers. Weiss donated money to the Center for American Progress, a liberal think tank, which enabled him to burnish his policy credentials by appearing alongside Democratic luminaries such as Robert Rubin and Larry Summers as a co-author of a 2012 white paper on tax reform. He became a major donor and fundraising bundler for Obama. He's publisher of the Paris Review—a useful credential to deter liberal intellectuals in politics and journalism who might otherwise be inclined to criticize him.
Perhaps shrewdest of all, Weiss hired two senior Obama veterans, Pete Rouse and Mark Patterson, to shepherd his nomination. Rouse, who was once Obama's longest-serving aide and worked on nominations inside the administration, and Patterson, the chief of staff to the last two Treasury secretaries, run a "strategic affairs practice" at the law firm Perkins Coie. Both are well regarded by the liberals in Warren's ambit. Hiring them, as Weiss was no doubt aware, could have had the effect of dissuading potential critics from speaking out.
Toward the end, when the battle came into the open and Warren's intentions were clear, Weiss was able to summon a small army of Wall Street heavyweights to make private calls to lawmakers on his behalf. They included Treasury Secretary Jack Lew, former Treasury Secretary Larry Summers, and politically connected bankers of both parties from Goldman Sachs, Lazard, and elsewhere. The appeal to Republicans was based on the idea that Warren's holding effective veto power over nominations hurt their interests, too. As one of those advocates, former George W. Bush Treasury and White House official Tony Fratto, told Politico after Weiss's withdrawal, "It's really a shame. It's embarrassing for the Obama Administration. Terrible for Treasury — including the eventual under secretary, who will have the preferred nominee in the building. It's terrible for Weiss, to leave his career behind and not get the job. The things we put nominees through only to be upended by ill-informed, myopic demagoguery. The White House should have fought for him."
One reason for this frustration is that Weiss didn't appear to fit the mold of someone who could be easily demagogued by liberals like Warren. He doesn't work for a big Wall Street bank, and Lazard didn't receive a federal bailout. But Warren and her allies were able to broaden the list of politically inexpiable financial sins to include tax inversions, which doomed Weiss. As she put it last November, "One of the biggest and most public corporate inversions last summer was the deal cut by Burger King to slash its tax bill by purchasing the Canadian company Tim Hortons and then 'inverting' the American company to Canadian ownership. And Weiss was right there, working on Burger King's tax deal. Weiss' work wasn't unusual for Lazard."
Notably, Warren's critique extends beyond Weiss to encompass all of Lazard and, presumably, any firm that does similar work. This was no accident (one of her advisers described Lazard to me as a Bermuda tax-inversion factory). One banker said there would be no way to find a figure on Wall Street who hadn't touched an inversion because of the practice's prevalence in deals. In the war between Warren and Wall Street, hers is the army gaining territory.
Curiously, the Republican gains in the midterm election strengthened Warren's personal power, even as they weakened her party. As one bitter Weiss ally pointed out, Harry Reid could have schedule a quick confirmation vote and likely prevailed if Democrats still controlled the Senate. The new Republican leader, Mitch McConnell, on the other hand, would relish dragging out Weiss's confirmation hearing for months as Democrats tore each other to shreds. That same dynamic will obtain for at least the next two years for any nominee that Warren cares to target. And the fact that the White House was too weak to push through its own nominee or even enlist powerful Democratic senators like New York's Chuck Schumer to do so on its behalf doesn't augur well for whoever comes next.
Barney Frank, who served in the Massachusetts delegation with Warren, suggested that she is motivated by frustration at Obama's refusal to defend the Dodd-Frank financial reform laws he co-authored as vigorously as the White House has defended Obamacare. "People use the power they have if they feel they're going to be outmaneuvered on the substance," says Frank. "Much of her leverage comes from the fact that Democratic representatives and senators all over the U.S. don't want voters to ask them, 'Why did you do something that Warren thought was so bad?' Very few people are important to other people's constituents. She's one of them."
Weiss, for his part, will make the best of being a political casualty. Ironically, he'll wind up in the same position Warren did after political controversy scotched her chances of Senate confirmation to lead the Consumer Financial Protection Bureau: he's moving to Washington to become a "counselor" to the Treasury. And he'll be well known when he arrives, not so much for his policy expertise, but as a symbol of Warren's growing power.