Conservatives Pray Huckabee Can Prevent a Third Straight Loss to the Establishment
Evangelicals know what they did wrong the last two cycles. But the mainstream's candidates may not be the patsies of the past.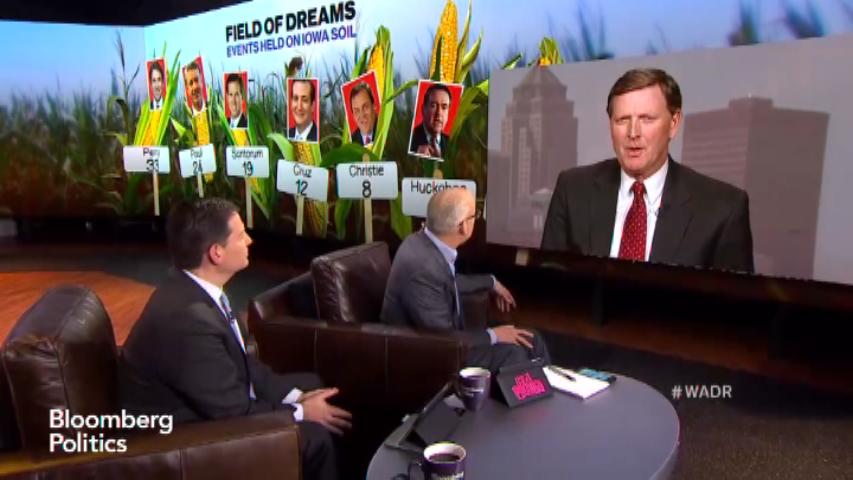 On Saturday night, Mike Huckabee answered the hopes and literal prayers of countless evangelical conservatives and pastors. He ended his Fox News show, explaining that it was time for him to "gauge support" for a presidential run.
"Most Iowa Republicans have been expecting this for two years," says Jamie Johnson, a pastor and broadcaster who served as former Pennsylvania Senator Rick Santorum's Iowa coalitions director in 2012. "There's a large group of Iowans who were heartbroken when he didn't run in 2012. It's very personal, what Mike Huckabee has with them, and it can't be quantified. It's almost a spiritual thing. I think it has to do with their Christian faith and the fact that he has been a pastor."
Two days later, close associates of Rick Santorum got their own message. The candidate, who ran second to Mitt Romney in the last Republican primaries, was "beginning the final stages of preparation and consideration of another campaign." Santorum had won Huckabee's base in Iowa in 2012, starting with evangelical voters. In that year's protracted primary season, he ended up winning more states than Huckabee had, including Colorado and Minnesota. Yet as they looked at 2016, neither could clear the field.
"I can tell you, I took Rick Santorum across the state three years ago," Johnson says. "People loved Huckabee. They liked Santorum. There was never a heart connection between them and Santorum the way there'd been for Huckabee."
Now, evangelicals could very well well get both of those candidates, and others too, all making vigorous appeals to social conservatives, starting in Iowa. This situation is flattering, but also worrisome. Evangelicals are concerned that, for the third consecutive primary season, their community could splinter and fail to pick a candidate until it was too late.
Huckabee himself warned them about this eight years ago. In 2007, when he struggled to raise money, Huckabee wondered why the conservative establishment and powerful pastors seemed to ignore him. "For reasons I don't fully understand, some of these Washington-based people forget why they are there," he grumbled to Ze'ev Chafets. "They make 'electability' their criterion." In March 2008, after Huckabee surged but lost key primary states, those same people apologized for wasting votes and energy on losers. "Before all of you and before almighty God," conservative activist Paul Weyrich told pastors at one meeting, "I want to say I was wrong."
Weyrich died later that year, and in the run-up to 2012, evangelicals vowed not to blunder again. But blunder they did. Not until mid-December did Bob Vander Plaats, Huckabee's 2008 Iowa campaign chairman, officially get behind Santorum. "He went from 5 percent to 25 percent in two weeks," remembers Vander Plaats. Not until mid-January, after the Iowa caucuses and New Hampshire primary had ended, did key conservatives meet in Texas and decide to back Santorum over Newt Gingrich and Rick Perry.
"I'd been warning about that," remembers Vander Plaats. "In the summer of 2011, I was saying that there were too many divisions between the people who were for Rick Perry or Michele Bachmann or Rick Santorum or even Ron Paul. By January 2012 it was just too late. The train had left the station. If you're going to do this right, you have to get ahead of the train."
Getting ahead of the train is going to take some work. In 2011, Vander Plaats's group, the Iowa FAMiLY Leader, organized events for candidates and distributed a pledge that most of them sign. Santorum's early signature helped him, but pledge became bogged down with language that compared the good fortune of a "child born into slavery" to one born free but to a single parent.  "I don't think we're going to have a vow or a pledge this go-around," says Vander Plaats. It would be more important for evangelicals to vet candidates early and come out with an endorsement "in November or early December" of 2015.
"Usually candidates start weeding themselves out, too," says Vander Plaats. The question for Vander Plaats and his colleagues is which conservative will have the strength to persevere through the primary process. There's a certain handicap that comes with their rebellious ethos. "We're a movement that doesn't like backroom deals and smoke-filled rooms, but Iowa voters know exactly what happened in 2008 and 2012. They fully realize that 75 percent of Iowans did not want Romney and we got him through attrition."
Romney had campaigned hard for their votes, more in 2008 than in 2012. His defeat, and McCain's defeat before that, convinced a lot of evangelicals that the party "establishment" looked down on their values while foisting loser candidates on them.
"We want someone who will align without compromise on life and marriage, and who is with us on education and immigration," says Jamie Johnson, meaning that evangelicals wouldn't support a candidate who endorsed Common Core school reforms. "The left shrewdly and wisely understands how this sport is played, and how to unify. Evangelicalism was born from this mindset of pushing back and not being told what to think. And I think you even saw that, to our detriment, in 2012. After that big meeting in Texas, you had people telling reporters that, well, the vote for Santorum wasn't unanimous. Come on! You don't see Jimmy Hoffa, Jr saying, 'We support Obama,' then see his fellow Teamsters going around undercutting him."
Johnson suggests that evangelicals not only need to organize early but also come up with the financial backing to make their candidate a contender—"throw some money at a Super PAC." That would solve a problem that hobbled Huckabee and Santorum in their races, and make the eventual evangelical champion more competitive against the "establishment" candidate.
The dream of a GOP nominee who's a social conservative is as strong as it's been since 2008, and Huckabee's teasing remarks have only stoked it. But the final problem with 2016 is that none of the GOP "establishment" candidates discussed among conservatives are as obviously flawed as McCain in 2008, or Romney in 2012.
"Jeb Bush is not a John McCain," says Tony Perkins, the president of the Family Research Center, who organized the January 2012 meeting of conservative leaders. "Jeb is actually, frankly, the most conservative member of the Bush family, apart from this dogmatic stance he has taken in favor of Common Core."
Bush has never sided with pro-choicers, as Romney had. Quite the opposite—he had sided with social conservatives and fought to keep Terri Schiavo on life support. And Bush is not a Mormon, a weakness Romney faced with some core voters.
"That was more of a factor than I thought it would have been," says Perkins. "It didn't manifest itself until the very end. People didn't trust Romney in general because of his changing positions, but there were also some older evangelicals, people who'd done an older, comparative religious analysis, and to them, Mormonism was outside the mainstream."
One such evangelical was Robert Jeffress, a pastor from First Baptist Dallas who endorsed Rick Perry—and who, from the stage of Perkins's own conference in Washington, asked Republicans to back a "genuine follower of Jesus Christ" and not a "member of a cult." He was talking about Mitt Romney. Four years later, he is not nearly so cold on Jeb Bush.
"I suspect many might view him as establishment," he muses. "It's too early to make that judgment at this point."
—Steven Yaccino contributed to this article.