Is the Draft Warren Campaign a Piece of Progressive Performance Art?
The grassroots may not want to draft her, and she may not want to be drafted—but other than that, what a splendid movement.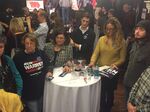 DES MOINES, Iowa—The two women stood under a Kinko's worth of merchandise promoting Massachusetts Senator Elizabeth Warren, and they compared their ardors.
"I listened to her and I thought, 'She's my hero,'" said Lorna Hall, 51. "Oh my gosh."
"I saw her speak for Bruce Braley," said O'Leary, 53, referring to the Democrats' amazing self-destructing 2014 candidate for U.S. Senate. "I said to myself, 'She should run for president.' And then I turned around, and there was this girl with a sign, saying 'Draft Warren.'"
It was Wednesday evening in Des Moines, and Hall and O'Leary had beaten the rush to find prime standing room at the Run Warren Run kickoff at Java Joe's, a café that typically hosts NBC News and MSNBC during campaign seasons. The "girl" who had informed O'Leary of the draft campaign was there, too–Erica Sagrans, an Obama campaign veteran who had founded Ready for Warren.
Sagrans's group was technically independent of the Wednesday meeting, organized by MoveOn.org, but she was co-sponsoring it. MoveOn was collecting its own signatures from possible volunteers; she was doing the same, snapping photos with the people wearing plastic hats branded with a Warren campaign logo, some of the "hundreds" left over from her group's buzzy summer launch.
This party was even buzzier, with reporters from the New York Times and the Wall Street Journal braving a Des Moines December to meet a hundred or so Democratic activists. Copies of the full-page ad that MoveOn put in the Des Moines Register were splayed across tables. A posterboard quickly filled up with reasons why people backed Warren.
 I don't want corporations buying our politicians.
 She has common sense!
 Hillary doesn't represent me!
 I'm sick of the male oligarchy.
Warren's adherents were so busy talking that they hardly touched the free cookies and coffee near the entrance of the room. O'Leary had caucused for Barack Obama six years earlier; Hall had caucused for a pre-scandal, pre-trial John Edwards. Neither really resented or opposed Hillary Cinton.
"I happen to agree with her politics," said O'Leary. "I just think we need fresh blood. We don't need another Clinton. We don't need another Bush."
The progressive organizers, who had flown in from New York and Chicago, were beaming at what they'd created. "Draft Warren," in all its forms, is not a campaign with a candidate so much as an exercise in culture-jamming. It's something for progressives to do. O'Leary, for example, said she was "done with politics" until being enticed to spend an evening with fellow Warrenophiles. Shortly after 5:30, they all heard the MoveOn campaign's national field organizer Victoria Kaplan tell them how to summon Warren into the race.
"Iowans have the ability to introduce, to the rest of the country, candidates who inspire us to be more active citizens, to fight for ourselves, and to fight for the middle class," she said. "I invite all of you to take out your phones, to tweet, to take photos, with the hashtag RunWarrenRun. That's #RunWarrenRun."
Tweets sent, mission accomplished–whatever the mission might be. Des Moines's Polk County had offered fertile soil for Barack Obama's 2008 campaign against Hillary Clinton. Obama won 39 percent of the vote from the sort of voters who crowded Java Joe's, 12 points ahead of Clinton, who came in third in the county (and in the state overall). When Kaplan asked what the Warren campaign achieved, one voice cried out "to do it again," and no one mistook what that meant.
But Java Joe's had seen bigger crowds. Ready for Hillary, the facsimile campaign created by supporters of the heavy favorite to "freeze" the field, had held bigger events in Iowa. Vermont Senator Bernie Sanders, who had just buzzed through Iowa, drew more than twice as many people to a lecture in Ames as showed up to the Draft Warren party. True, had Warren herself parachuted in, she could packed every café and bar on Fourth Street. She was not parachuting in.
"I don't understand this alleged Draft Warren movement," said Brad Anderson, the Democrats' narrowly unsuccessful candidate for Iowa secretary of state. In 2004 he'd organized for John Edwards; in 2012 he was President Obama's state director.
"I view this 'Draft Warren' movement as something that is much more D.C. and media driven than Iowa grassroots driven," said Anderson. "Most people are enthusiastic about the options that we have–and she's not running! If you look at Hillary's messaging, and her positions on issues, they really aren't different from Elizabeth Warren's."
The "options" consist of Clinton, Sanders, Maryland Governor Martin O'Malley, and former Virginia Senator Jim Webb. (Few Iowans expect Vice President Joe Biden to run if Clinton does.) Democrats here expect some kind of contested caucus. Few see the makings of a dogfight like 2004 or 2008. Clinton, whose third-place finish in Iowa led to Obama's eventual nomination, leads the field handily in most polls. 
The difficulty of breaking that was brought out when Pam Jochum, the president of the Iowa state senate–still Democratic, after 2014–gave a speech to the crowd. It was the only address from any elected official, and it fell wide of a Warren endorsement. 
 "I have no doubt in my mind that someone like Elizabeth Warren is a woman who is articulate, she is brilliant, and she is courageous," Jochum said. "And this is a moment in history when we need elected officials who have courage. This is our chance to show America what it's like to have a marketplace of ideas, to have Elizabeth Warren or anyone else who might jump into this race articulate a vision for America."
When Jochum left the stage, reporters followed to ask why she'd quasi-stumped for Warren. Did she think Warren was more in touch with Democrats than Hillary Clinton?
"I don't know if I'm in a position to say whether that's true or false right now," she said. "Whoever comes out of that primary season ends up being a much stronger general election candidate."
It fell short of her 2007 Obama endorsement, when she compared the future president to Robert F. Kennedy. This was because it wasn't an endorsement. Back in the café, activists watched a short promotional video–ending with Warren giving a longish, Sopranos-finale kind of pause to a 2016 question–and watched as the screen was replaced by MoveOn activists and locals. They told their personal stories as MoveOn's executive director, Ilya Sheyman, roamed the stage. Only when he opened the even to questions was there a scintilla of static.
"I'm asking this because we need to get this stuff done early on," said Craig Maltby, a 55-year old communications adviser, standing near the exit. "I hear Senator Warren has a very significant net worth. Can you tell us how that net worth was created? And do we know that she has not taken PAC money from Wall Street firms?"
Sheyman took a second to gather his thoughts, which formed into the standard Warren pitch. "So, Senator Warren, as folks know, never intended to run for public office, right?" he said. "Before serving in the Senate, she was a lecturer at Harvard. She'd been a lawyer, previously." When he finished with the Warren biography, he reassured Maltby that "her wealth is a matter of public information. Everyone in the Senate reports that."
Arms folded, Maltby sounded unimpressed. "That's a good non-answer," he grumbled. "Do we have any information about her PAC contributors?"
"Yeah, it's all online," said Sheyman. "Happy to talk it through with you. But in terms of who she's fighting for…"
"That all goes up six months down the road if we find out that Goldman Sachs was contributing to her political fortunes," snarked Maltby.
"Do your own research!" snapped a woman on the other side of the coffee carafe.
"The campaign should know," said Maltby. "It should be an easy question to answer."
"Go to the website," said an older man closer to Maltby.
As Sheyman kept talking–"Elizabeth Warren won a race against Scott Brown, a Wall Street favorite"–Maltby ducked out. He informed me that he was most excited about Jim Webb's campaign, and that Obama's own support from Goldman Sachs did not hurt his 2008 campaign because he didn't make the campaign about purity.
Yet nobody else left early. For them, Warren could remain an ideal, unsullied by caucus campaign attacks or smears or questions. The people who stuck around were divided into four groups, for brainstorming sessions facilitated by MoveOn organizers or Sagrans. At a "visibility" breakout, the largely middle-aged activists started by thinking up letters to editors. A younger activist, joining the circle late, said that the best visibilities she'd seen were the "die-ins" that shamed police departments after the killing of Ferguson, Missouri teenager Michael Brown.
No one knew where to take that. The winning idea, after a hurried discussion, was announced back on the main stage: Warren-drafters were encouraged to wear red, white, and blue colors to New Year's and Christmas parties, and start conversations about their would-be, mortal savior.
"I saw the postcards being passed around your group," said Kaplan, pointing to MoveOn-provided cards that left room for the name and address of potential Warren fans. "Maybe, bring a few of those to your New Year's party."
The work was going to continue long past New Year's, anyway. MoveOn would hold another launch event in New Hampshire. The people inspired at Java Joe's would have house parties, if they could. This would not end just because Warren claimed (and claimed, and claimed) not to be running.
"As long as there is enough time for her to get in the race and win–and she is uniquely positioned to do that later than other folks, by having a message, by having an infrastructure that raised $42 million in Massachusetts–as long as we think there's ample time for her to build a winning campaign, we think there's time to keep making the case to her," said Sheyman. "Can it go through summer? Absolutely. Can it go later? Potentially. There's plenty of time."