At 9/11 Museum Gift Shop, the Tchotchkes Are Made In Asia
Earlier this year, there was considerable controversy about whether it is appropriate  to have a gift shop in the newly opened National September 11 Memorial and Museum. Now, another set of questions has arisen about where the merchandise should come from.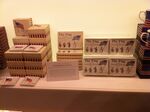 It's the postcards that really stunned former Ground Zero demolition supervisor John Feal. The toy FDNY fire trucks and MTA subway cars he could almost understand, given the state of American manufacturing today. But the folks in charge of the 9/11 Memorial couldn't find a company in the United States to print postcards?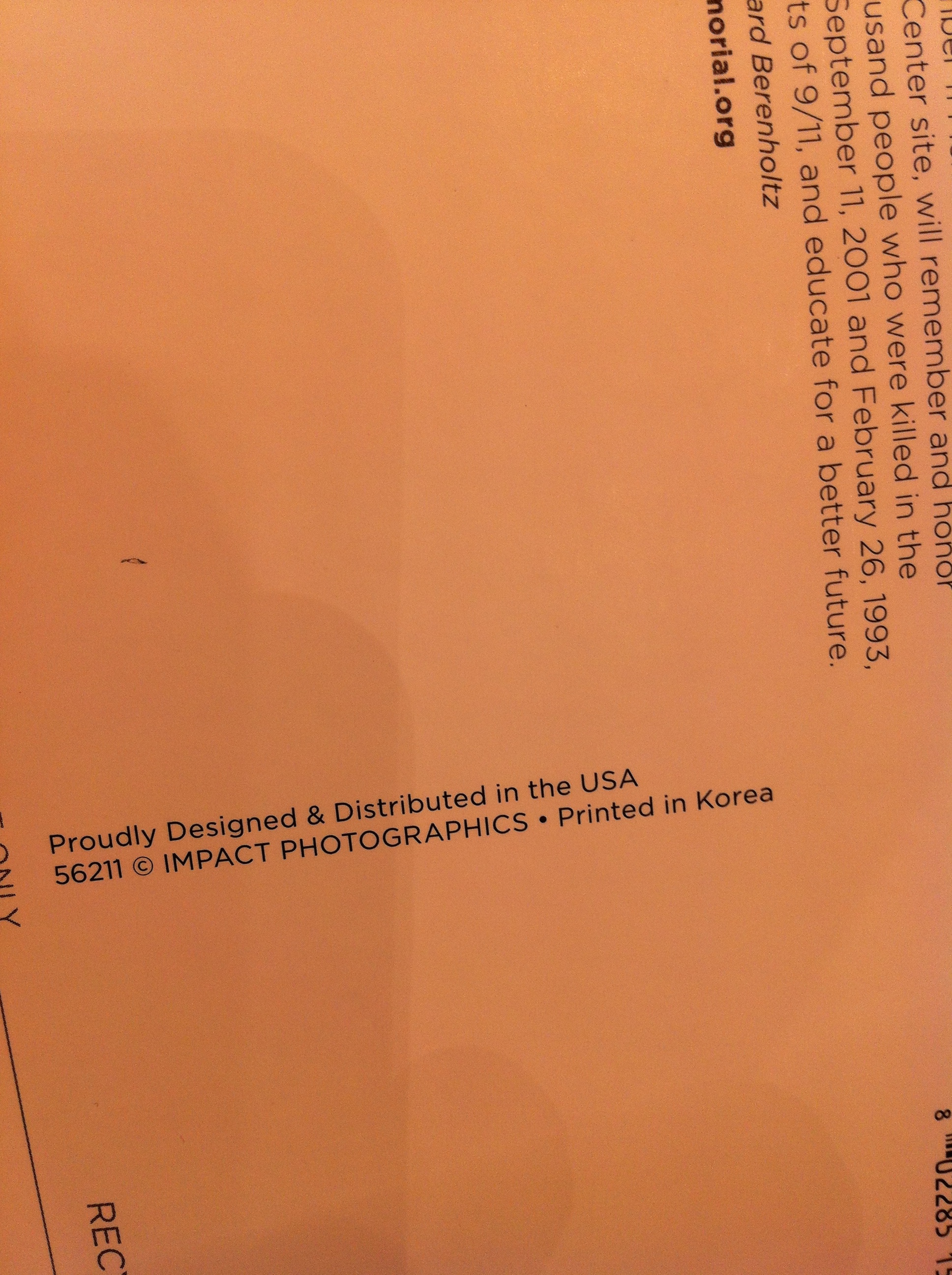 "They had to go to Korea? For that?" asked Feal, who started a foundation to fight for health coverage and compensation for first responders who have developed illnesses believed to be linked to toxins inhaled at Ground Zero. "There's a business in Lower Manhattan that can use that business. There are a lot of printing companies there. I find that utterly disappointing and disgusting."
Possibly, New York being the world's commercial capital, it was inevitable that the tragedy of 9/11 would devolve into a battle over what should be sold there. Earlier this year, there was considerable controversy about whether it is appropriate  to have a gift shop in the newly opened National September 11 Memorial and Museum. Now, another set of questions has arisen about where the merchandise should come from. In a museum and monument intended to celebrate American resilience and sacrifice, is it problematic that the I Heart N.Y. mugs are made in Thailand, the American flag scarves are stitched together in India, and the officially sanctioned FDNY and Metropolitan Transit Authority toys assembled in China?
In modern retail, made-in-China—or India, or Thailand—is as American as apple pie. But many feel that the store at Ground Zero should be different. "The fact that products sold at the 9/11 Memorial Museum are not made in the U.S. is not only upsetting, but simply unacceptable," Representative Steve Israel, a Democrat from New York, told Bloomberg Politics. "As we memorialize one of the worst attacks our nation has ever seen on our own soil, it only makes sense to ensure that all the profits made from items sold go toward supporting American manufacturing. I've introduced legislation to require that products sold in our National Parks are made in America, and products sold at the 9/11 Memorial Museum should be no different."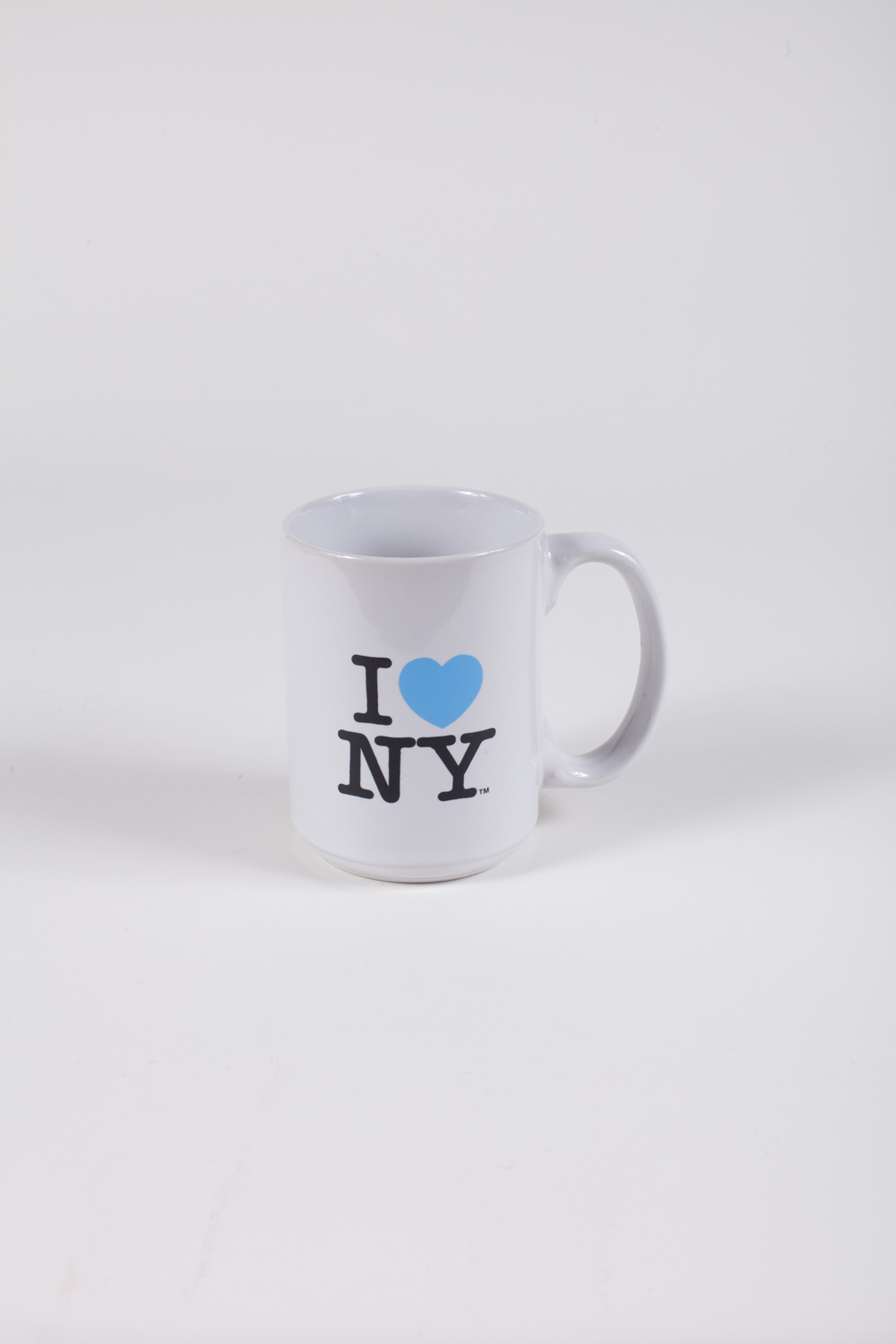 Israel's bill to restrict the origin of mementos sold at National Park shops has stalled for three years in the House, as have similar measures sponsored by Senator Kirsten Gillibrand, who was unavailable for comment for this report. In 2011, Senator Bernie Sanders, an independent from Vermont, made a fuss over the fact that most of the merchandise at the Smithsonian's National Museum of American History in Washington, D.C. was made abroad, a controversy that ended with the museum director, Brent Glass, announcing the opening of a new gift shop at the NMAH carrying only made-in-America products.
In this case, nobody from the 9/11 Museum would speak about the issue on the record. A museum official insisted via email that most of the store's top-selling items are indeed made in the U.S. This includes postcards, books, and magnets. He also noted that the non-profit museum, which doesn't receive federal, state, or city funding for operations, relies on, among other sources, "revenue from ticketing and carefully selected keepsake items for retail."
It was impossible to verify the claim that the top-selling items were made in the U.S., because the official refused to provide any supporting evidence. A walk-through of the "museum store"—as on-site employees curtly call it when they correct visitors who ask for directions to the "gift shop"—found precious few items made in the U.S. among the thousands of souvenirs available. Among those were rubber wristbands, 9/11 platters and mugs, plates celebrating the American flag, and even blue 9/11 Memorial windbreakers. Many of the items indicate they were "designed" in the U.S., an apparent attempt to show a certain amount of American input in the products.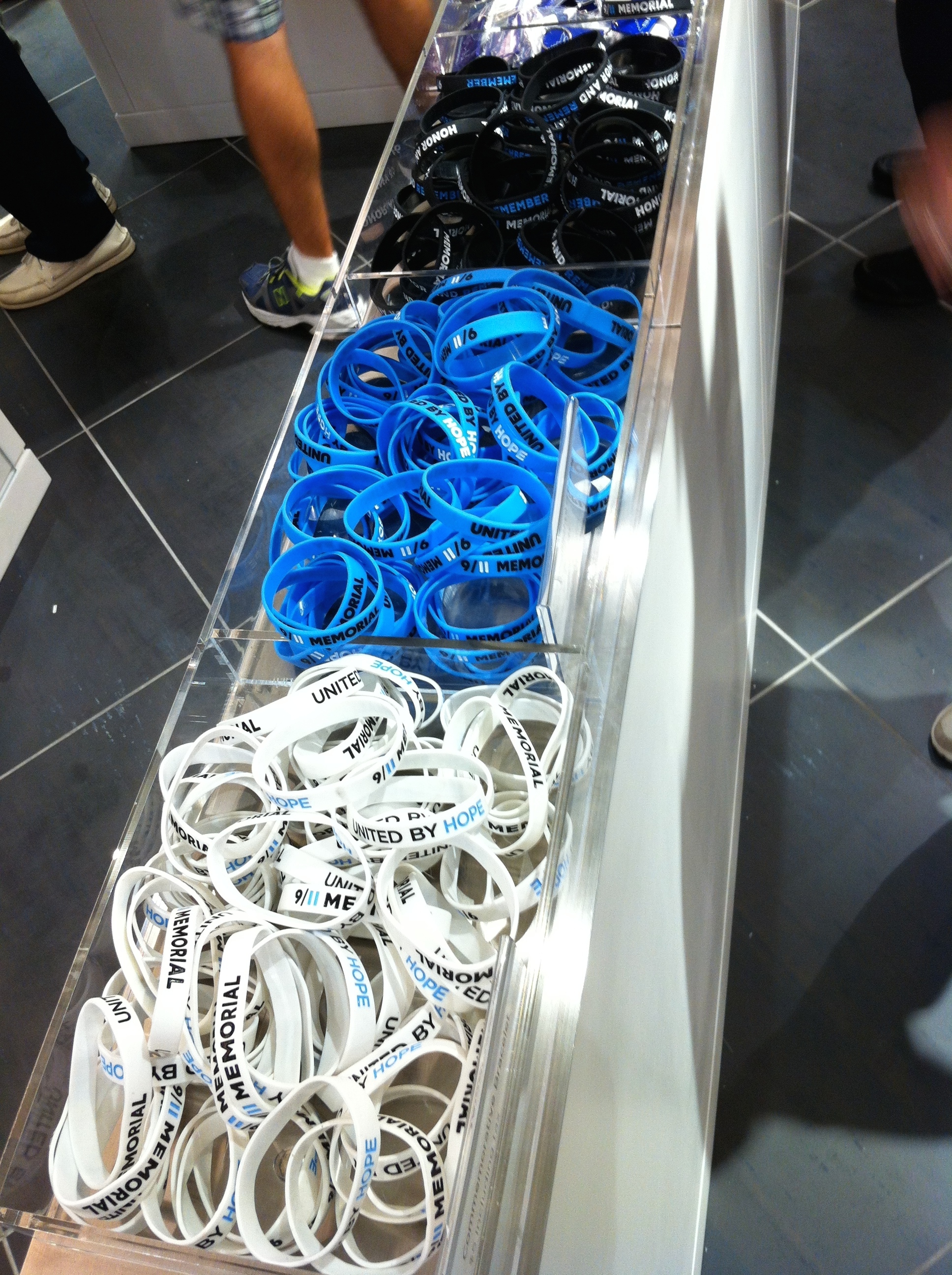 Impact Photographics, an El Dorado Hills, Calif.-based company responsible for the Korean-printed postcards and several other items at the store, is aware that the outsourcing is a cause of consternation. While the company did not respond to interview requests, its website has a prominent tab that leads to a defense of its decision to manufacture its goods abroad. The company writes that making products in the U.S. would "be a disaster" that would lead to "either a downgrade in quality and/or an increase in retail price."
"For Impact Photographics products and nearly all souvenir items in general, less than 15 cents or 15 percent of every retail dollar leaves the country to foreign suppliers," the site explains. "In other words, 85 cents or 85 percent of the retail dollar remains within our domestic economy providing for quality jobs and visitor services right here in the USA. It is also interesting to note that most souvenir importers and retailers are really net exporters. This is due to the fact that on average 50 percent or more of most souvenir items are purchased by foreign visitors who take the products home with them when they leave the country."
Such explanations don't sit well with Jim Gannon, spokesman for the Transportation Workers Union Local 100, an AFL-CIO affiliate that represents MTA workers. "Can they at least get something made in this hemisphere?" he asked. It is a little disrespectful."
To many first responders and relatives of 9/11 victims, the store's decision to stock up on outsourced Americana is just another way the museum has insulted the memory of their loved ones and commercialized the national tragedy. They cite reports that several museum executives receive salaries in excess of $300,000, and the $24 ticket charge for entry.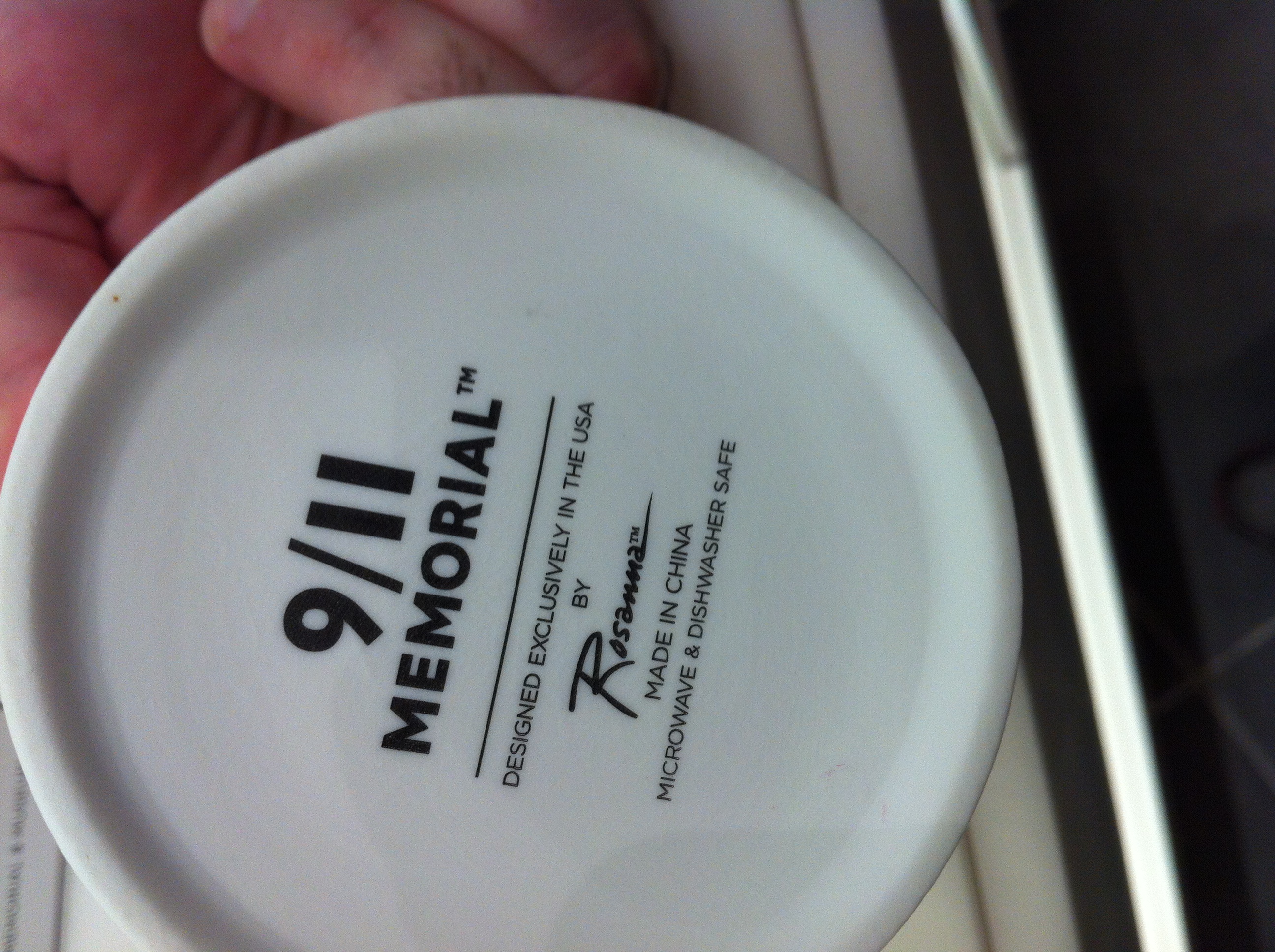 More than a decade later, the moral turmoil around the proper use of the site is far from dissipating. "I almost find it funny that there are coasters that have American flags on them and when you turn it over it says, 'Made in China,' which is not a place that respects freedom," said Diane Horning, whose son, Matthew, was killed in the terrorist attacks and who founded WTC Families for Proper Burial. "It is humorous in a bizarre way. But the real offense is that they sell it at all. It just shows the whole thing is a very crass commercial endeavor, and so of course they're going to get their products from the cheapest vendor. I'm telling you, this is a money-making operation. Their bottom line is they go to the cheapest bidder."
Feal, too, finds the mercenary part of the project off-putting. "They're hell-bent on selling 9/11," he said.