Pete Buttigieg Stresses a 'Fix It First' Infrastructure Policy
"A lot of what we've got to do is dealing with a maintenance backlog," the U.S. Transportation Secretary said.
By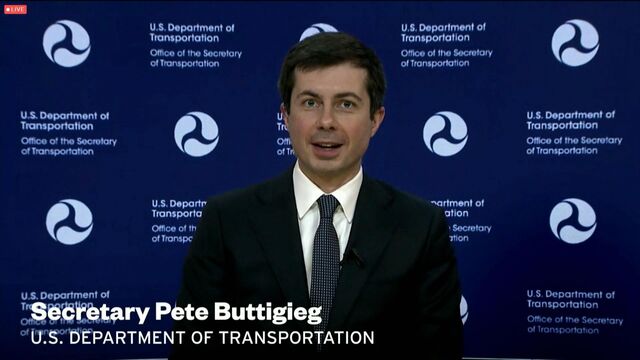 U.S. Secretary of Transportation Pete Buttigieg is emphasizing a less-than-flashy item as a top priority for his national agenda: Fixing the country's "maintenance backlog."
"'Fix it first,' I think, is going to be a very important mantra for us," he said in an interview at CityLab 2021, a virtual summit for urban leaders hosted by Bloomberg Philanthropies and the Aspen Institute. "It doesn't always have the same sizzle as adding something new, but the truth is we've got to be doing both." 
These comments add nuance to the secretary's frequent emphasis on improving transportation systems through expanded high-speed rail, electric vehicle expansion and public transit, priorities he reiterated at the conference.
"Look, if there's a need, we should meet it. And I'm a big believer when appropriate, especially when it comes to transit, but also of passenger rail, of adding resources that could make a difference," he said, pointing to the lack of dedicated federal funding for railways as a reason that "Americans are being asked to settle for less" compared to other countries. 
"But yes, we've also got to think about the total cost of ownership of the things we're building and the things that we have that Washington hasn't been willing to support." 
As the former mayor of South Bend, Indiana, Buttigieg is no stranger to aging infrastructure. Factory declines and suburban flight emptied the city of nearly 25% of its population in the 1970s and 1980s. Left behind were miles of disused streets and sidewalks that buckled under Midwestern winters as the local repair budget dwindled.
In recent years, the city has offered property owners reimbursement for mending adjacent walkways through a program that started under Buttigieg.
But while infrastructure decay may be a special challenge in the Rust Belt, a backlog of road, highway and transit repairs is also a national issue approaching $1 trillion. "You look at the conditions of so many of our roads and bridges as a country, and it's just clear that we can't allow that backlog to continue," Buttigieg said.
Buttigieg recalled making back-of-the-envelope calculations as South Bend's mayor to estimate the long-term maintenance costs of new roads in his cash-strapped city. "I realized the most beautiful newly paved piece of street lasted about 12 years in our climate, with our snow and everything that did to beat up the roads," he said. "Given the dollars that we have, how long would it take us to repave every lane mile of street in the city? And the answer came back: about a hundred years, which just doesn't compute."
The implications, he said, are that modernizing infrastructure demands additional resources, as well as better management. In some cases that could mean removing outdated structures and not replacing them. "There are some places where we may need to add assets like roadways or other transit resources. There are some areas where actually the number of square feet of asphalt in a city probably ought to go down, and we ought to be supporting that kind of right-sizing as well, if a local community sees that that's beneficial for the long term."
That approach to investment earned Buttigieg high marks from transportation advocates when he was running for president in 2020: As a candidate, his infrastructure plan required that states plan for maintenance before being allowed to build new or wider highways, which make up the bulk of the nation's $926 billion infrastructure repair needs. As of 2015, an estimated 21% of U.S. highways had poor pavement condition, according to TRIP, a road industry research group. 
Electric vehicles fit into this philosophy, Buttigieg said. In addition to their climate benefits, "they often have fewer moving parts and require less in terms of the total cost of ownership and maintenance." 
The Biden administration has raised hopes for a major infrastructure stimulus as it lays the groundwork for a sweeping economic recovery package. Yet Buttigieg highlighted his time as a mayor as an education in what's possible in constrained conditions.
"I'm very mindful of some of the things that we can be doing in addition to what might be the most important of all, which is those hard dollars, the actual resources," he said. "If we get this moment right, we can have a once-in-a generation delivery of infrastructure support that can be used by states, by cities, by counties, by tribes and territories." 
During the interview, Buttigieg also talked about the role of the federal government in local land use policy, balancing real-world policy problems with the allure of new technology, and the importance of community engagement in order to make transportation policies more equitable across race and income groups. 
"Listening is such an important part of federal policy when it comes to how we engage with cities, counties and towns," he said.