Politics
Merkel Warns of Virus-Relapse Risk as Germany Eases Curbs
By and
Merkel Warns of Virus-Relapse Risk as Germany Eases Curbs
By and
Chancellor says 'discussion orgies' could destroy progress

Smaller stores reopened on Monday in most German states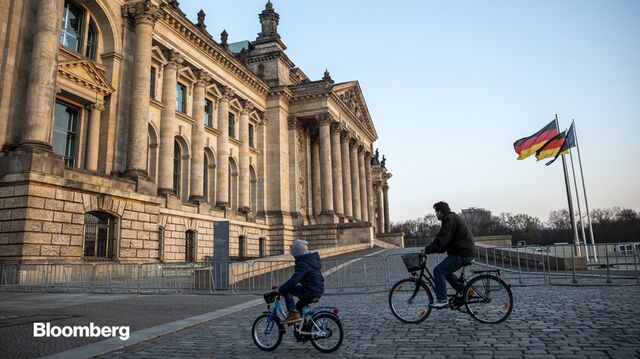 Chancellor Angela Merkel warned that public debate about easing restrictions to contain the coronavirus risked sparking a new wave of infections even as Germany took its first tentative steps toward normalcy.
In a closed-door meeting of her Christian Democratic party on Monday in Berlin, she said "discussion orgies" about loosening lockdowns threatened to destroy the progress in fighting the pandemic, according to a participant, who asked not to be identified because the discussions were private.
While Merkel made clear that her government currently doesn't plan any further restrictions, that option remains on the table, saying the next steps will be decided when she meets with leaders of Germany's 16 states on April 30. The German chancellor also pointed out that the more relevant date would be May 8, when the impact of the current easing steps become evident.
At the meeting, Merkel expressed her hope that people would continue to follow rules designed to limit contact between people, but that she was skeptical about the latest developments. Over the weekend, the Berlin police broke up a protest and numerous parties, and parks were full.
Read more: Germany to Reopen Stores in First Step Toward Post-Virus Era
The unusually blunt comments indicate Merkel's unease as the country embarks on what will be a critical test of Europe's ability to recover from the crisis.
Smaller stores across the region's largest economy were allowed to reopen on Monday after a month-long shutdown deprived German retailers of 30 billion euros ($33 billion) in sales and pushed many shops to the brink of bankruptcy.
The country is among the first in Europe to cautiously revive business activity as the pandemic continues to shutter factories, restaurants and shops from Madrid to Prague.
Reopening Timeline
Key dates in Germany's efforts to revive its economy:
April 20: shops with less than 800 square meters of space, car dealerships, bike shops and book stores allowed to reopen
April 30: Merkel and state premiers to revisit lockdown measures
May 4: Partial school reopenings, hairdressers reopen; travel to neighboring countries may be allowed
After Aug. 31: large events such as soccer matches, concerts and festivals may be allowed
Retailers like Philipp Frese eagerly awaited the opportunity to see shoppers again. The lockdown, which closed all but essential retailers, has crushed his hopes for a profit this year at his bed and mattress store in southern Germany, putting his focus on survival.

The restrictions have been "a threat to our existence as a business," said Frese, whose sales slumped by 90% in March while costs only went down by a third. "You need to meet customers face to face to sell them pillows and mattresses."
Initial signs weren't encouraging. Traffic on the Zeil shopping street in downtown Frankfurt -- typically the busiest retail street in Germany -- was subdued on Monday morning.

Instead of throngs of customers, evidence of the lockdown abounded. Dispensers of hand sanitizer marked the entrance to the MyZeil shopping center -- home to stores from Adidas, Body Shop and North Face. Signs on shop doors warned customers to keep at least 1.5 meters (5 feet) from one another. Empty escalators whirred busily, echoing through the mall's corridors.
"We've been working hard to get things ready since getting the green light on Friday," Annett Gurczinski, manager of MyZeil said before improvising a greeting with a security guard by touching the tips of their shoes. "We're not fearful. We're looking forward to getting restarted."
While most stores will open their doors at the Frankfurt shopping center, Gurczinski expects customers to hang back until it gets closer to the weekend and the new situation gradually sinks in.
The number of coronavirus cases in Germany rose by the least this month, with 2,018 new infections in the 24 hours through Monday morning, taking the total to 145,742, according to data from Johns Hopkins University. The number of fatalities rose by 104, the lowest since April 1, to 4,642.
While the concern in Berlin is that those promising signs could disappear if people feel contagion risk has abated, the partial reopening in Austria last week hasn't led to a relapse so far.
New infections in Germany's southern neighbor continued to fall to less than 100 per day since small shops, hardware and gardening stores reopened on April 14 after the Easter holiday. If the trend holds, the country is on track to open electronics, furniture or fashion stores as well as malls in early May.
Germany's initial steps to ease restrictions vary by state. While Frankfurt's home of Hesse is pushing ahead, Berlin is waiting until at least Wednesday and Bavaria is delaying its cautious reopening until next Monday. The uneven efforts are driven in part by political jockeying to replace Merkel after she steps down following national elections slated for next year.

While large retailers and industrial groups are critical of the slow pace, Merkel has won plaudits for her crisis response even as the economy plunges into a deeper recession than during the financial crisis a decade ago. After imposing social-distancing measures on March 22, her government fast-tracked more than 1 trillion euros in aid to companies and workers to avoid bankruptcies and mass layoffs.
Germany's widespread testing and relative progress in protecting vulnerable people have led to a lower fatality rate than European partners such as Italy, Spain and the U.K.
In Frankfurt, a few shoppers had begun to emerge by mid-day, most adorned in a mix of surgical masks or colorful homemade coverings. The numbers were substantially lower than normal, allowing cyclists to weave through spaces typically clogged with people.
While most shops had little traffic, a couple dozen people waited outside a craft shop, and most had Covid-19 on their minds.
"Masks cost 10 euros in shops," said Kerstin Brandt, who cycled to the downtown store to buy elastic and other parts. "If you buy the materials yourself, you can make them for 2 euros a piece."
— With assistance by Boris Groendahl
(
Adds details and color from Germany's reopening throughout
)