World
WHO Says China Actions Blunted Virus Spread, Leading to Drop
Bloomberg News
WHO Says China Actions Blunted Virus Spread, Leading to Drop
Bloomberg News
World Health Organization official praises China's measures

Aylward speaks after joint WHO-China mission to Wuhan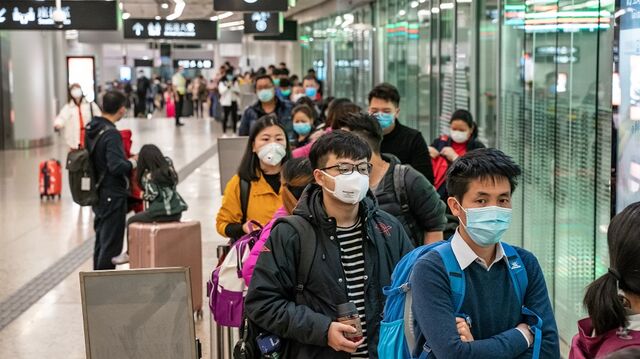 China's unprecedented lockdown and restrictions blunted the coronavirus's spread and averted hundreds of thousands of infection cases, according to a team of medical experts that visited the outbreak's epicenter last week.
While multiple revisions to the official data from Hubei have raised questions about whether the decline in China's new cases should be trusted, the 80% drop "is real," Bruce Aylward, an assistant director-general at the World Health Organization, said at a briefing in Beijing. He cited anecdotal evidence the team observed in Wuhan, including fewer patients crowding hospitals and consulting doctors for fevers.
"Very rapidly, multiple sources of data pointed to the same thing: This is falling, and it's falling because of the actions that are being taken," said Aylward, who led the team. Still, the outbreak could gain ground again as schools reopen and work resumes, he said.
The scientists traveled to Wuhan to investigate the coronavirus that's killed more than 2,600 people and is fueling worldwide concern as infections grow in countries outside China.


Any insights gleaned on the ground may be key to battling the Covid-19 infection as cases surge in South Korea and new ones emerge in the Middle East and Italy.
Aylward also praised the sometimes extreme measures China has taken to prevent the spread, including locking down most of Hubei province, which has a population of about 60 million. The approach "changed the course of the virus," he said, adding that the rest of the world should learn from China's experience.
Line of Defense
"China was the first line of defense to prevent the international spread of this virus, because they feared and felt the responsibility to protect the world from this virus," Aylward said. "Other countries should think about whether they apply something, not necessarily through lockdowns, but the same rigorous approach."
In the past month, Chinese President Xi Jinping has barred tens of millions of citizens from work or travel, expanded the use of high-tech surveillance and installed loyalists to top provincial posts. The decision to quarantine Hubei has meant even those who are gravely ill can't leave to seek medical treatment in other cities, and those with chronic illnesses have been turned away from hospitals overwhelmed by patients.

Xi's Response to Virus Foreshadows an Even Tighter Grip on China
Aylward said that China's experience justified the steps Italy has taken to contain the virus, which include a virtual lockdown in Milan, the country's financial hub, and in the regions of Lombardy and Veneto. Schools, universities and museums have closed, sporting events were canceled and a curfew was imposed on bars, threatening to tip the country's already weak economy into a recession.
Recent reports about the virus paint the picture of an enigmatic pathogen whose effects are mainly mild, but which occasionally -- and unpredictably -- turns deadly in the second week. Unlike SARS, its viral cousin, the virus replicates at high concentrations in the nose and throat akin to the common cold, and appears capable of spreading from those who show mild symptoms or even none at all.
Liang Wannian, an official from China's National Health Commission, said at the briefing that genetic sequencing shows the virus hasn't undergone any significant mutation. Patients with mild cases take an average of two weeks to recover, he said, while those with severe infections can take three to six weeks.
— With assistance by Sharon Chen, and Claire Che
(
Updates with more comments from second paragraph.
)