What Big Tech Could Look Like Under President Elizabeth Warren
The Democratic contender sees lasting harm when one company dominates a market, even if consumers pay lower prices.
By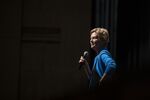 Elizabeth Warren is skipping straight to the endgame. While federal, state, and congressional antitrust investigations of the technology giants are under way, the U.S. senator and presidential candidate is already pushing the idea of dismantling them.
Warren, who's risen to co-front-runner status in Democratic primary polls, is the favored candidate of policy wonks. Her slogan, "Warren has a plan for that," is emblazoned on tote bags and T-shirts. She's put forth proposals to ease the student-debt crisis and protect public lands from drilling. But one of her most audacious pronouncements came in March when she published a 1,700-word blog post titled "Here's How We Can Break Up Big Tech." The essay called for splitting up Amazon, Facebook, and Google, and helped galvanize anti-monopoly fervor among those sympathetic to calls for more muscular antitrust enforcement.
The plan consists of two big ideas. The first is to unwind old acquisitions, such as Facebook Inc.'s purchases of Instagram in 2012 and WhatsApp in 2014. There's a legal framework already in place for this. The Federal Trade Commission has the power to review old mergers and said when it formed an antitrust task force in February that it would consider doing so.
Any such moves would certainly end up in court. Facebook Chief Executive Officer Mark Zuckerberg has already told employees he thinks the company would prevail if a Warren administration tried to break it apart.
Warren's second idea is that the tech giants—those with more than $25 billion in revenue—that operate an online marketplace or exchange shouldn't be allowed to offer services that compete with the participants on those platforms.
That means Amazon.com Inc. couldn't sell both independent retailers' clothing in the Amazon Marketplace and its own competing range of low-cost, everyday clothes through Amazon Basics. Alphabet Inc.'s Google couldn't offer its own restaurant reviews in search results. And Apple Inc. couldn't offer apps that compete with similar services available through its App Store. "Amazon crushes small companies by copying the goods they sell on the Amazon Marketplace and then selling its own branded version," Warren wrote.
Fiona Scott Morton, an economics professor at the Yale School of Management, says requiring Facebook to allow users to move their data to competing social networks would be a more effective curb on its power than simply lopping off Instagram and WhatsApp. "It wouldn't make sense to break up everything," she says. Warren's campaign declined an interview request.
Both of Warren's proposals are based on her conviction that the rise of a few large technology giants has hampered innovation and harmed small businesses. The lack of competition has also led to lax privacy protections and hurt the overall economy, in her view.
In January 2017, Lina Khan, at the time a Yale Law student, published an influential paper called "Amazon's Antitrust Paradox." Khan would revive the early 20th century trust-busting approach by looking at the effects of mergers not only on whether prices go up but also on the ability of smaller companies to compete. Together with Ganesh Sitaraman, a law professor at Vanderbilt University, Khan has helped shape Warren's antitrust views.
Legal thinking since the 1970s has seen antitrust as a remedy only when there's tangible evidence of consumer harm. The classic evidence of such harm is rising prices. Amazon, however, has mostly pushed prices down. "There's no question that Amazon is taking market share from midsize and small retailers. Who the heck cares? They're not doing it in an unfair way. They're doing it because consumers decide," says Robert Atkinson, the author of Big Is Beautiful: Debunking the Myth of Small Business.
Barak Orbach, a law professor at the University of Arizona and a member of the American Antitrust Institute, calls Warren's ideas "uninformed and impractical." Yet Orbach, who dropped in on some of Warren's classes when he was a student at Harvard Law School, says they could still be effective politically. "The energy for reforms is not in science and facts," he says, "but in accounts that can move public emotions."
Matt Stoller, a fellow at the Open Markets Institute, which advocates tougher antitrust enforcement, praised her for providing a road map for policymakers. Even if some of the details of her plan need fleshing out, he argues, it has reframed the debate. "A day before she released it, those ideas would have seemed kind of radical," Stoller says. "The day after she released it, those ideas seemed normal."
Before it's here, it's on the Bloomberg Terminal.
LEARN MORE