Business
Lincoln and Cadillac Are Still Cool Cars in China
Status seekers are becoming the largest buyers of the aging U.S. luxury brands.
By and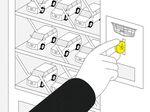 The streets of Beijing are teeming with German luxury cars, but Cindy Zhang wanted something ­different—something that reminded her of the muscular vehicles she sees on American TV shows like the spy thriller Homeland. So she bought a boldly styled Cadillac XT5 SUV in a color dubbed red passion. "The vehicle looks pretty solid and makes me feel safer," says Zhang, 29, a primary school teacher. "I don't know whether those scenes with American cars in the shows helped me with the choice, but it felt natural and right."
The well-wheeled in China are increasingly embracing American luxury brands—the bigger, the better—with Cadillac crossovers and Lincoln SUVs flying off dealer lots. The country has already become General Motors Co.'s largest market for Cadillac, overtaking the U.S. in 2017, and Ford Motor Co. says it will soon be the top market for its Lincoln brand, which arrived there only three years ago.
The rapid growth of their luxury sales in China is welcome news for Detroit automakers, which have recently seen sales of their mainstream models plunge there. While total China sales for both Ford and GM slid in the second quarter, demand for their premium brands climbed. Lincoln's rose 7% in the April-June period from a year earlier, and Cadillac's surged 36%. "Luxury sales have definitely been more resilient than the overall market," says GM Chief Financial Officer Dhivya Suryadevara.
Both brands are launching an armada of new models in the world's largest auto market, and the two are projected to account for 1 in every 10 premium vehicles sold there by 2022, according to researcher LMC Automotive. "It's been a struggle for them in the U.S. to get any traction that is lasting," says Jeff Schuster, senior vice president for forecasting at LMC. "But the interest in the brands by Chinese consumers, combined with the sheer size of the market, creates a good opportunity for them to get the volume and scale that they haven't been able to in other markets."
Why do the Chinese revere the Detroit luxury cars that many Americans find irrelevant? Part of it is cultural: They admire the brands' long histories and see them as the gilded carriages of American presidents and Hollywood movie stars. Chinese consumers tend to associate Lincoln with the 16th American president, who's highly esteemed there. And they see none of the baggage Cadillac and Lincoln built up over decades of disastrous branding decisions such as the Cadillac Cimarron economy car and the short-lived Lincoln Blackwood pickup. "Chinese people associate Lincoln and Cadillac with wealth and power and everything that goes along with America's status as the No. 1 superpower," says Michael Dunne, a China expert and chief executive officer of consultant ZoZo Go. "They were aware of these prestigious brands coming out of the United States. They were not sure what they looked like or how they drove, but the names were pure gold."
With China emerging as the world's largest market for electric vehicles, Cadillac will debut its first EV there in 2022. GM then plans to roll out a handful of plug-in Cadillac models in China over the next several years. It's also nurturing its high-tech image in the country by, in part, promoting Super Cruise, its semiautonomous, hands-free driving feature. "There is an appeal to American brands," says Cadillac President Steve Carlisle. "There is an association from a values perspective of 'anything can happen' and the American dream."
Lincoln will introduce a string of SUVs that will be built in China, starting with the Corsair crossover later this year. And it's rapidly expanding a tearoom-style showroom strategy, where customers get the royal treatment, including massage chairs and lattes topped with their personal portraits. The latter touch surprised even Joy Falotico, president of Lincoln, who visited the brand's Shanghai store in June. "We go up to the cafe, and the next thing you know here comes my coffee, served with some fruit, and my picture is actually printed in the foam on top of it," she says. Falotico also took part in a ceremony featuring an elaborate light show just to hand the keys to a young buyer. "It's just incredible."
Particularly striking is the huge age difference between the brands' average buyers in China, who are in their early to mid-30s, and in the U.S., who are about 60. Detroit's marketers don't have to overcome past mistakes or deal with the stigma of promoting a vehicle considered to be an "old man's car." Cadillac and Lincoln have clean slates to introduce their models to consumers increasingly interested in looking beyond Audi, BMW, and Mercedes-Benz, which together control 68% of China's premium segment, according to LMC. "We're an alternative to what's in the luxury market now," Carlisle says.
Rather than copying the languid TV ad campaigns they use to entice luxury buyers in the U.S., Lincoln and Cadillac are trolling for Chinese consumers on social media and at online stores operated by Alibaba Group Holding Ltd., the Amazon of China with hundreds of millions of active users. "You really don't have time for an ad campaign," Falotico says. "You have to move quickly and have relationships there with the social media giants."
The American luxury brands are also aggressively seeking customers in China's inland cities, where personal wealth is growing and the German automakers aren't as entrenched. These third- and fourth-tier cities, with populations of as much as 7 million people, are larger than every U.S. city except New York. "You have wealthy people in each of those cities," Dunne says, "and they're ready to buy premium vehicles."
Looming over this newfound opportunity are trade tensions between the countries, which have included increased tariffs on vehicles and auto parts going both ways. President Trump raised the stakes on Aug. 1, announcing he would impose a 10% tariff on a further $300 billion in Chinese imports. The new import taxes, which he later said could go "well beyond" 25%, will begin to go into effect on Sept. 1.
Dunne says there's a risk that the Chinese government, which recently levied a $24 million fine on Ford for price fixing, could discourage consumers from buying U.S. products if the trade war heats up—a type of economic pressure it's used against South Korea and Japan in the past. "There's no question that American automakers are more vulnerable today than a year ago," he says. "They could be at any time subject to audits, investigations, slowdowns, and some of that is already happening. We'd be naive to think otherwise."
Detroit's automakers are anxious for tensions to cool. "We are very hopeful that the largest two economies will work together to find a resolution to the ongoing discussions," Lincoln's Falotico says. "Should it change from where it is today, it will have an impact on us, no doubt."
Avoiding tariffs is a key reason Lincoln plans to eventually build all its models in China, except for the Navigator SUV, which doesn't sell in large enough numbers to justify local production. "We see China as ground zero for Lincoln, given the size of the market and how well the brand has been received," said Bob Shanks, Ford's then-CFO, in May. "It's a huge, huge improvement in the business model." —With Tian Ying
BOTTOM LINE -
American luxury cars are in overdrive in the world's No. 1 auto market. More Cadillacs are sold in China than in the U.S., and the same will likely be true for Lincoln in a few years.
Before it's here, it's on the Bloomberg Terminal.
LEARN MORE