economics
Merkel Leaves Europe's Sputtering Engine to Ride Out the Storm
By and
Merkel Leaves Europe's Sputtering Engine to Ride Out the Storm
By and
Germany is sticking to tight spending even in cheap-money era

Manufacturing figures, profit warnings add to alarm signals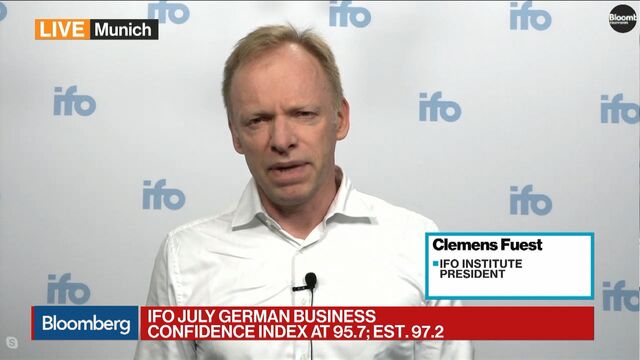 Germany's economy is sinking deeper and deeper into trouble, but there appears little chance of home-grown support from Chancellor Angela Merkel.
Signs of economic malaise are becoming increasingly hard to ignore amid a series of profit warnings in the country's marqee automotive sector and an intensifying industrial crisis. The latest alarm bell -- a sharp drop in executive sentiment -- came just days after Merkel defended the country's tight-fisted spending, a policy that's riled European neighbors and the U.S.
What that means is that despite free money available on credit markets, the government of Europe's engine plans to ride it out rather than try to give the economy a steroid shot.
"Germany's resistance to loosening fiscal policy represents a major downside risk to the global economy," said Neil Dutta, head of economics at Renaissance Macro Research in New York. "A couple of years ago, the U.S. was ridiculed for loosening fiscal policy with the unemployment rate so low. Maybe the Germans should try it."

While Germany has the financial muscle for a boost, especially with negative interest rates that means it gets paid to borrow, Merkel's government takes the approach that a slowdown after a period of historic growth is normal, and the headwinds will ease when U.S. President Donald Trump's trade wars get resolved.
"My personal view is that an investment offensive would be more important than a balanced budget," Olav Gutting, a lawmaker in Merkel's CDU party, told Bloomberg. While such a package could include spending for digital infrastructure, tax cuts and incentives for research, "I'm fairly alone in my caucus group on that point."
That's leaving the heavy lifting to the European Central Bank, which is expected to signal on Thursday that monetary stimulus is on the way. But governments' reluctance to provide backup is a major frustration for central bankers who've spent a decade pumping life back into the euro-area economy.
Slowdown Arrived
Before trouble started in the middle of 2018, Germany's export-driven economy had racked up 13 straight quarters of growth. What was expected to be a temporary blip -- stemming from car-emissions tests and clogged shipping on the Rhine river -- has failed to disappear.
Expansion in 2019 may slow to just 0.5%, which would be the worst in six years, and Bloomberg Economics estimates the economy shrank in the second quarter, holding euro-area growth to a below-trend 0.2% pace.
And Germany can't expect other countries to pull it out of its funk. The International Monetary Fund this week cut its 2019 forecasts for economic growth and world trade, and said a projected pickup next year looks "precarious."
'Fiscal Stimulus'
"This is all about fiscal stimulus,'' said Julian Emanuel, BTIG's chief equity and derivatives strategist. "If I was running a country with a growth rate of half a percent, a surplus of close to 2% and rates negative -- wouldn't you be borrowing and spending money?''
While Berlin holds out for the storms to pass, the fallout from the slowdown is spreading. Some of the nation's biggest corporate names from BASF SE to Daimler AG and Continental AG have had to come to terms with the changing dynamics, resetting profit expectations.
The good news is the strength of the labor market, though job cuts are starting to pile up, and the Bundesbank has warned that unemployment may rise. That could increase pressure on Merkel to act.

The auto industry represents a tougher challenge. In addition to battling the fallout from trade tensions and softening demand in the U.S. and China, carmakers and their suppliers are laboring under deeper structural changes. The transition to an era of self-driving, electric cars and winding down the combustion engine has hit Germany particularly hard.
Mercedes-Benz maker Daimler AG has issued two profit warnings this year. Parts maker Continental, in the midst of a structural overhaul, reined in profit forecasts because of a previously unexpected slowdown in global auto production.
The German government has struggled to formulate a response. Headway on efforts to establish domestic battery-cell production is slow. Meanwhile, the auto industry is pleading for help to make the tens of billions of euros spent on developing electric cars pay off.
"We need strong partners in politics and society for this transformation process," including initiatives to build up charging infrastructure for electric cars, said Bernhard Mattes, president of German auto lobby VDA.
With Germany marking 30 years since reunification -- an event that involved absorbing a bankrupt economy -- the country has shown it can bounce back from adversity. And even if the government is reluctant to tap into its resources, that financial might is there, which is more than many other countries can say,
"We're not taking that pessimistic a view on the German economy," said James von Moltke, chief financial officer of Deutsche Bank AG, which is in the midst of a major restructuring focused on returning to its roots as a financier of the country's exporters. "If there's a thaw in terms of global trade discussions, that may be helpful in the second half."
— With assistance by Jonathan Ferro, Nicholas Comfort, Christoph Rauwald, Arne Delfs, Zoe Schneeweiss, Vonnie Quinn, Simon Kennedy, and Patrick Donahue
(
Updates with Ifo business confidence in second paragraph.
)