markets
Trade War Escalation Sparks Shock Waves and Sell-Offs
Bloomberg News
Trade War Escalation Sparks Shock Waves and Sell-Offs
Bloomberg News
U.S. raised tariffs on Chinese good as trade talks continued

Malaysia, Philippines cut key rate as Brazil, Chile stayed pat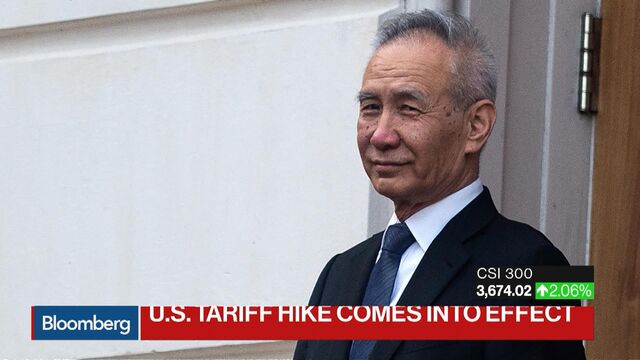 Emerging-market equities saw their worst rout last week since February 2018, while currencies extended a four-week losing streak as trade clashes intensified between the world's two largest economies. The U.S. ratcheted up tariffs on $200 billion of goods from China, which vowed to retaliate.
Read here, our emerging-market week ahead story:
Listen to the emerging-market weekly podcast, here.
The following is a roundup of emerging-markets news and highlights for the week ending May 12.
| Last Week's Asset Moves: | Weekly |
| --- | --- |
| MSCI EM stocks index | -4.6% |
| MSCI EM FX index | -0.5% |
| Bloomberg Barclays Global EM Local Currency bond index  | -0.4% |
Highlights:
Trump administration increased tariffs on more than $200 billion of Chinese goods to 25% from 10%; China said it would retaliate, though it hasn't specified how as yet
The Trump administration will expand the number of countries it scrutinizes for currency manipulation in an upcoming report, people familiar with the matter said, after lowering the bar for foreign governments to come under scrutiny
Malaysia's central bank cut its benchmark interest rate for the first time since July 2016, trimming it by a quarter percentage point to 3%; its Philippine counterpart also lowered its key rate by 25 basis points to 4.5%, the first reduction since an operational adjustment to the rate in 2016
North Korea is once again pressing the boundaries of what it can get away with, returning to missile tests in violation of international sanctions championed by Trump
South Africa's African National Congress has extended its quarter-century grip on political power, winning 57.5% of the votes cast in May 8 elections
Acting Defense Secretary Patrick Shanahan has approved new deployment of Patriot missiles to the Middle East over concerns about Iran

A top foreign policy adviser to Iran's supreme leader rejected Trump's offer to have talks as "irrelevant" and a propaganda stunt

Central banks of Brazil, Chile and Peru left their respective policy rates unchanged amid a challenging growth outlook
Venezuela detained National Assembly Vice President Edgar Zambrano in Caracas, marking the first major arrest since opposition leader Juan Guaido called on the armed forces to revolt against the government on April 30
Asia:
EMEA:
Latin America:
Upcoming Data and Economic Releases
For Eastern Europe, click here
For Latin America, click here
— With assistance by Yumi Teso, George Lei, Colleen Goko, Selcuk Gokoluk, Netty Idayu Ismail, Philip Sanders, and Dana El Baltaji