economics
Israel's Economy Beats Expectations on Consumer Spending
By and
Fourth-quarter growth 3.1%; third quarter revised upward

Expansion projected to slow in 2019 for third straight year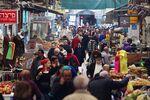 Israel's economy expanded in late 2018 at its fastest pace since the first quarter of the year on a rebound in consumer spending, beating economists' estimates.
Gross domestic product grew 3.1 percent in the fourth quarter from the previous three months, on an annualized basis, the Central Bureau of Statistics said in a release. That compares with 2.4 percent expansion in July-September and a median estimate of 1.9 percent in a Bloomberg survey of economists.
Officials had feared a slowdown, "but I think the fourth quarter reinforces the view that the Israeli economy is growing near potential," said Rafi Gozlan, chief economist at Israel Brokerage and Investments in Tel Aviv. "We can't really grow higher than the 3 percent level."
The central bank's research department says growth should approach its long-term potential of about 3 percent a year over the next two years.
Resurgent Exports
The statistics bureau said GDP growth slowed from 3.5 percent in 2017 to 3.3 percent last year. Highlights from the quarter's data include:
Exports, excluding diamonds and startup companies, rose 2.8 percent
Gross fixed capital formation grew 3 percent
Residential building declined 4.6 percent
Ofer Klein, head of economics and research at Harel Insurance & Financial Services Ltd., noted the strong growth in private consumption -- up 4.9 percent in the fourth quarter -- but called the ongoing decline in residential construction investment "disappointing." He kept his projection for 2019 GDP growth unchanged at 3.2 percent.
The Bank of Israel has signaled it plans to raise interest rates cautiously after a surprise increase in November lifted benchmark borrowing costs for the first time in more than three years, to 0.25 percent. Risks to Israel's outlook include the U.S.-China trade war and a slowdown in domestic demand, the bank's research department said in its January forecast.
BOI researchers recently cut their growth outlook for this year to 3.4 percent, down 0.2 percentage point from their previous projection. That's still higher than 3.1 percent expected by the Finance Ministry and 2.8 percent by Bank Hapoalim Ltd.

The strong fourth-quarter reading, together with data showing prices rose 1.2 percent in January from the year before, could be reflected in next week's Bank of Israel rates decision, Gozlan said.
"I think probably the tone of the announcement will be less dovish" than last time, Gozlan said. "I think they realize now the outlook is not as bleak as they thought."
(A previous version of this story was corrected to note that the GDP figures show the change from the previous quarter, in annualized terms.)
(
Adds analyst comment in seventh paragraph.
)