Hyperdrive
Tesla Starts Taking Orders for Shorter-Range $45,000 Model 3
By
Tesla Starts Taking Orders for Shorter-Range $45,000 Model 3
By
Release of cheaper Model 3 versions 'a logical step': analyst

Tesla needs to reach higher level of output, reduce cost: Musk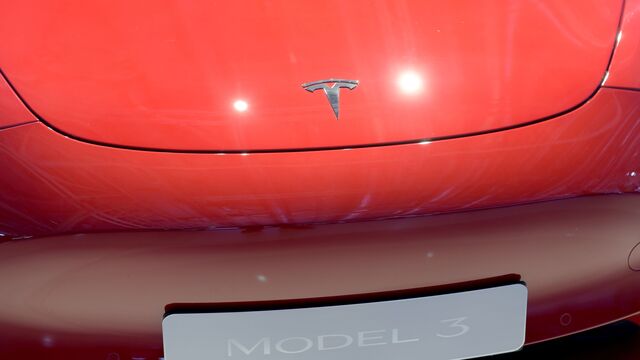 Tesla Inc.'s long-promised $35,000 version of the Model 3 sedan is still nowhere to be found, but it's inching closer to that price point.
The electric-car maker has started taking orders for a mid-range battery Model 3 that goes about 260 miles between charges for $45,000. That's about $4,000 less than the starting price of the sedan that went on sale last year, excluding incentives or options.
The release of a lower-priced Model 3 was a "logical next step," Evercore ISI analyst Arndt Ellinghorst said in a note. Offering cheaper versions of the vehicle raised a "big and unanswered question" of Tesla maintaining profit targets for the car, he said.
While Tesla is making the Model 3 more accessible to some buyers, the starting price for sedans with the long-range battery is rising to $54,000. This iteration of the car boasts 310 miles of driving range, plus a faster top speed and zero-to-60 time. A cheaper rear-wheel version will no longer be available.
Chief Executive Officer Elon Musk noted in a tweet that the mid-range Model 3 costs $35,000 after federal and state tax rebates in California, but the clock is ticking on buyers being able to get a big chunk of those savings.
Tesla buyers will no longer be able to get the full $7,500 federal tax credit after Dec. 31 because the company reached the 200,000 sales threshold in July. That incentive will be cut in half for the first six months of 2019, and then gets halved again for the following six months.
Musk, 47, first unveiled the Model 3 to great fanfare in March 2016, pledging that it would start at $35,000 before incentives. Within days, the company had more than a quarter million reservations. While he has yet to deliver on that sticker price two and a half years later, demand has been strong, with sales rivaling some of the top-selling passenger cars in the U.S. last quarter.
Tesla shares rose 1.3 percent to $267.43 in German trading compared to the previous day's U.S. close as of 10:45 a.m. in Frankfurt.
When Musk announced a performance version of the Model 3 in May that cost around $80,000, he said the company needed to reach higher levels of production and reduce costs. Shipping a $35,000 iteration of the sedan right away would "cause Tesla to lose money & die," he tweeted.
That long-awaited price point may still be another few months away, Musk suggested in a post on Thursday describing the mid-range Model 3.
— With assistance by Oliver Sachgau
(
Adds analyst comment in third paragraph.
)