politics
Vietnamese President, Who Supported Closer U.S. Ties, Dies at 61
By
Vietnamese President, Who Supported Closer U.S. Ties, Dies at 61
By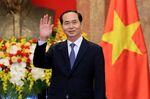 Vietnam's President Tran Dai Quang died today from a serious illness at a Hanoi military hospital, according to a posting on the government website citing state-run Vietnam News Agency.
"President Tran Dai Quang died today despite the utmost efforts from doctors," the post said.
Quang, 61, a former minister of public security, was elected president in 2016. He was from the northern province of Ninh Binh and was an advocate of growing the nation's private sector and developing closer ties with the U.S. He had a Vietnamese doctorate degree in law.
"He was the first Vietnam president to meet with us, speak at a U.S.-Vietnam business summit," said Adam Sitkoff, executive director of the American Chamber of Commerce in Hanoi. "He was a big believer in the private sector and improving relations between the U.S. and Vietnam."
Quang's death isn't expected to alter the government's economic policies, Sitkoff said.
His was among the four most important positions in Vietnam's power structure, which also includes general secretary of the party, prime minister and head of the National Assembly.
Dissident Crackdown
Under Vietnam's constitution, if the president dies in office, the vice president will become acting president until the National Assembly chooses another president. The session -- the second of the year -- opens Oct. 22 and will last a month. Dang Thi Ngoc Thinh is currently vice president.
The government increased pressure on dissidents after Quang became president. Police have stepped up crackdowns on bloggers and Facebook critics since 2016 with jail sentences. The government has deployed 10,000 members of a military cyber warfare unit to combat what it sees as a growing threat of "wrongful views" proliferating on the Internet.
Quang canceled his trip to New York City for this month's United Nations General Assembly this week and Prime Minister Nguyen Xuan Phuc committed to go in his place, Sitkoff said. "The U.S. business community had a dinner planned for President Quang."
— With assistance by Nguyen Kieu Giang, and Nguyen Dieu Tu Uyen
(
Updates with details of replacement process in seventh paragraph.
)