Mexico City's Architects of Destruction
On the first anniversary of the Mexico City earthquake, an investigation explores how engineers, builders, and politicians failed to follow building codes—with deadly results.
Martha Pskowski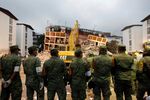 On September 19, 2017, a 7.1 earthquake rocked Mexico City, killing 369 people in the area and damaging hundreds of buildings.
The timing of quake was uncanny: 32 years earlier, to the day, an 8.0 quake killed thousands and left entire neighborhoods unrecognizable; 5,000 bodies were recovered from the rubble in Mexico City, but the total death toll was probably twice that.
The date wasn't the only eerie similarity between the two quakes. In 2017, two apartment buildings in the Hipódromo and Del Valle neighborhoods collapsed, killing 23 people in all. In 1985, one collapsed apartment building in the Roma neighborhood left over 120 dead. The three doomed buildings, built between 1978 and 1980, shared the same engineer, a man named Max Tenenbaum. He either designed or supervised these buildings' construction.
After the 1985 earthquake, Tenenbaum was charged with "diverse homicides and occupational professional responsibility," as the New York Times reported at the time, and he fled the country to escape an arrest warrant. But he returned to Mexico and by November 1988 had resumed work as an engineer. The Mexico City government renewed his license as a "Director of Structural Security" in December 2017, just months after the earthquake in which two of his buildings fell.
This is one of the revelations in a new investigation from the newsroom of the nonprofit Mexicans Against Corruption and Impunity (MCCI). The report, "Why Did My Building Fall?" was released on September 11; it enlisted 30 journalists, researchers and designers to carry out a post-mortem on buildings that collapsed in the 2017 quake. Based on more than 800 public information requests and dozens of interviews, the investigation reveals how developers and city officials failed to implement stricter building codes that were meant to prevent another tragedy like 1985. Developers frequently cut corners to save costs, while city officials turn a blind eye. Neighbors report unsafe construction sites to authorities, who rarely step in to enforce the law.
"We can have the best building code in the world, but that code isn't being enforced," Thelma Gómez Durán, a Mexican investigative journalist who edited the project, told CityLab. "There is no authority that's making sure that it's put into action. To save money, companies are skipping over these regulations."
The corruption issue is complicated by Mexico City's challenging geography. A sprawling metropolitan region of about 21 million people built atop a drained lakebed, it's a city that is facing severe threats from the effects of climate change. Due to rapid urban growth, groundwater is being drained more quickly than it is replenished. The depletion of subterranean aquifers causes subsidence and massive sinkholes in the eastern boroughs of the city like Iztapalapa, Xochimilco and Tlahuac. Hundreds of houses in these boroughs were damaged on September 19, when the porous soil under them shifted.
After the disastrous 1985 quake—and the public outrage that followed—the Mexican government promised building-code reform and stiffer code enforcement. A New York Times report six days after the quake quoted an architect saying, "We have very good techniques for building here. But some owners and contractors do not pay attention to building codes, and the Government does not enforce them."
In the wake of the disaster, a new building code introduced the figure of "Director Responsible for Construction" (DRO in its Spanish acronym), who certifies that construction projects follow code, and is legally liable if violations are found up to ten years later.
But in the first hours after the 2017 earthquake, an alarming pattern emerged: Buildings constructed since the new code was adopted had collapsed, along with older structures. In some cases, apartments sold just months earlier were rendered uninhabitable by structural damage.
In their review of 28 collapsed structures, MCCI identified several different causes behind building failures. In multiple cases, DROs were not held responsible for flagrant violations. MCCI links one DRO, Fernando Méndez Bernal, to two new apartment buildings that were damaged in the earthquake. Both buildings, built from 2006 to 2008 and 2016, were found to have used subpar construction materials. Builders deviated from the blueprints, without assessing the safety of these modifications. But instead of being sanctioned, Méndez Bernal entered city government, serving as an advisor to the director of the Secretary of Urban Development and Housing (known as SEDUVI), which issues building permits and regulates zoning.
This revolving door between private industry and public service has protected architects and engineers who routinely violate the law, Gómez Durán said: "They're not working for the citizens. They're working for the companies and defending the interests of the companies."

Unauthorized additions to buildings was another frequent factor in collapse. At Bolivar 168, an aging building filled with offices and small assembly plants, investigators suspect that a telecommunications antenna on the roof caused it to collapse. Fifteen people were killed, mostly women working at the various clothing businesses inside.
In another case, city officials left standing a billboard that had been slated for removal since 2015. The building collapsed, killing 11 people. The billboard is considered an "aggravating" factor.

In a handful of new buildings that failed, developers skimped on rebar, struts, or structural beams that were required by law—unbeknownst to residents. This lack of information is a recurring issue, Gómez Durán said. Residents also have no way of knowing if a negligent architect or engineer was behind a building's construction.
To research Tenenbaum, the engineer involved in the design and construction of three buildings that collapsed, the MCCI journalists used word-of-mouth. "We started to ask around with engineers," Gómez Durán said. "A few of them told us that's what Tenenbaum is known for: that his buildings fall down. We asked, 'How is it possible that he still has a license?'"
Claudio González of MCCI interviewed Tenenbaum, who claimed that he "didn't have anything to do with" the two buildings that collapsed in 2017. When MCCI presented him with construction documents bearing his signature, he said they were forged.
MCCI also found that the city lacked records of the blueprints or seismic stress calculations of many buildings—information that would have been useful for rescue crews to identify where victims may be trapped. In her account of apartment buildings in the Coapa neighborhood of Coyoacán, journalist Miriam Castillo writes, "It is easier to find the account of what Hernán Cortés found when he arrived in New Spain in the website of the General Archive of the Indies of the Spanish government than to find blueprints from the 1980s in Coyoacán."
In several cases, neighbors had previously reported unsafe construction practices or building conditions to the city, but the authorities never acted. One woman in the Narvarte neighborhood had tweeted at officials after a 2014 earthquake, begging for her building to be inspected. It collapsed in the 2017 quake, killing one person. "If the city authorities had taken action at that time, they could have avoided some of these deaths," said Gómez Durán.

Several factors play into the lax code enforcements issue. Mexico City is going through a construction boom, and some local officials have been hesitant to put the brakes on such a profitable sector. Corruption is rampant, with developers using bribes to grease the wheels at city agencies regulating construction. "There is a whole system that's been designed to benefit everyone involved: public officials, DROs, developers," said Gómez Durán. "They all protect each other. The citizens are left unprotected."
MCCI's report has been greeted with anger from residents since its release, with key findings repeated in dozens of Mexican media outlets. And it's not the only recent investigation to implicate city authorities; on Monday, Huffington Post Mexico reported that Edgar Tungüi Rodríguez, head of the Reconstruction Commission of the Secretariat of Public Works, had awarded contracts for reconstruction projects to friends and family members.
But city leaders have so far largely avoided public comments. Officials at the Secretariat of Urban Development and Housing (SEDUVI), the Environmental and Zoning Prosecutor's Office (PAOT) and the Reconstruction Commission at the Public Works Secretariat all declined CityLab's requests for comments.
The ongoing quake recovery and reconstruction efforts will soon be passed to new federal and city administrations: A wave of reform-minded elected leaders are preparing to take office on December 1. Incoming president Andrés Manuel López Obrador of the left-wing Morena party ran on an anti-corruption platform. Morena also won in Mexico City, where a close associate of López Obrador, Claudia Sheinbaum, will became the city's first elected woman mayor.
Sheinbaum has visited families displaced by the earthquake and promised improvements to reconstruction programs, but she was criticized for not attending the public presentation of the MCCI investigation. Sheinbaum was also borough chief in Tlalpan, where a school collapsed in the earthquake, killing 19 children and nine adults. City and borough officials had not detected modifications to the school building that violated code.
Gómez Durán says that reform can't be limited to the construction industry: The city's vulnerability to future disasters also depends on water usage, for example. In a warming world, the threats that Mexico City faces are only getting more deadly.
"Officials will have to work with scientists, engineers, and even with developers to examine our conscience [as a city]," she said, "and decide whether we want to continue repeating the story of 1985 or if we really want to build a city that is more resistant to earthquakes."