Technology
Qualcomm's Mollenkopf Sees Chance of Apple Settlement This Year
By and
Looming court dates are incentive to end legal battle: CEO

Apple halted billions of dollars in Qualcomm license payments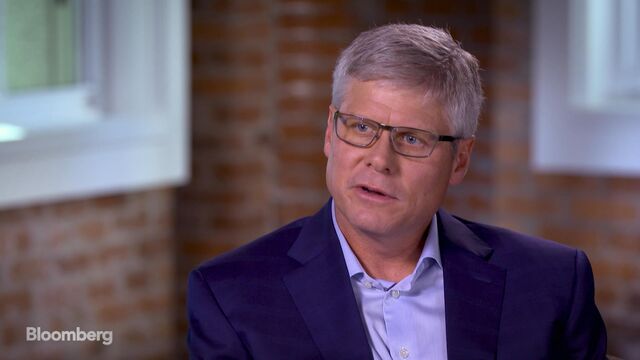 One of the biggest legal battles in the technology industry may be entering its final stages.
Qualcomm Inc. Chief Executive Officer Steve Mollenkopf said a bitter standoff between the chip maker and Apple Inc. is entering a period when both sides have an increasing incentive to settle.
In coming months, the companies will be forced to make their case in front of jurors and judges in the U.S., China, Germany and other jurisdictions. Agreements often materialize before such expensive and public steps.
"The environment is such that a deal could get done," said Mollenkopf in an interview on Bloomberg TV's "Studio 1.0," which airs Sept. 26. "Traditionally, legal milestones create an environment for both parties to change their perspective."
Mollenkopf wouldn't say if settlement talks are under way or predict when an agreement might happen.
The dispute has been raging in public for almost two years, pitting the world's most valuable public company against the largest supplier of mobile chips. Apple's suit accused Qualcomm of unfairly using its lead in phone modems to force customers to pay inflated licensing fees. Qualcomm counter-sued, claimed patent infringement and tried to halt the sale and export of iPhones in some countries.
Go deep on the billion-dollar war over an $18 component.
The fight -- and related regulatory scuffles -- threaten Qualcomm's most-profitable business. It has patents that cover the fundamentals of all modern phone systems and smartphone makers pay Qualcomm to use this intellectual property. That high-margin revenue turned Qualcomm into an industry giant, but Apple and other companies have refused to pay billions of dollars in fees in recent years.
Mollenkopf has remained calm, describing the Apple situation as a commercial dispute that would be resolved over time. His sangfroid frustrated some investors, particularly as other problems mounted. An acquisition of rival NXP Semiconductors NV failed and Qualcomm became a takeover itself when Broadcom Inc. made a hostile bid. That deal was blocked by the U.S. government in March, and Qualcomm shares slumped to a two-year low in late April.
Still, the deal-making turmoil masked signs of improvement on the licensing front this year. Taiwan reversed a decision that found Qualcomm guilty of unfair practices. Samsung Electronics Co., the largest smartphone maker, agreed to pay licensing fees and withdrew support for Korean legal action against the chip maker. And there's progress in a dispute with the other major licensee holdout, which analysts say is Huawei Technologies Co.
Qualcomm shares have surged about 50 percent since late April and now trade at the highest level since the end of 2014.
Mollenkopf is now even talking about Qualcomm and Apple working together again. That's an ambitious goal, given that Apple has stripped Qualcomm chips from iPhones in favor of modems from arch rival Intel Corp.
If Qualcomm continues to improve its chips at a greater rate than rivals, there's no reason why Apple and Qualcomm wouldn't work together again -- after resolving their legal fracas, he said.
"There's no better opportunity and partner for Qualcomm than to work with Apple," Mollenkopf told Bloomberg TV. "It makes sense that the technology leader in mobile should be a partner with the product leader."