politics
After Four Decades, Tanzania Government Finally Moves to Capital
By
Moving core functions to Dodoma a priority: finance minister

GDP growth for 2018 projected at 7.2% from 7.1% in 2017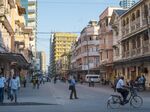 Tanzania will move core government functions to its capital, Dodoma, more than four decades after the city got that status.
That will be one of the top priorities in the 2018-19 fiscal year, Finance Minister Philip Mpango told lawmakers in his annual budget speech on Thursday. The East African nation changed its capital to Dodoma from Dar es Salaam in 1974. Most government offices, except parliament, have however remained in the coastal city, which is the commercial hub.
The government will also work to establish industries, boost education and healthcare and improve infrastructure such as a standard-gauge railway line. Work on the first two phases of the line, from the commercial capital, Dar es Salaam, to Morogoro and from Morogoro to Dodoma, is ongoing and will cost $3.14 billion, Mpango said.
These are some of the highlights from the budget speech:
Corporate income tax reduced to 20 percent from 30 percent for new companies for three years to encourage investment
Tax amnesty granted for July 1 to Dec 31 for those who have not paid tax in the past; will help government collect 500 million shillings
Revenue collection for the fiscal year that ends June 30 is at 21.9 trillion shillings ($9.6 billion), 69 percent of the target
Economic growth is projected to accelerate to 7.2 percent this year from 7.1 percent in 2017
Tanzania scraps value-added tax on animal and poultry feeds for domestic production
Before it's here, it's on the Bloomberg Terminal.
LEARN MORE