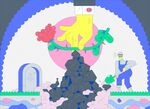 As President Donald Trump prepares to pay failing coal plants to stay open, several states are hatching plans to gently put them to sleep. One solution gaining steam among lawmakers, environmentalists, and policy experts can be found in an unlikely place: the bond market.
For utilities, getting out of the coal business can be costly. They have to pay to dismantle generators, and they don't want to miss out on future revenue by scrapping still-productive assets early. Plus, coal-plant workers will need to be retrained for other jobs. To pay for all that, states could allow utilities to issue special bonds at low rates. While the plan has yet to be implemented, Colorado, New Mexico, and Missouri are among the states where legislation has been debated.
"If there's a no-cost option available to the state, I think it would be absurd to not do it," says Jacob Candelaria, a Democratic state senator in New Mexico. Candelaria sponsored a bill that failed to pass and plans to reintroduce it next year. No tax dollars would be spent for such bonds, he says, but the debt would be backed by ratepayers. That means the utility can add a special charge to customers' bills to cover the payments. The predictable cash flow means the bonds can carry lower rates. 
For years, coal's been losing out to cheaper natural gas and cleaner renewables such as wind and solar. Coal-fired facilities accounted for more than half of U.S. electricity from 1949 through 2005, according to the Energy Information Administration. Since then, its share has declined to less than one-third of the U.S. total.
Strategies for managing the transition vary. The operators of New England's power grid have instituted a plan, sometimes called "cash for clunkers," that includes—as a side effect to making room for new clean energy sources—paying old plants to retire. Trump, who has struggled to fulfill a campaign promise to help the coal industry, announced on June 1 that he was ordering Energy Secretary Rick Perry to stem the tide of closures. The government would establish a "strategic electric generation reserve" and compel grid operators to buy electricity from coal and nuclear plants. The administration says this is to protect national security. 
Still, many state and local authorities—and even a lot of utilities—see coal-plant shuttering as inevitable. Almost two dozen coal plants, with a combined capacity of more than 16 gigawatts, are scheduled to close in 2018, according to data compiled by Bloomberg New Energy Finance from the EIA and the Sierra Club. Another 30 gigawatts' worth of plants are slated to follow suit by the end of 2025.
It's just a question of how the process unwinds. Candelaria estimates his legislation would have allowed utility PNM Resources Inc. to issue bonds that would pay 1 percent to 3 percent, as long as the proceeds were spent on shutting a coal plant. If PNM had to issue bonds on its own to do the same thing, it might have to pay interest of 6 percent to 8 percent, the lawmaker says. The exact rates would depend on a variety of factors, but "we're talking about real money," Candelaria says. Ron Darnell, senior vice president of public policy for PNM, calls the strategy "an equitable way to facilitate the transition to newer, cleaner energy resources."
Ultimately, energy customers are responsible for old coal plants, says Colorado Representative Chris Hansen, who introduced reduced-interest-rate legislation last year that failed. The costs of closing them down will work their way into rates. "If we can create a mechanism that saves the ratepayer from having to pay those off in the normal way at full whack, that's a big cost savings," he says.
Meanwhile, some of the alternatives to coal generate power more cheaply. Using such bonds to close coal plants could save utility customers in 13 states $2.5 billion a year in fuel costs, according to Uday Varadarajan of the Climate Policy Initiative in San Francisco.
Not everyone is sold. Benjamin Fowke, chief executive officer of Xcel Energy Inc., which provides power in several states, says he's concerned that the plan doesn't provide enough compensation for shutting down an income-generating facility. "There has to be something in it for the shareholders," says Fowke. He says the company has found other ways to spread the cost of shutting down plants, including two it plans to close in Colorado. "The way we've done it has been quite efficient and balanced for all stakeholders," Fowke says.
Some environmentalists say the proposal is a giveaway to utilities that have profited for years on coal generation. Mariel Nanasi, executive director of the Santa Fe, N.M.-based nonprofit environmental group New Energy Economy, helped block Candelaria's bill. She called the proposed legislation a "blank check" for the utility. In New York, green groups are backing an alternate way of shuttering coal plants—by adopting strict emissions rules the facilities can't possibly meet. Some in the environmental community view the bond plans as a reward for polluting, says Paul Bodnar, managing director at the Rocky Mountain Institute in Boulder, Colo. "It's not about compensation. It's about finding the appropriate societal solution that makes sense."
Before it's here, it's on the Bloomberg Terminal.
LEARN MORE