climate-changed
EPA Plan for Transparency in Science Alarms Industry, Too
By
EPA proposes limits on types of research it will consider

Proposal by Pruitt draws nearly 150,000 comments in five weeks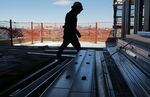 The National Association of Home Builders doesn't typically throw in with the U.S. scientific establishment. No reason. There's just not that much overlap.
That's why the group -- along with pesticide-makers and other unlikely business allies -- stands out among the dozens of prominent public health and science institutions sounding alarms over a U.S. Environmental Protection Agency plan to limit the type of research it uses in making policy.
Scientists are concerned that the proposal would restrict studies that rely on health records obtained with the understanding that the identities of patients be kept confidential, a practice that some conservatives label "secret science."
The proposal has drawn almost 150,000 public comments in five weeks, an unusually high number in a relatively short time.
Among those expressing reservations was the home builders group, which said it did not understand how the changes would affect its members' businesses and their compliance with numerous federal regulations and mandates. The organization, along with other groups and individuals, asked, successfully, that the deadline for comments be extended.
The home builders group, which has 140,000 members, flagged language that said the agency must share all studies, data and epidemiological models used in major rules and conduct independent peer review on "pivotal regulatory science," a phrase novel to the rule.
Earlier: EPA's Own Science Advisers to Rebuke Agency Over Auto Rollback
The proposal also could remake the way the EPA writes rules for several of the nation's most complicated public-health laws, including the Clean Air Act, Clean Water Act, Safe Drinking Water Act, Resource Conservation and Recovery Act, Comprehensive Environmental Response, Compensation, and Liability Act, and the Toxic Substances Control Act, according to the NAHB's comments.
Two pesticide trade groups also filed comments: CropLife America, whose members include Monsanto Co., DuPont Crop Protection and Growmark Inc., and Responsible Industry for a Sound Environment.
Janet Collins, an executive vice president of CropLife, wrote that the proposed rule "likely will have far-reaching implications for the organization's members whose products are closely regulated as part of the EPA Office of Pesticide Programs."
The agency has extended the comment period until Aug. 17 and set a public hearing for July 17.
Pruitt Seeks to Constrict EPA Use of Scientific Studies: Bloomberg Radio
The EPA's proposal says that the agency values transparency and the need to be able to reproduce scientific studies.
"Americans deserve to assess the legitimacy of the science underpinning EPA decisions that may impact their lives," EPA Administrator Scott Pruitt said in April when he signed the proposal, "Strengthening Transparency in Regulatory Science."
But scientists say it is antagonistic to global and historic best practices.
The agency suggests that it intends to eradicate what it calls "secret science," but the Environmental Protection Network, a group of former EPA professionals, calls the initiative "censoring science." The agency's Science Advisory Board voted last week to recommend that the proposal be reviewed.
"If the proposed rule is approved, science will be practically eliminated from all decision-making processes," John Ioannidis, a Stanford medical school professor who specializes in scientific methods, wrote in an essay in the journal PLoS Medicine. "Regulation would then depend uniquely on opinion and whim."
Related: Pruitt Proposes Limits to Scientific Research Used by EPA Staff
The EPA said in April that its proposal was consistent with data policies for major scientific journals. But three journals that the agency mentioned disagreed with that description.
"EPA is currently soliciting public input on the rule through written comments and a public hearing.," the agency said in an email. "We welcome robust public engagement and look forward to reviewing the feedback we receive."
John Graham, the dean of Indiana University's School of Policy and Environmental Affairs in Bloomington, was appointed by Pruitt to the Scientific Advisory Board. From 2001 to 2006, he served as administrator of the Office of Information and Regulatory Affairs, where he authored critical policies, including information quality and peer-review guidelines cited by the EPA in its proposal.
Graham responded by email to questions about the complicated interface between regulation-writing and science, identifying as a central example air pollution and health studies first published in the mid-1990s.
The EPA's proposal resembles previous debates over scientific transparency and privacy. The 2002 federal information quality guidelines Graham oversaw, for example, state that the federal science standard they lay out "does not override other compelling interests such as privacy, trade secrets, intellectual property, and other confidentiality protections."
"This is the difficult exceptions territory," he said.
(
Updates with EPA statement in 17th paragraph.
)
Before it's here, it's on the Bloomberg Terminal.
LEARN MORE