markets
Starbucks Loses Legend But Not Its Road Map, Wall Street Says
By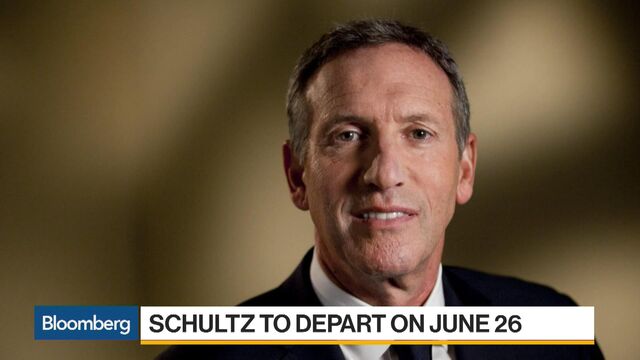 Starbucks Corp. faces "an almost unbridgeable gap" with the departure of founder and Executive Chairman Howard Schultz, according to William Blair analysts. Shares of the coffee kingpin have outperformed the S&P 500 by five-fold in the past decade, leaving Wall Street to wonder who might fill the shoes of such a "legendary leader." That said, analysts don't expect Schultz's resignation to alter the company's strategic focus on expanding in China and improving domestic comparable-store sales. The shares slipped as much as 3 percent in early trading.

Here's what analysts are saying about the news:
William Blair, Sharon Zackfia
Schultz's departure creates "an almost unbridgeable gap (we can think of no one else at Starbucks who comes close to his brand vision)."
Still, the brand remains healthy and Zackfia expects investor focus will increasingly pivot to China and the Asia-Pacific region. While Siren Retail Group -- the premium strategy of Roasteries, Reserve stores, and Reserve bars that Schultz was piloting -- remains part of Starbucks's plan, the company still needs "to prove out the scalability and financial returns" of the Reserve store model.
Zackfia says she can't believe that Schultz would step aside without big plans ahead -- including exploration of a potential presidential bid as well as "major philanthropic work."
Rates outperform
RBC Capital, David Palmer
It's reasonable for shareholders to worry about the retirement of "a legendary leader" from the brand. Starbucks will need to work hard to preserve "the core values and culture and maintain its competitive edge in innovation."
Two key near-to-medium term variables will be whether the company can find beverage innovation in the U.S. and manage volatility in sales and profit in China.
U.S. beverage innovation, bolstered digital user growth and a broadening Reserve platform seem to be Starbucks's "best weapons to maintain its premium positioning, ultimately offset headwinds to U.S. bricks-and-mortar retail."
Rates outperform, price target $65
Cowen, Andrew Charles
Schultz is "one of the most iconic and visionary CEO's in the history of the restaurant industry." Investors did not anticipate Schultz would return to the CEO role to help improve domestic trends, but Charles still views the resignation as an "incremental negative" for the company's shares given "the loss of a powerful mind."
That said, Schultz's departure shouldn't bring on any "drastic" change to strategy.
Rates market perform, price target $64
For more on how Starbucks investors are reacting, click here
Bernstein, Sara Senatore
The most likely effect on company strategy may be a reassessment of Siren Retail. About a third of the $500 million step-up in this year's capital spending forecast is allocated toward Siren Retail.
While management is still contemplating where Siren Retail fits into the overall strategy, a returns-minded approach may dictate a change in investment cadence.
The departure of a "visionary founder" may be a short-term negative, but it may also increase the possibility that management will be more receptive to some of the changes Bernstein has previously advocated -- including a slower pace of growth and greater return of cash to shareholders.
Rates market perform, price target $64
Mizuho, Jeremy Scott
Schultz's resignation was "not entirely unexpected" but does come "at a challenging time" for Starbucks as it embarks on "a multi-faceted revitalization campaign in the U.S.," along with managing the transition of the consumer packaged goods business and delivering on aggressive growth targets in China.
Schultz's engagement in the Reserve and Roastery initiatives and China expansion reassured the market, Scott says. On the other hand, there may be benefits of a "refined management structure with firmer directives" that may include fresh looks at return targets of certain growth platforms, resource allocation and supply-chain complexity.
Rates neutral, price target $60
Before it's here, it's on the Bloomberg Terminal.
LEARN MORE